Brazil , October 26, 2022 (press release) –
The American fast food chain Carl's Jr. seeks an investor to return to operate in Brazil , after its six stores in the country were closed in the past decade, and aims to establish itself in a price segment above competitors such as McDonald's and Burger King.
The California chain, founded in 1941, operates in 28 countries and is controlled by CKE Restaurants Holdings . In Brazil , the chain arrived in 2012 through IMC, of the Viena and Frango Assado restaurant brands, but stopped operating in the country six years later.
"We are around Brazil , so we thought, 'now that Covid-19 is falling behind, let's go back to the biggest market in Latin America ,'" Marc Mushkin , CKE's vice president of international franchise sales and development, told Reuters. He was last week in São Paulo for a meeting with investors.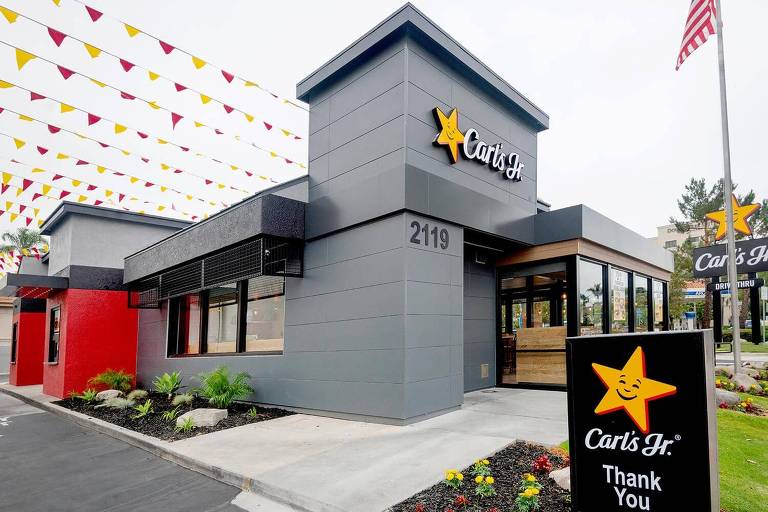 Unit of the fast food chain Carl's Jr. - @carlsjr on Facebook
The executive said that positive returns from the chain in Latin American countries, such as Chile , Ecuador and Mexico , give confidence that Carl's Jr. can be successful in Brazil , in its second attempt to operate in the country. In the region, the chain operates 387 stores in eight countries.
According to Mushkin, the plan to return to Brazil involves opening 100 stores in five years, with the potential of the chain reaching 500 units between 10 and 15 years.
The focus is, at first, the city of São Paulo, already full of fast food chains and hamburger restaurants, and nearby cities, such as Campinas . The expectation is to open the first Carl's Jr. store between the second half of 2023 and the beginning of 2024, said the executive.
"It's not crazy to think about another burger chain when you are positioned correctly," he said.
Wendy's, was one of the latest American brands to try its luck in the country. The chain decided to close all its stores in Brazil in 2019, three years after announcing its arrival. Other names in the US fast food sector that have failed to hold their own in Brazil include Hooters.
Now Carl's Jr. estimates investment of between at least $50 million and $75 million to open its stores in Brazil over the next five years. Besides larger stores with drive-thru booths, the company is also targeting leaner points with costs of up to a quarter of what is needed for larger ones. These smaller locations would focus on online order deliveries.
"We think it is possible [to open a hundred stores in five years] and that it will give the kind of penetration that makes a brand become successful in a place like Brazil . If we expand more slowly, we don't think we will have enough marketing power and scale. And going faster would be great, but it is very difficult to have the capital," Mushkin said.
The executive said that in other developing countries the larger Carl's Jr. stores require about $1 million in investment.
"We are positioning ourselves a little bit higher than rivals like McDonald's , Burger King and so on, but not so high that we have very high prices, like some gourmet burger shops have," said the vice president of international franchise sales of Carl's Jr.
The conversations last week with investors who may become master-franchisees of Carl's Jr. were productive, said Mushkin, without identifying, however, the interested groups. According to him, there were no discussions with listed companies, although this door is not closed.
In the Brazilian stock exchange and that belongs to the sector, besides IMC, there is Zamp , which operates the Burger King and Popeyes chains in the country.
Large restaurant chains would be the ideal partners, but private equity firms are also open options, according to the executive. Even companies from other sectors, but with complementary experiences, including expertise in Brazilian retail or in acquiring good geographic points, can be alternatives. "We can teach them the restaurant part," he said, adding that CKE has partnerships of different types around the world.
To gain scale quickly, CKE wants more privileged location, which, for Mushkin, was one of the "problems" in the brand's previous passage in Brazil .
CKE expects to close a deal with a new investor to relaunch the chain in Brazil in about three to nine months, said the executive.
* All content is copyrighted by Industry Intelligence, or the original respective author or source. You may not recirculate, redistrubte or publish the analysis and presentation included in the service without Industry Intelligence's prior written consent. Please review our terms of use.