SAN FRANCISCO and CHICAGO , January 12, 2022 (press release) –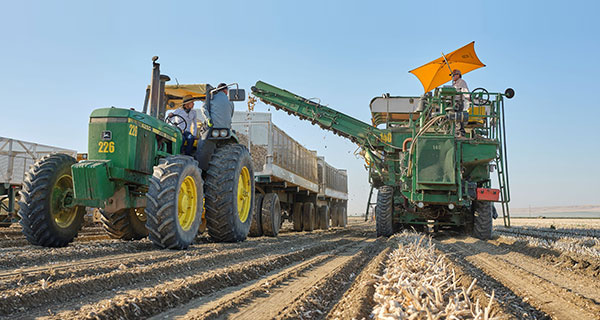 Brightseed and ofi announce partnership to explore health benefits in popular spices
Medical research has shown that there are bioactives in black pepper and garlic that are known for their medicinal qualities. However, not all compounds within these spices have been uncovered or explored for their total health benefits, and not all varieties are equal.
Through a partnership with Brightseed, a biosciences data company and a World Economic Forum Technology Pioneer, olam food ingredients ("ofi"), a global leader in naturally good food & beverage ingredients, hopes to learn which varieties deliver the highest levels of bioactives. ofi's innovation team working at ingredient excellence centers in Fresno, California and Vietnam hope to discover exactly what health benefits exist in its U.S. garlic and global black pepper varieties.
Brightseed will use its award-winning Forager® artificial intelligence platform to seek to identify complex molecular structures and novel compounds in these spice categories. Forager® seeks to pinpoint the specific mechanisms of plant bioactives that likely correlate to a direct health benefit, thereby decoding the health impact of plant-based bioactive compounds and increasing the scientific understanding of these spices' qualities.
Medical research has shown that black pepper produces piperine, a bioactive and antioxidant that has the potential to inhibit tumor growth and enhance the bioavailability of some therapeutic drugs.[1] Medical research has also shown that garlic contains strong beneficial properties that may prevent common chronic disease states and other pathologies.[2] Forager® will analyze and seek to identify how different regions, cultivars, growing conditions, and processing methods impact phytochemical expression and bioactive potency across multiple areas of human health for ofi's black pepper estates and its U.S-based garlic sources. All of Forager's® discoveries undergo in vitro validation and enable a de-risked clinical trial process for innovation.
Greg Estep, Managing Director and CEO of ofi's spices business said:
"Throughout ofi's history, we've invested in plant science, identifying and developing quality varieties of black pepper and garlic for our customers.
"Spices are largely valued for flavor but should also be explored for health applications. These data insights will help us unlock the health potential and differentiation in our spice supply and fuel future innovation. ofi continues to invest in its broad product portfolio through our customer solutions and ingredient excellence centers."
Sofia Elizondo, Co-founder and Chief Operating Officer of Brightseed said:
"We are thrilled to be working with ofi to drive consumer health conversations back to nature.
"ofi has a strong black pepper footprint which provides Forager® with access to a range of cultivars with a view to developing a robust comparative model of bioactive potency and density. Brightseed is seeking to build the data and validation that food and health industries need to establish a foundation on the true value of plants for human health optimization."
Discover much more about what ofi has to offer at ofi.com
ofi.com
----------------
[1] Piperine-A Major Principle of Black Pepper: A Review of Its Bioactivity and Studies (Applied Sciences)
[2] Potential Health Benefit of Garlic Based on Human Intervention Studies: A Brief Overview (NIH)
----------------
Notes to Editors
Images available for use courtesy of ofi.
Back to All News
About Brightseed
Brightseed enables a healthier future by illuminating and activating the biological connections between plants and people. Brightseed's Forager® is the first and only artificial intelligence to map the world's plant bioactives and understand which of them have the greatest impact on human health. Discoveries undergo clinical evaluation, regulatory review, and commercial development to deliver powerful, yet natural solutions for health. Interested organizations can contact Brightseed by reaching out to info@brightseedbio.com.

About ofi
ofi (olam food ingredients) is a new operating group born out of Olam International. ofi offers sustainable, natural, value-added food products and ingredients so that consumers can enjoy the healthy and indulgent products they love. It consists of industry-leading businesses of cocoa, coffee, dairy, nuts, and spices. ofi has built a unique global value chain presence including its own farming operations, farm-gate origination, and manufacturing facilities. ofi partners with customers, leveraging its complementary and differentiated portfolio of 'on-trend' food products, to co-create solutions that anticipate and meet changing consumer preferences as demand increases for healthier food that's traceable and sustainable. To subscribe to the ofi newsroom, please visit www.ofi.com (privacy statement here). If you do not wish to receive information from ofi please contact media@ofi.com. Follow @ofi-group on LinkedIn.

About Olam
Olam is a leading food and agri-business supplying food, ingredients, feed and fiber to 17,300 customers worldwide. Its value chain spans over 60 countries and includes farming, processing and distribution operations, as well as a sourcing network of an estimated 5 million farmers. Headquartered and listed in Singapore, Olam currently ranks among the top 30 largest primary listed companies in terms of market capitalization on SGX-ST. Since June 2020, Olam has been included in the FTSE4Good Index Series, a global sustainable investment index series developed by FTSE Russell, following a rigorous assessment of Olam's supply chain activities, impact on the environment and governance transparency. The FTSE4Good Index Series identifies companies that demonstrate strong Environmental, Social and Governance (ESG) practices and is used by a variety of market participants to create and assess responsible investment funds. More information on Olam can be found at www.olamgroup.com. To subscribe to the Olam Newsroom please visit www.olamgroup.com and read the Privacy statement here. If you do not wish to receive information from Olam, please contact media@olamnet.com.
* All content is copyrighted by Industry Intelligence, or the original respective author or source. You may not recirculate, redistrubte or publish the analysis and presentation included in the service without Industry Intelligence's prior written consent. Please review our terms of use.