August 7, 2023 (press release) –
We are thrilled to unveil the recipients of the highly esteemed AmeriStar Awards for 2023.
After rigorous evaluation by a panel of esteemed judges from diverse segments of the packaging industry, twenty-two companies emerged as the professional winners in this prestigious design competition.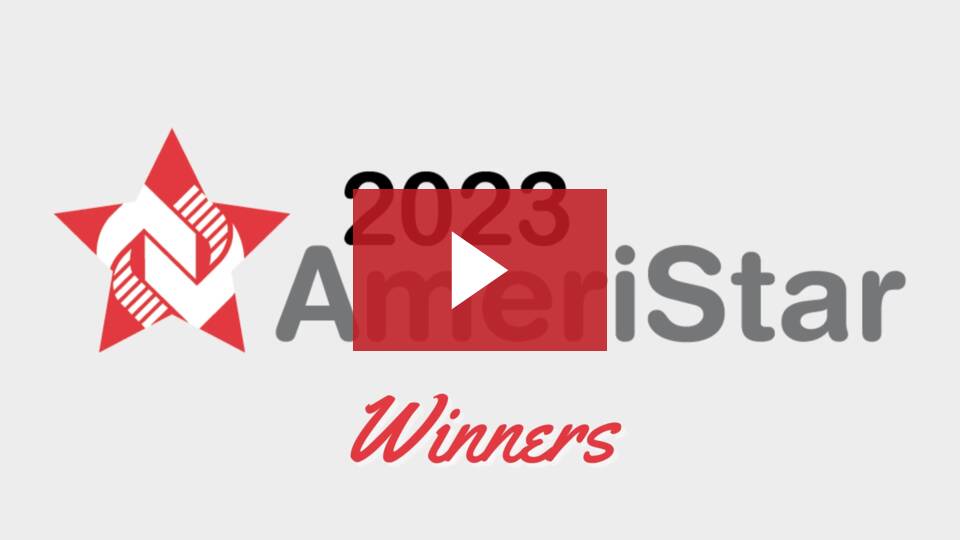 ---
Annie's Certified Industrially Compostable Molded Fiber Cup from General Mills revolutionizes single-use packaging with technical innovation. Utilizing wet molded fiber, traditionally unused for shelf-stable products, it equals plastic thermoform in functionality. Advanced features include direct print flexographic graphics, renewable spray coating for grease and water protection, and a 45% reduced carbon footprint.

Enhanced consumer experience includes improved convenience, comfort, and warmth retention. Facebook research guided a consumer-friendly communication strategy, showcasing the cup's appealing look and emphasizing its eco-friendly benefits. Launched in March 2021, the package continues to evolve based on real-world feedback, deserving of a Best in Show award.
---
Deserving of an AmeriStar award for its technical and eco-friendly excellence, Bobbi Brown's Luxe Lipstick from Estée Lauder Companies boasts a luxurious, modern design inspired by the NYC skyline. With sleek, sharp lines and a visually elongated form, the package elevates the lipstick's appearance.

Notably, it prioritizes sustainability through a refillable, all-aluminum, and magnet-free mechanism, featuring 90% PCR content in outer cap and base parts.
---
A deserving AmeriStar award winner for its technical prowess and market impact, Amcor's Perflex® S poultry packaging with Grab N Go handle redefines the industry by offering the first-ever effective, handled shrink bag for heavy meat and poultry products.

With a simple, strong 3-hole handle and high-impact printing, it provides brand differentiation and convenience for consumers. The innovative one-piece design streamlines production, delivering significant savings and sustainability benefits.
The Sharpie Ultimate Collection Pack from Newell Brands and WestRock reimagines packaging with technical brilliance. Bold, bright, and reusable, it showcases upgraded materials, hinged wings, and a striking design to enhance the user experience.

Its unique shape and premium structure create powerful shelf impact, effectively conveying the Sharpie brand. These innovative features and artistic appeal make it a winning AmeriStar entry.
Plastic Ingenuity and Otter Products' Thermoformed PCR Installation Tool earns an AmeriStar award for an innovative redesign that enhances the user experience by simplifying screen protector installation.

The versatile tray accommodates various phone sizes with precision, reducing SKUs and cost. Eco-friendly PCR PET material furthers the package's appeal, aligning with Otter's commitment to sustainability. A functional, user-friendly, and environmentally conscious packaging solution.
The Sol de Janeiro Rio Deo Deodorant Stick 2 oz. from Viva Healthcare Packaging earns its AmeriStar award for its cheerful, eco-friendly, and functional packaging solution that supports the circular plastic economy.

Utilizing in-mold label technology, it boasts high-definition, shower-friendly decoration on 100% post-consumer recycled material. The refill cartridge system enhances usability, enabling easy refills and reducing plastic waste by over 50%.
---
The Crystal Seal® Cravings® PET Deli Cups from Placon are made from EcoStar® post-consumer recycled PET, these cups offer clear product visibility and a patented tamper-evident base-to-lid closure mechanism for enhanced safety.

Their unique design facilitates stacking, easy use, and reusability, making them perfect for on-the-go deli and prepared food products - a game-changer in convenience and safety for consumers and retailers.
TC Transcontinental Packaging's partnership with Pilgrim's for the Kirkland Signature 13% PCR Saddle Packs showcases its sustainability excellence for food.

Incorporating 13.4% PCR content without compromising package performance, this innovative solution diverts plastic waste from landfills. The multi-layer coextruded film maintains product protection and freshness while supporting a circular economy, aligning with TC's commitment to sustainability.
---
Old El Paso's innovative Tortilla Pockets package from General Mills stands out as an AmeriStar winner for its advancements in protecting product integrity and extension of shelf life.

The U.S.-patented design combines a rigid polymer bottom with a flexible top, offering 8 Tortilla Pocket products in two cavities, each sealed with an easy peel opening. The clever paperboard sleeve enables vertical standability while providing marketing space.

Additionally, the package's split-apart feature enhances consumer versatility and efficiency in manufacturing and logistics.
The QUADFLEX® Recyclable pouch from ProAmpac and Nestlé Purina is an innovative solution that supports the company's shelf-stable sustainability goals by transitioning from multi-layer to mono-material packaging, reducing virgin plastic use by one-third.

The patent-pending mono-material is prequalified for recycling programs, providing enhanced sustainability and maintaining machinability on existing equipment.

The pouch offers a premium look with excellent branding opportunities and environmental benefits, including recyclability in polyethylene streams - a win-win solution for sustainability and performance in the packaging industry.
---
The Mrs. Meyer's Foaming Hand Soap Concentrate Starter Kit from SC Johnson Lifestyle Brands earns an AmeriStar award for its sustainable and innovative design. With up to 99% reduced plastic use compared to single-use bottles, the durable glass hand soap bottle is infinitely recyclable and refillable.

The packaging includes clear usage instructions and aesthetic details, making it user-friendly and uniquely Mrs. Meyer's. The kit caters to both ecommerce and retail channels with a consistent unboxing experience, and minimal dunnage highlights the strong and compact design. A seamless combination of sustainability, functionality, and appealing design.
---
The McCoy™ new dunnage-free IBC liner from Amcor changes the industry narrative and advances bulk liquid transport, making it an AmeriStar winning entry.

By eliminating the need for extra secondary packaging, it reduces waste, costs, and carbon footprint.

Advanced material science and a patent-pending design make it 2x stronger than typical aseptic liners, ensuring product integrity during high-abuse transport.
---
Guardian's CapSure Sterile Barrier Packaging System earns an AmeriStar award for its exceptional performance and economy. Utilizing impact-resistant Tritan co-polyester, it delivers superior protection with just a single barrier, reducing the package's size and footprint.

The intuitive design enhances aseptic handling and identification, while the pre-validated ten-year shelf life offers supply chain flexibility.

Eco-friendly and versatile, it's a game-changer for orthopedic device packaging, providing a complete and efficient solution.
The innovative Integer Rigid Handing Tray Optimization with use of SEEkey® was developed for wire spools and eliminates the popping/flying issue caused by traditional undercut snaps, providing enhanced control and security.

Its thin, 25-mil design reduces plastic usage, achieving a 44% reduction and 24% cost savings. The tray's versatility in locking and unlocking offers efficient product organization, while dual nested spacing levels reduce secondary packaging and improve sustainability. And its continuous stack design ensures strength and passes rigorous testing requirements.
Prent Corporation's thermoformed Titan 2.0 Cord Cutter Tray, Retainer, and Triangular Stand solution for Standard Bariatrics, Inc. earns an AmeriStar award for a streamlined package that reduces material usage, carton size, and overall weight, optimizing workflow and saving valuable time during operations.

The complex single-part design protects the device during transportation, doubles as a stand for prepping, and prevents accidental activation.
---
Engineered with a proprietary hexagonal pattern inspired by Kirigami, the Scotch™ Cushion Lock™ Protective Wrap by 3M transforms a flat sheet of paper into a three-dimensional wrap that cushions, immobilizes, and conforms to items for proven protection during shipping, moving, or storage.

Its unique design maximizes space efficiency, reduces plastic waste, and simplifies the packing process while offering exceptional protection and sustainability.
Collaborative efforts between Dermalogica and Coradin have resulted in an e-commerce friendly, consumer-friendly, and environmentally responsible packaging solution in the GREENIS Dispenser.

Made mostly from recyclable polypropylene with minimal TPE, it offers precise dosing for consumer convenience and protection for the product's active ingredients.

The lightweight design reduces shipping costs, while its environmental impact is minimized through the use of post-consumer recycled plastic and optimized packaging weight.
The RIO Molded Fiber Fly Line Spooler from EnviroPAK is an innovative and environmentally sustainable packaging solution deserving of an AmeriStar award. Made from 100% biodegradable recycled paper, it functions flawlessly, spooling all line diameters and lengths up to 120 feet.

By replacing polypropylene, it reduces single-use plastic waste significantly, meeting RIO's stringent quality and eco-friendly requirements while leaving no trace in the environment if it falls into the water.
Annie's Certified Industrially Compostable Molded Fiber Cup from General Mills is a sustainable and innovative solution that addresses consumer demands for eco-friendly packaging.

By replacing traditional thermoformed polypropylene cups with molded fiber technology, the company reduced its carbon footprint by 45%. The cup features high-quality graphics, a renewable spray coating for grease and water resistance, and a user-friendly design.

The compostable nature of the cup eliminates the need for rinsing, providing an environmentally friendly disposal option. The clever marketing strategy emphasizes the cup's paper-like appearance and environmental benefits. This package's focus on sustainability and consumer satisfaction makes it a deserving AmeriStar award recipient.
Liberty Coca-Cola Beverages partnered with Graphic Packaging International to create KeelClip™, a sustainable paperboard clip replacing plastic rings on mini-can multipacks.

Made from renewable plant-based fiber, the recyclable packaging maintains can orientation, offers easy removal, and is fully recyclable in paper waste streams. KeelClip™ significantly reduces plastic usage, aligning with Coca-Cola's "World Without Waste" vision.

Its eco-friendly design, brand impact, and efficient production earned this package an AmeriStar award.
Mars Wrigley's Paper-based, Recyclable Chocolate Wrapper, developed with Amcor, eliminates 360 tons of plastic waste, aligning with sustainability commitments.

Certified by the Forest Stewardship Council (FSC), it incorporates a mechanical recycling loop through curbside recycling in Australia.

Extensive testing into odor, product taint, residual solvents, migration, and barriers for water vapor and oxygen in various climates were conducted to ensure its performance matches traditional materials.
The Pentel® R.S.V.P.® PaperBlister™ ballpoint pen package by Sonoco Alloyd® is a highly sustainable packaging solution from production to shelf.

Made entirely from paper, it's plastic-free and recyclable in curbside paper streams, and the retrofit of existing equipment saved costs and prevented old machinery from going to landfills.

The flat-pack design allows for more efficient shipping, reducing environmental impact. It serves as a 360-degree marketing billboard while ensuring product protection, making it a deserving winner of an AmeriStar award in the sustainability category.
Axe Green Geranium Deodorant Stick from Viva Healthcare Packaging is a winning AmeriStar entry in the sustainability category for its eco-friendly packaging.

It features in-mold label decoration, 100% post-consumer recycled polypropylene, and is fully recyclable. With no virgin plastic, over 95% recycled material, and alignment with Unilever's sustainability goals, it sets a new standard for eco-friendly deodorant packaging.

The vivid artwork, ease of use, and environmental benefits make them a top choice for eco-conscious consumers.
---

---
To see the winning entries on display, visit our booth (C-1154) at PACK EXPO Las Vegas, September 11-13, and at the Showcase of Packaging Innovations (N-9550).
* All content is copyrighted by Industry Intelligence, or the original respective author or source. You may not recirculate, redistrubte or publish the analysis and presentation included in the service without Industry Intelligence's prior written consent. Please review our terms of use.