March 27, 2023 (press release) –
14.5% Existing Home Sales
1.0% Durable Goods Orders
MACROECONOMY & END-USE MARKETS
Running tab of macro indicators: 6 out of 20

The number of new jobless claims decreased by 1,000 to 191,000 during the week ending March 18. Continuing claims increased by 14,000 to 1.69 million, and the insured unemployment rate for the week ending March 11 was unchanged (1.2%) from the week prior.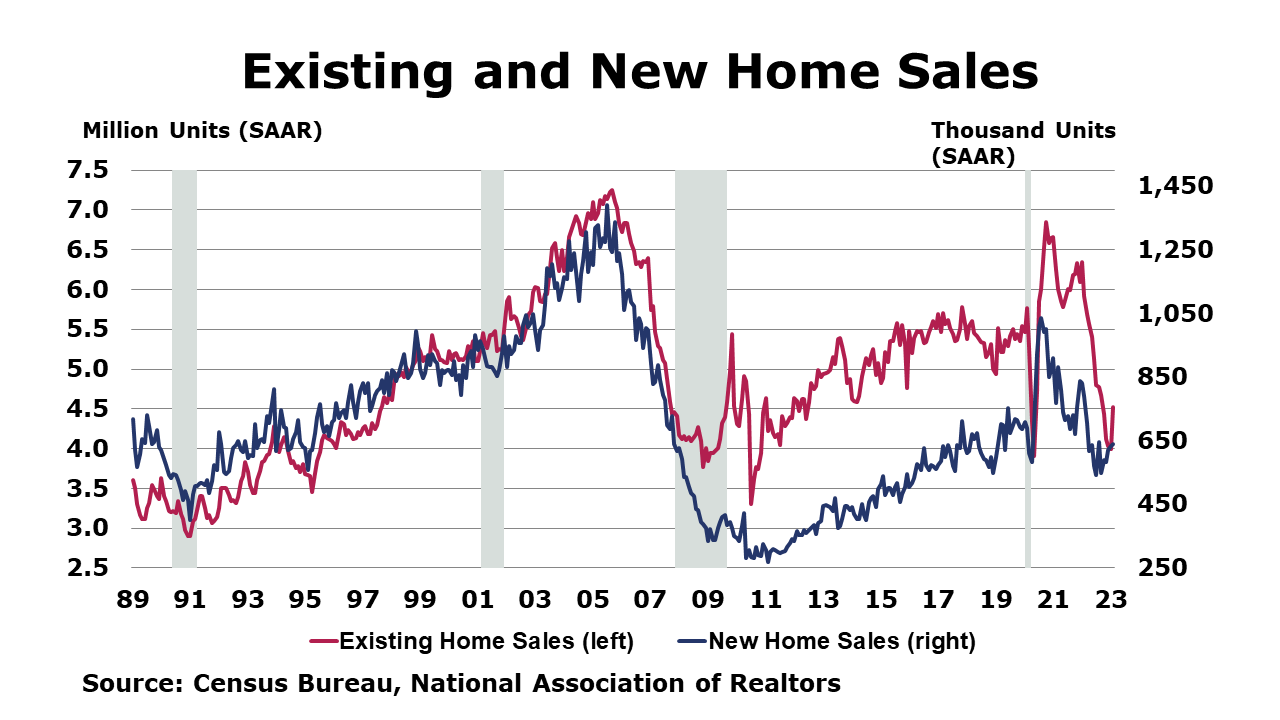 For the first time in a year, existing home sales rose in February, up by 14.5% compared to January. The boost in sales follows a dip in mortgage rates through mid-February. All regions posted higher sales. The inventory of unsold homes was unchanged and represents an historically lean 2.6 months at the current sales pace. The median price of an existing home fell 0.2% Y/Y for the first annual decline in more than a decade.
New home sales rose for a third straight month in February, up by 1.1%. Sales were down 19.0% Y/Y, however. Higher sales in the South and West offset declines in the Northeast and Midwest. The inventory of new homes declined from 8.3 months of supply in January to 8.2 in February. The median price for a new home rose 2.5% Y/Y continuing a slowing pace of gains.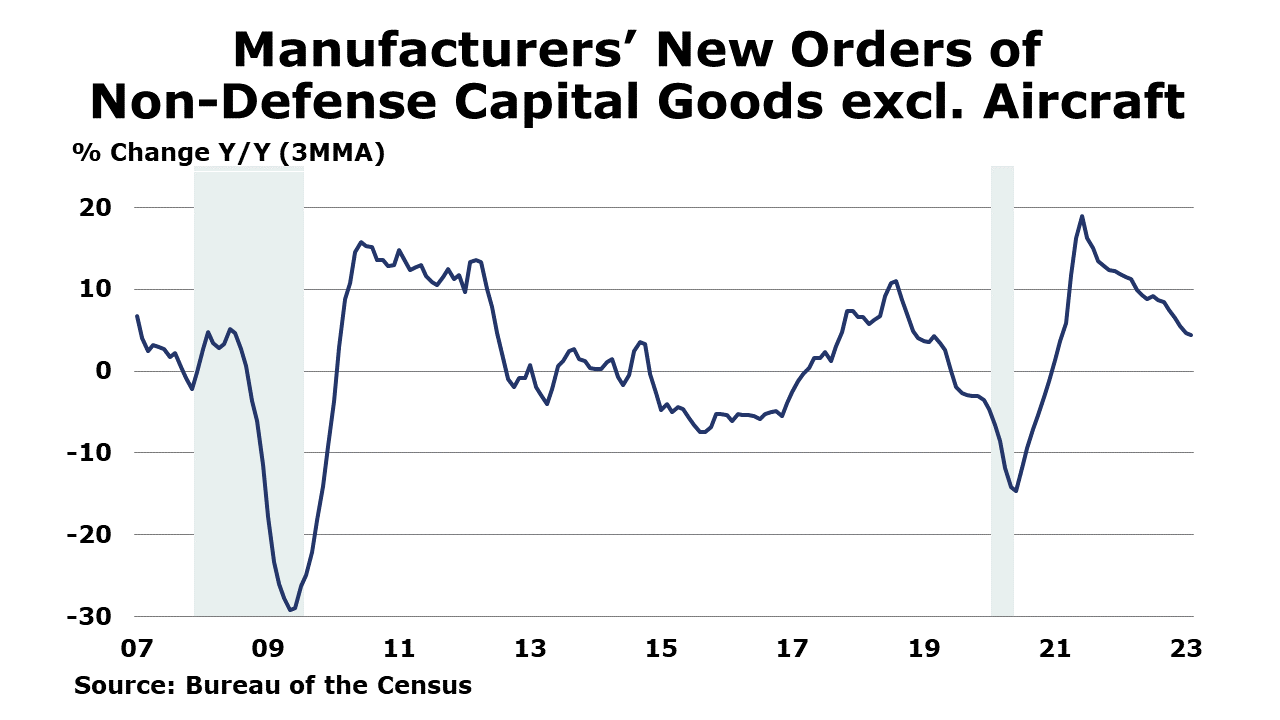 Orders for long-lasting durable goods fell for a second straight month in February, off by 1.0%. There were declines across a broad set of sectors, including aircraft, motor vehicles, computers, communications equipment, and machinery. Orders for metals, metal products, and electrical equipment were higher, however. Core business orders rose modestly for a second month, up by 0.2%. Compared to a year ago, core business orders were up 3.2% Y/Y while headline durable orders remained ahead by 1.0% Y/Y.
According to its monthly survey, the Kansas City Fed reported that manufacturing activity remained flat in March, virtually unchanged from January and February. Its composite index of activity includes production, new orders, employment, supplier delivery time, and raw material inventory. Nondurable goods plants reported decreased activity in March, notably plastics and chemical manufacturing. The year-over-year factory index increased slightly. Since the beginning of the year, factories reported a slight decrease in profit margins given current pricing pressures.
SURVEY OF ECONOMIC FORECASTERS
The outlook for 2023 has improved for several indicators at the end of Q1. While the balance of risks continues to suggest a recession in the U.S., a "soft landing" remains possible.
Expectations for 2024, however, continue to deteriorate with ongoing weakness in consumer spending and business investment.
U.S. GDP is expected to grow by a modest 1.0% in 2023 before expanding by a below-trend 1.3% in 2024.
Consumer spending growth is expected to slow to a 1.3% Y/Y pace in 2023 before rising by 0.8% in 2024.
Business investment is also expected to grow modestly, by 1.5% in 2023 and 0.5% in 2024.
The deterioration in industrial production, that began in late-2022 is expected to continue through mid-year before recovering. In 2023, industrial production is expected to contract by 1.3% and grow only 0.3% in 2024.
Vehicle sales started the year higher as dealer inventories are rebuilt. However, higher borrowing costs and economic uncertainty will temper pent-up demand that has accrued over the past three years. As a result, sales of autos and light trucks are expected to grow to 14.6 million in 2023 (well below trend) and 15.7 million in 2024.
As mortgage rates remain above 6%, expectations for interest rate-sensitive housing continue to show a lower level of homebuilding. Housing starts are expected to come in at 1.28 million in 2023, before edging higher to 1.35 million in 2024.
The unemployment rate is expected to move higher from 50-year lows to 4.0% in 2023 and 4.5% in 2024.
Following an 8.0% surge in consumer prices in 2022, growth in consumer prices are expected to decelerate to a 4.2% pace in 2023 and 2.6% in 2024.
Compared to last month, expectations for interest rates (10-year Treasury) were higher as recent data suggest additional Fed tightening will be necessary.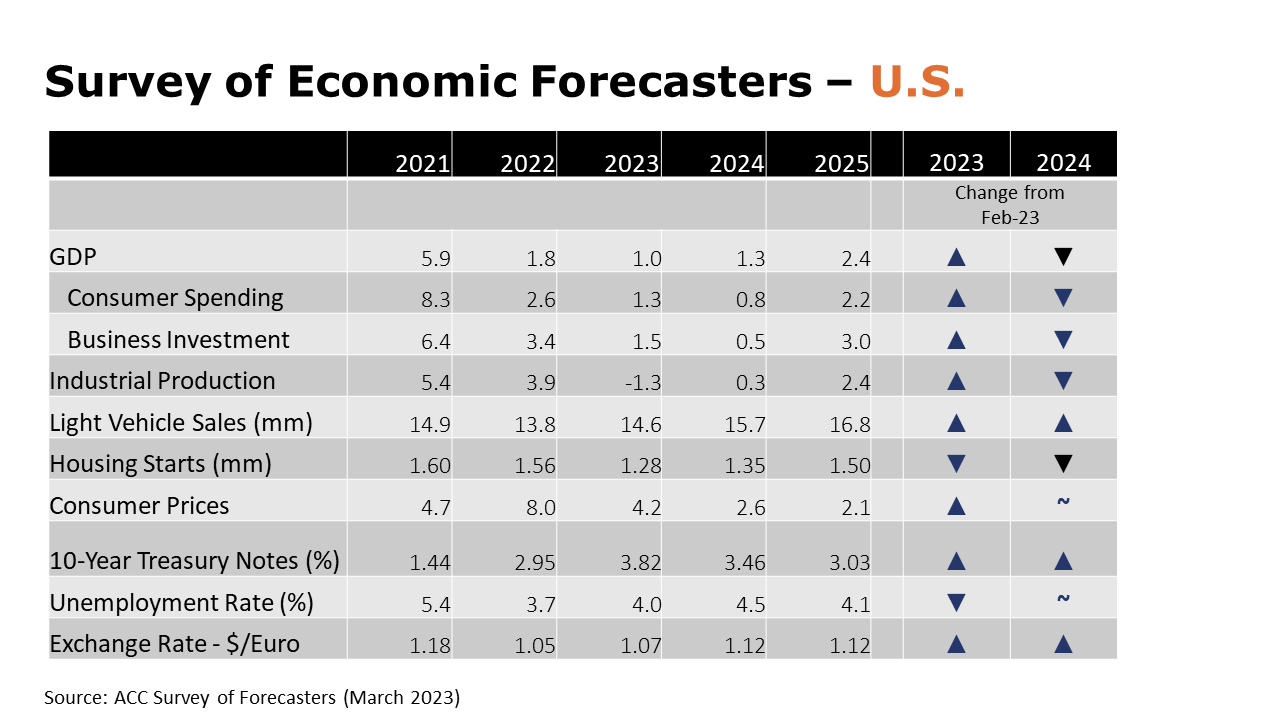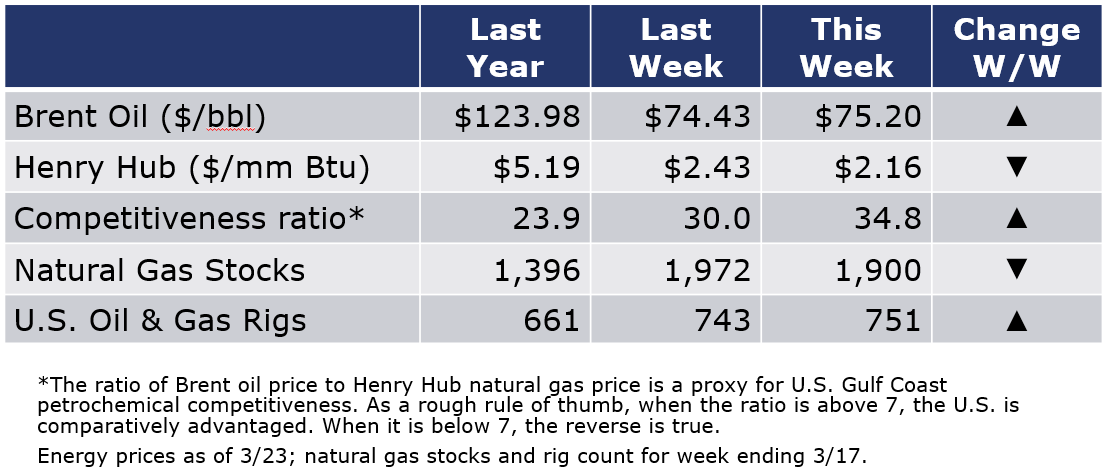 Natural gas prices were lower this week on strong production forecasts and the anticipation of warmer spring temperatures. Oil prices were slightly higher than a week ago, however, as the dollar fell to its lowest level in nearly two months. The combined oil and gas rig count rose by eight to 751 during the most recent week.
For the business of chemistry, the indicators brings to mind a yellow banner for basic and specialty chemicals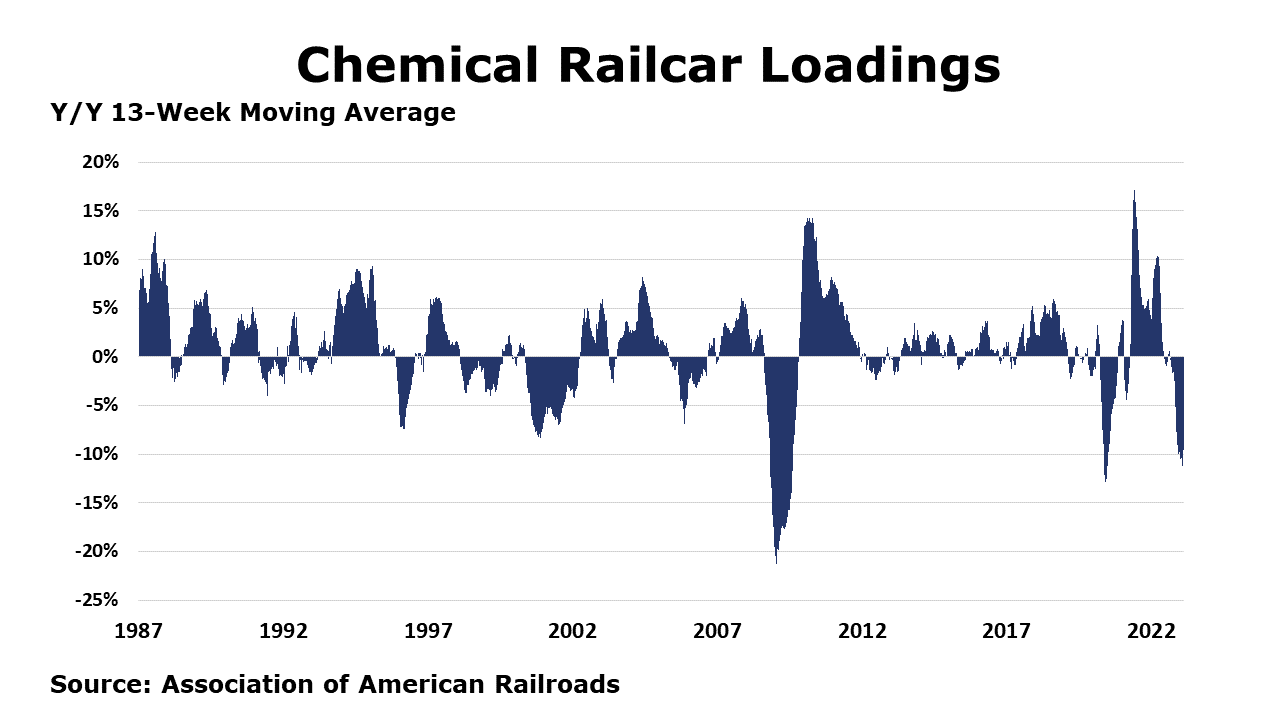 According to data released by the Association of American Railroads, chemical railcar loadings were down to 32,175 for the week ending March 18. Loadings were down 8.1% Y/Y (13-week MA), down 7.2% YTD/YTD and have been on the rise for 8 of the last 13 weeks.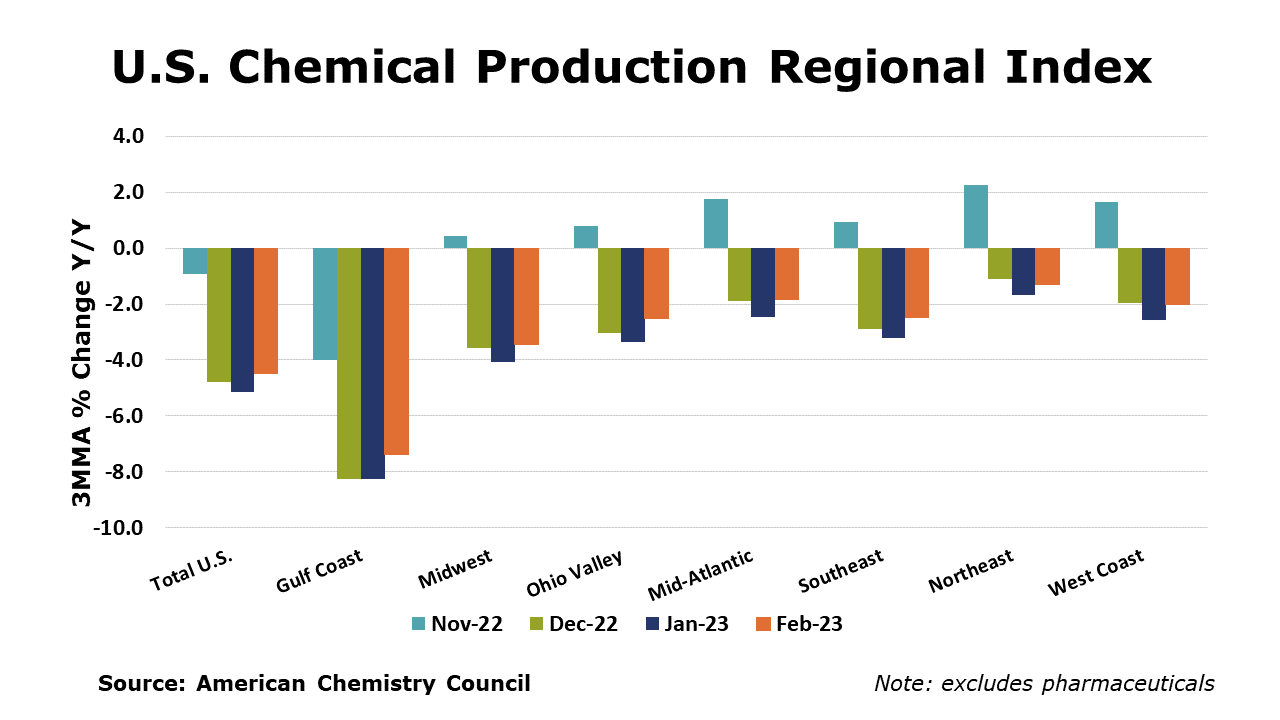 The U.S. Chemical Production Regional Index (U.S. CPRI) rose by 0.7% in February following declines of 2.4% in December and 0.6% in January, according to the American Chemistry Council (ACC). Chemical output was higher than a month ago in all regions, with the largest gain in the Gulf Coast, home to much of the nation's basic industrial chemical and synthetic materials capacity. Because the CPRI is measured as a three-month moving average (3MMA), February's gain reflects a rebound in the most recent month that followed several declines at the end of the year due to lower manufacturing demand and disruptions from winter storm Elliott. Compared with February 2022, U.S. chemical production was 4.5% lower. Chemical production was lower than a year ago in all regions, with the largest declines in the Gulf Coast.
On a 3MMA basis, chemical production within segments was mixed in February. Output of plastic resins, consumer products, fertilizers, organic chemicals, and pesticides were higher. These gains were offset by lower production of coatings, adhesives, other specialty chemicals, synthetic rubber manufactured fibers, industrial gases and synthetic dyes & pigments.
As nearly all manufactured goods are produced using chemistry in some form, manufacturing activity is an important indicator for chemical demand. Down for a fourth consecutive month, manufacturing output was lower by 0.2% in February on a 3MMA basis. The 3MMA trend in manufacturing production was mixed, with output in most chemistry-consuming segments continuing to contract. Output continued to expand, however, in aerospace, apparel and appliances.
Note On the Color Codes
The banner colors represent observations about the current conditions in the overall economy and the business chemistry. For the overall economy we keep a running tab of 20 indicators. The banner color for the macroeconomic section is determined as follows:
Green – 13 or more positives
Yellow – between 8 and 12 positives
Red – 7 or fewer positives
For the chemical industry there are fewer indicators available. As a result we rely upon judgment whether production in the industry (defined as chemicals excluding pharmaceuticals) has increased or decreased three consecutive months.
For More Information
ACC members can access additional data, economic analyses, presentations, outlooks, and weekly economic updates through MemberExchange.
In addition to this weekly report, ACC offers numerous other economic data that cover worldwide production, trade, shipments, inventories, price indices, energy, employment, investment, R&D, EH&S, financial performance measures, macroeconomic data, plus much more. To order, visit http://store.americanchemistry.com/.
Every effort has been made in the preparation of this weekly report to provide the best available information and analysis. However, neither the American Chemistry Council, nor any of its employees, agents or other assigns makes any warranty, expressed or implied, or assumes any liability or responsibility for any use, or the results of such use, of any information or data disclosed in this material.
Contact us at ACC_EconomicsDepartment@americanchemistry.com
* All content is copyrighted by Industry Intelligence, or the original respective author or source. You may not recirculate, redistrubte or publish the analysis and presentation included in the service without Industry Intelligence's prior written consent. Please review our terms of use.