March 28, 2023 (press release) –
"At the beginning of the design phase, we set a goal to make the lightest AR glasses on the market," recalled Mr. Liang Xianglong, Co-Founder and Leader of Hardware Department of LLVision. "Every gram mattered to the comfort of our customers. However, with all the components required for AR glasses, including the optical module, microphone and computer chip, it was a difficult challenge. After comparing and testing materials from more than 20 suppliers globally, we found SABIC's ULTEM resin to be the lightest, with additional advantages of strength, resilience and inherent, non-halogenated flame retardance. With the help of ULTEM resin, we lowered the overall weight of our LEION Hey glasses to just 79 grams, or 2.8 ounces."
According to the World Health Organization, about 1.5 billion people (nearly 20 percent of the global population) live with hearing loss – a number that could rise to 2.5 billion by 2050. Another trend is the growing need for international communications that has arisen with the loosening of COVID-19 restrictions. The LEION Hey glasses can enable individuals to cope with both scenarios. They can help avoid the challenges of hearing in noisy environments or lip-reading when people are wearing masks. Also, they can facilitate communication in multilingual work environments and enable more-active business and social interactions.
LLVision employs automatic speech recognition technology and artificial intelligence to create, stream and display voice translations in milliseconds. The computer chip integrated in the legs of the glasses translates voice input into text data. The glasses connect wirelessly to a smartphone app that handles user authentication.
During LLVision's selection process, ULTEM resin surpassed incumbent materials used for eyeglass legs, such as amorphous polyamide (PA) resin. SABIC's polyetherimide (PEI) material provides a balance of ductility and stiffness that enables thin-wall molding to cut weight by up to 30 percent vs. PA and provide more space for embedded components. This specialty resin also provides better dimensional stability than PA for efficient assembly, and delivers combined stiffness and strength that allows the legs to clamp securely to the wearer's head. ULTEM resin's flame retardance enhances the safety of devices that incorporate electronic components, and the non-halogenated formulation avoids the use of chlorine and bromine, which are associated with adverse health and environmental effects.
ULTEM 1000 resin is an unreinforced, general-purpose grade offering high heat resistance, high strength and modulus, and broad chemical resistance. It is rated for fire safety under the UL94 V0, V2 and 5VA standards. SABIC supplies the material to LLVision in a custom gray color. In addition, SABIC has a broad portfolio of other materials well suited for eyeglass frames and legs depending on customers' design needs.
"LLVision's AR smart glasses are a novel and effective way to help people communicate more easily and accurately," said Scott Fisher, director, ULTEM Resins & Additives for SABIC's Specialties business. "Our high-performance ULTEM resin, which has been chosen for eyewear applications for more than a decade, helped the company address key product design and manufacturing challenges. Subject to user testing, any maker of AR or conventional eyewear can benefit from the light weight and high-strength properties of ULTEM resin. We look forward to working with LLVision on a next-generation version of the LEION Hey glasses using a certified renewable, bio-based grade of ULTEM resin."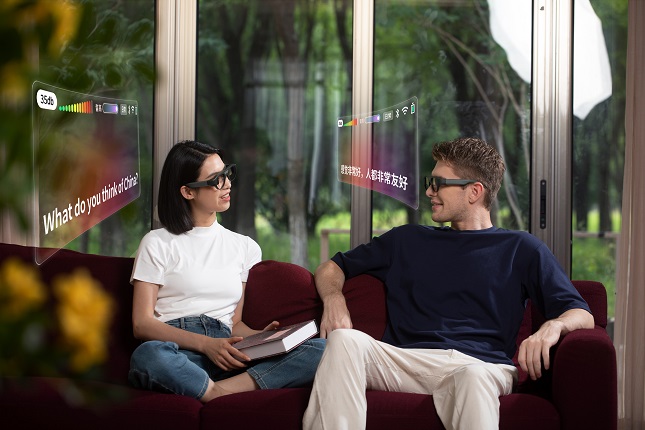 * All content is copyrighted by Industry Intelligence, or the original respective author or source. You may not recirculate, redistrubte or publish the analysis and presentation included in the service without Industry Intelligence's prior written consent. Please review our terms of use.