February 2, 2023 (press release) –
February 2, 2023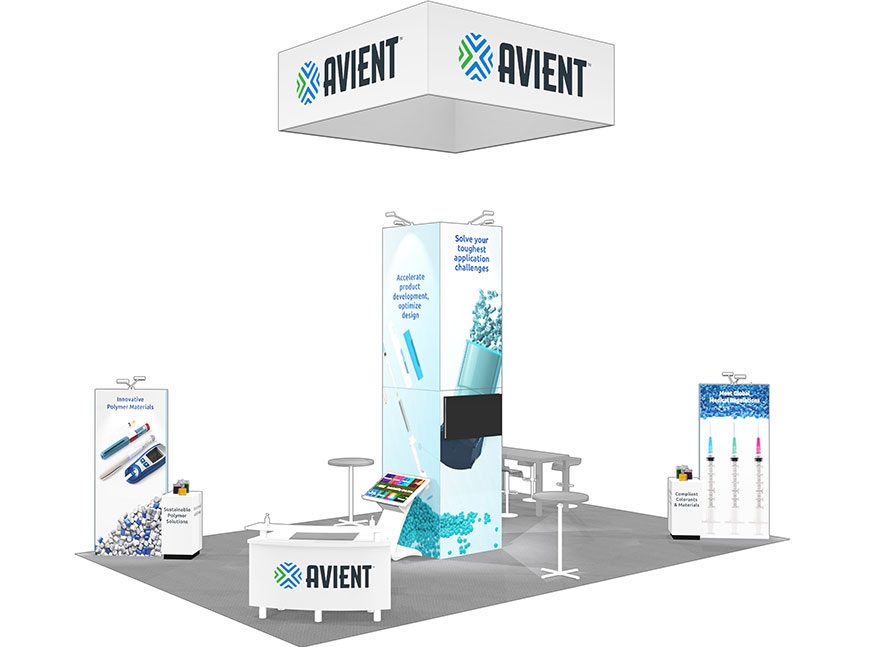 ANAHEIM, Calif. – February 2, 2023 – Avient will exhibit at Medical Design and Manufacturing (MD&M) West next week as part of the IME West show, highlighting its polymer solutions and services that can assist healthcare OEMs and molders in solving complex device and material challenges and help advance sustainability efforts.
Drawing from its comprehensive portfolio of specialized global polymers, additives, and colorants for healthcare, Avient's on-site experts will focus on a growing list of compliant technologies, bio-based and other sustainable alternatives to traditional materials, and its design services that support product development. Some featured technologies include the following:
Mevopur™ Healthcare Colorants and Formulations represent a broad portfolio of polymer colorant solutions developed specifically for today's complex and highly regulated applications. Manufactured across a global network of ISO 13485 facilities, they meet or exceed requirements for regulations such as USP Class VI, ISO 10993, USP 661, and ICH Q3D.
Mevopur™ Healthcare Functional Additives comprise a portfolio of consistent, compliant functional additives to help protect or enhance the performance of polymers used in medical devices, diagnostics, or pharmaceutical packaging. This broad line of additives includes Mevopur chemical foaming agents that can help reduce material use by up to 20 percent, providing another way to increase sustainability in healthcare packaging products.
Cesa™ Low Retention Additives are designed for use with polypropylene and polyethylene in a wide range of applications. These functional additives enable the material surface to repel water or other liquids to deliver the last drop out of a package or devices such as pipette tips. They also eliminate the need for secondary coating or wetting processes to achieve equivalent performance while also reducing production costs.
Trilliant™ HC Healthcare Thermoplastics feature excellent chemical resistance for applications found in biopharmaceutical processing, hospital settings, and home healthcare applications. The portfolio includes the HC8910 and HC8920 series for improved resistance to harsh chemicals and hospital-grade disinfectants over other flame-resistant (FR) polymers such as PC/ABS, PC/PET, and copolyester. In addition, the polyketone-based glass-filled formulations offer comparable performance to nylon, plus the benefit of enabling a lower carbon footprint for a more eco-conscious alternative.
Mevopur™ Healthcare Bio-based Polymer Solutions provide a unique family of color and additive concentrates based on polymers with 70-95 percent bio-content and pre-tested raw materials to help reduce carbon footprint and mitigate risk. Available in pre-colored formulations, they offer a sustainable drop-in replacement for fossil-based grades and can be processed and recycled in the same channels. Like other Mevopur formulations, they are manufactured in dedicated ISO 13485 facilities and supported by testing to ISO 10993-1, USP, European Pharmacopeia, and ICH Q3D guidelines.
Versaflex™ HC TPEs are compliant and easily colorable formulations for injection molding or overmolding uses. This family of TPEs includes the HC3810 series formulated without animal derivatives for use in a wide range of applications. It also contains more specialty formulations like the HC BT218 grade, which was developed specifically to handle the complexities of biopharmaceutical tubing and deliver excellent weldability, kink resistance, and low levels of extractables.
Colorant Chromatics™ Transcend™ Premier Healthcare Colorants are bright, high-temperature solutions developed specifically for medical applications. They are offered in pre-colored or concentrate form in a range of vivid opaque and transparent colors that are fully bio-compatible per ISO 10993 standards to provide ultra-high-heat resistance and performance without compromising safety. Customized colors and solutions are also available to meet specific needs.
In addition to specific polymer solutions, experts will be on hand to share insights on the specialty services Avient provides, specifically Avient Design and ColorWorks™ Design and Technology Centers, to support customers throughout product development. Avient Design is a highly specialized group of industrial designers and project engineers who use a unique combination of design, polymer science, and manufacturing expertise to simplify the product design process and help get you to market faster. ColorWorks centers provide invaluable ideas, inspirations, and technical guidance to help establish high-impact color concepts and differentiate brands and products.
Avient will exhibit at MD&M West in booth #2101 on February 7-9, 2023.
About Avient
Avient Corporation (NYSE: AVNT) provides specialized and sustainable material solutions that transform customer challenges into opportunities, bringing new products to life for a better world. Examples include:
Dyneema®, the world's strongest fiber™, enables unmatched levels of performance and protection for end-use applications, including ballistic personal protection, marine and sustainable infrastructure and outdoor sports
Unique technologies that improve the recyclability of products and enable recycled content to be incorporated, thus advancing a more circular economy
Light-weighting solutions that replace heavier traditional materials like metal, glass and wood, which can improve fuel efficiency in all modes of transportation and reduce carbon footprint
Sustainable infrastructure solutions that increase energy efficiency, renewable energy, natural resource conservation and fiber optic / 5G network accessibility
Avient is certified ACC Responsible Care®, a founding member of the Alliance to End Plastic Waste and certified Great Place to Work®. For more information, visit www.avient.com/.
To access Avient's news library online, please visit www.avient.com/news.
# # #
Media contact
Nicole DeChant
Avient Corporation
nicole.dechant@avient.com
* All content is copyrighted by Industry Intelligence, or the original respective author or source. You may not recirculate, redistrubte or publish the analysis and presentation included in the service without Industry Intelligence's prior written consent. Please review our terms of use.