May 16, 2023 (press release) –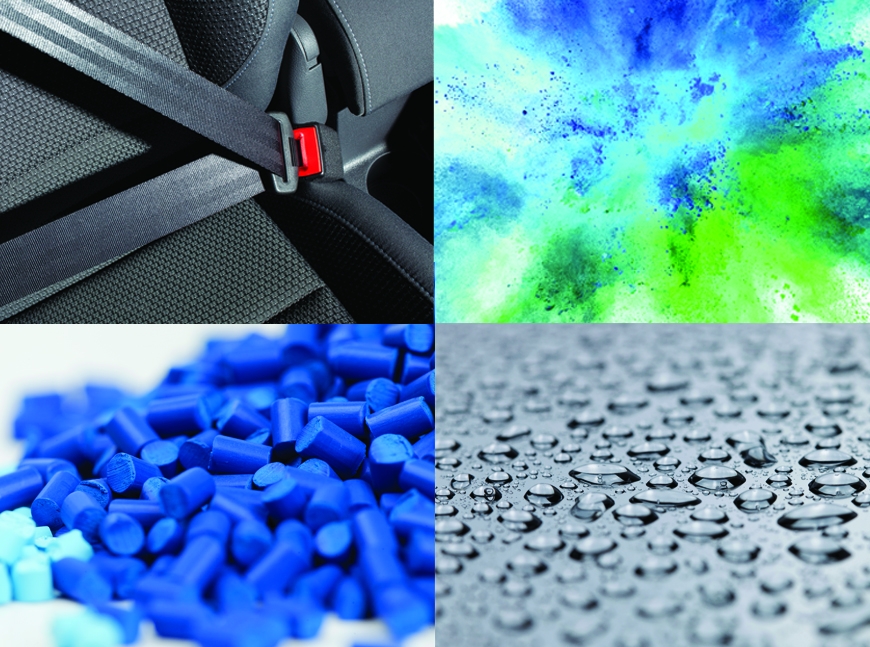 Avient to feature its latest sustainable solutions of colorants and functional additives for dyes, chemicals, finishes, and spin-dyeing, at ITMA 2023 in Hall 5, booth B302.
To download a high-resolution image, please click here: FOR MEDIA USE ONLY
MILAN, Italy – May 16, 2023 – At ITMA 2023, the annual trendsetting fiber, textile, and garment exhibition taking place next month, Avient Corporation is highlighting its latest portfolio of colorants and functional additives for spin-dyeing, dyes, chemicals, and finishes for the mass coloring and modification of synthetic fibers. This includes sustainable solutions that can enable recycling, support human health and safety, reduce energy use, and offer eco-conscious alternatives to traditional methods.
Colorants and Additives for Spin-Dyeing
Avient's solutions for spin-dyeing include a wide range of colorants to achieve high-quality dyeing of extruded fibers. The colorants, provided as concentrate pellets, are added to virgin or recycled polymers during yarn manufacturing as a one-in-one manufacturing/dyeing process. Avient will feature Remafin™ Fiber Colorants for spin-dyeing polypropylene fibers, filaments, and nonwovens, along with Renol™ Fiber Colorants for polyester and polyamide (nylon) fibers and filaments. These include black colorants developed for the coloration of polyamide and polyester yarns with specific undertones or where ultraviolet (UV) protection may be required. High black pigment loadings are also available to offer an efficient coloration package with deeper black options for higher-end textile applications such as automotive upholstery.
Avient's portfolio of Cesa™ Fiber Additives, which can help enhance performance and improve the processing of extruded fibers, will also be on display. These additives include concentrates for UV stabilization, flame retardancy, antimicrobial effectiveness, antistatic performance, oxidation protection, water repellency, processing aids for recycled fibers, and more. Also, including safe and sustainable offerings, these fiber additives can help fulfill technical and regulatory requirements.
Dyes, Chemicals, and Finishes
In addition to its colorant and additive solutions, Avient will also exhibit its MagnaColours® ITO range of textile dyes, chemicals, and functional finishes. MagnaColours is one of eight brands under Avient Specialty Inks, along with Union Ink™, Rutland™, Wilflex™, Zodiac™, QCM™, Printop™, and Avient Specialty Inks, that also provides water-based inks for screen printing. The MagnaColours ITO range can offer optimized textile performance to meet strict industry compliance standards through a wide range of UV treatments, fire retardants, dyes, chemicals, and other treatments. Avient will highlight key ITO range solutions, including ITOGUARD AQUASHIELD+ non-PFC water-repellent agents and ITOWASH RWB low-temperature wash-off agents for reactive dyes. The Avient Specialty Inks team will be on-site at ITMA 2023 to highlight these MagnaColours solutions.
ITMA is the world's largest annual international textile and garment technology exhibition taking place June 8-14, 2023, at Fiera Milano Rho in Milan, Italy. Avient's team of experts will be on-site to provide technical support and assistance throughout the show in Hall 5, booth B302.
About Avient
Avient Corporation provides specialized and sustainable material solutions that transform customer challenges into opportunities, bringing new products to life for a better world. Examples include:
Dyneema®, the world's strongest fiber™, enables unmatched levels of performance and protection for end-use applications, including ballistic personal protection, marine and sustainable infrastructure and outdoor sports
Unique technologies that improve the recyclability of products and enable recycled content to be incorporated, thus advancing a more circular economy
Light-weighting solutions that replace heavier traditional materials like metal, glass and wood, which can improve fuel efficiency in all modes of transportation and reduce carbon footprint
Sustainable infrastructure solutions that increase energy efficiency, renewable energy, natural resource conservation and fiber optic / 5G network accessibility
Avient is certified ACC Responsible Care®, a founding member of the Alliance to End Plastic Waste and certified Great Place to Work®. For more information, visit https://www.avient.com.
To access Avient's news library online, please visit www.avient.com/news.
# # #
Media contact
Nicole DeChant
Avient Corporation
nicole.dechant@avient.com
* All content is copyrighted by Industry Intelligence, or the original respective author or source. You may not recirculate, redistrubte or publish the analysis and presentation included in the service without Industry Intelligence's prior written consent. Please review our terms of use.