LEESBURG, Virginia , April 18, 2023 (press release) –
Use Mill Grade Stamp or Region to Learn if Wood Products Sustainably Sourced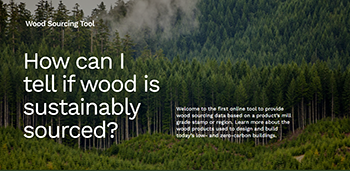 The American Wood Council (AWC) is pleased to release a new, first-of-its kind online tool designed to help users better understand where their wood products are coming from and the safeguards in place throughout the supply chain to ensure sustainability measures. The tool will provide greater insight into the sourcing of wood products used in low-and zero-carbon construction. The pilot project of the website was funded by the Softwood Lumber Board and the U.S. Endowment for Forestry & Communities funding.
The new Wood Sourcing Tool tells the sustainability story through the incorporation of data based on a wood product's mill grade stamp or region, information critical to tracking a specific product's journey from the forest to the end user.
This new tool also features a set of frequently asked questions about sustainable forestry and regional facts about wood sourcing, information that can give users broader understanding about the wood products being used in buildings across the country.
"As questions around the sustainability of fiber supply continues to grow alongside interest in mass timber in commercial construction, this online Wood Sourcing Tool promises to provide regional, robust data that will provide assurances being sought by the architect, engineering and construction communities," said AWC Vice President of Markets & Sustainability Rachael Jamison.
The sourcing data on the site is based on the ASTM D7612-21 standard, which offers a robust and objective framework for identifying wood product sources. Fiber sourcing data is provided by AWC member companies with manufacturing facilities in the United States and is updated on an annual basis, with 2021 data the most recent available and shown on the site.
When assessing the sustainability of wood products, there are three categories that are applied: Non-Controversial, Responsible, and Certified. Each gives different assurances of the practices that take place in the forests where the wood is grown and at the manufacturing site.
Additionally, AWC is offering a free webinar on Thursday, April 27 on, "Demonstrating Sustainability Through Standards." This presentation will provide a basic background for stakeholders in the construction industry how the wood industry demonstrates the environmental attributes of wood products through standardized approaches that can be utilized by green building codes and rating systems and a peek at upcoming trends in this space.
###
The American Wood Council (AWC) represents 86 percent of the structural wood products industry and the more than 450,000 men and women working family-wage jobs in mills across the country. From dimension lumber to engineered wood products, we champion the development of data, technology, and standards to ensure the best use of wood products and recognition of their unique sustainability and carbon-reduction benefits. We are leaders in providing education to the design, code and fire official communities who view AWC as a trusted and credible resource.
This email was sent to press@industryintel.com
American Wood Council, 1101 K St NW, Suite 700, Washington, DC 20005, United States
Unsubscribe

* All content is copyrighted by Industry Intelligence, or the original respective author or source. You may not recirculate, redistrubte or publish the analysis and presentation included in the service without Industry Intelligence's prior written consent. Please review our terms of use.