June 5, 2023 (press release) –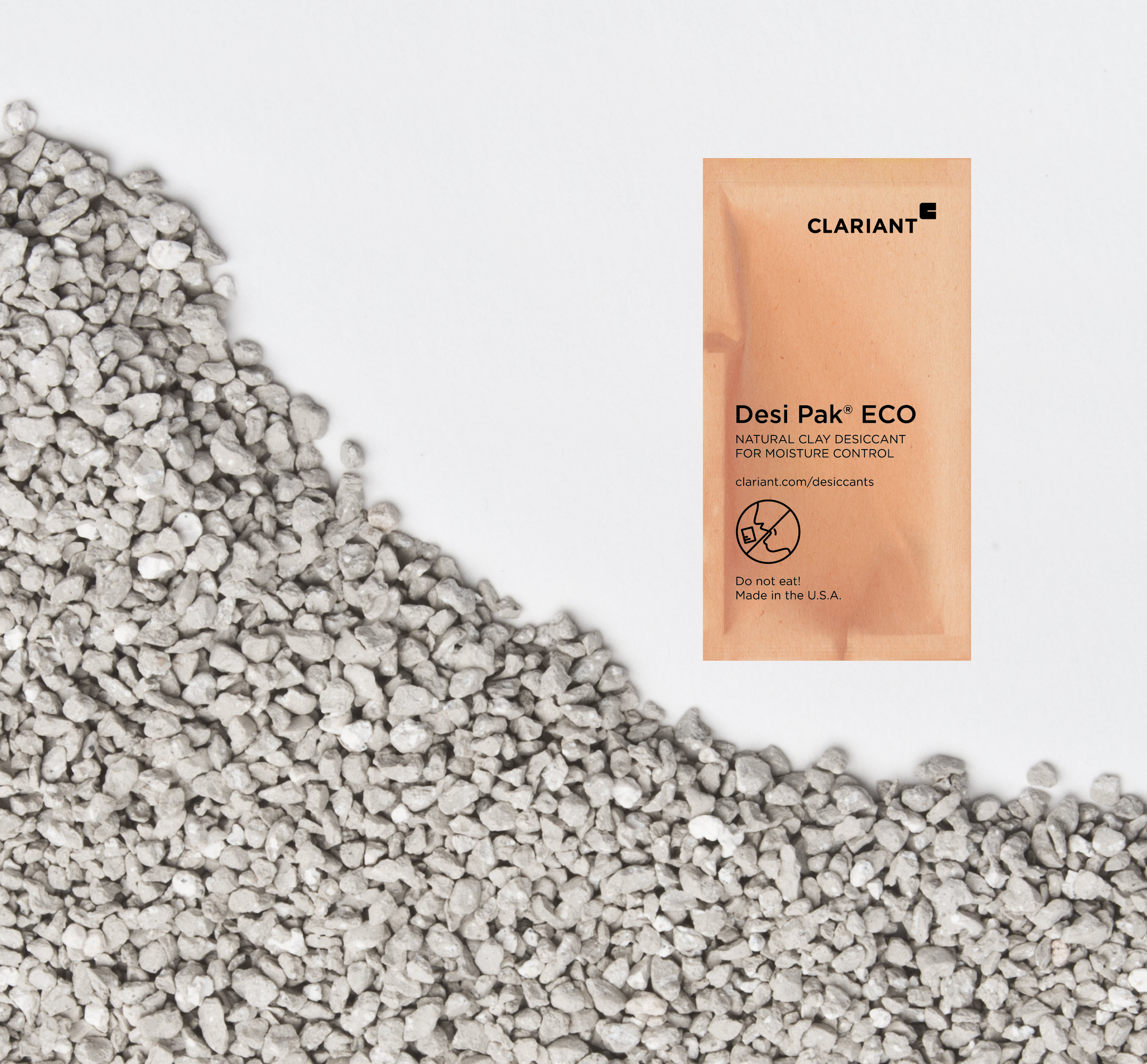 Specially-designed packaging solution focused on using raw materials and transportation packaging that have a lower environmental impact
Plastic-free packs made from raw materials that are sustainably-grown, & non-toxic water based inks and adhesive
A desiccant containing naturally-occurring bentonite clay, which is responsibly mined and presents a lower lifecycle impact than a synthetic alternative
CHARLOTTE, JUNE 5, 2023 - Clariant, a sustainability-focused specialty chemical company, takes a further step to improve the environmental impact of desiccants by adding plastic-free Desi Pak® ECO moisture adsorbing packets to its range of responsibly-mined, highly-adsorbent, natural clay solutions that help manufacturers and distributors protect sealed packaged goods from moisture damage.
The innovative new moisture-adsorbing packets feature bio-based paper made from raw materials that are sustainably grown and use only water-based inks and adhesive. Available in the standard packets size 1-, 2-, 5-, 10- and 33-grams including custom sizes, they are filled with carefully selected granulated high-grade bentonite clay, which is responsibly-sourced, minimally processed, and offers highly efficient moisture adsorption compared to synthetic alternatives in the most common packaging conditions.
"Moisture control has an integral role in the supply chain in preserving the quality and integrity of products sensitive to moisture and humidity. Moisture-related damage has a known environmental impact, creating waste through discarded goods and emissions associated with replacing damaged goods," comments Ryan Grauer, Head of Sales, Marketing, & Technology, Cargo & Device Protection, Clariant Adsorbents & Additives. "With the increased demand for packaging solutions with a lower carbon footprint, we are excited to offer customers the option of bio-based paper packets that deliver the trusted protection performance of our naturally-occurring highly-adsorbent bentonite clay desiccant."
New Desi Pak ECO packets, the latest addition to Clariant's wide range of Desi Pak desiccant packets & bags, carries the EcoTain® label, which recognizes products with outstanding sustainability advantages. A Life Cycle Assessment (LCA) on the Desi Pak ECO product was performed based on desiccant manufactured in the United States, demonstrating that the responsibly-mined bentonite clay has a lower carbon footprint and less energy consumption compared to synthetic desiccants due to a less complex production process. There is also significantly lower water consumption for raw materials production.
To further help customers reduce their own Scope 3 emissions, Clariant extended the sourcing of raw materials with a lower environmental impact to include transport packaging. The carton packaging used to transport Desi Pak ECO is recyclable and made from sustainably grown raw materials. Further, Desi Pak ECO comes packaged with cobalt-dichloride free (CDF) humidity indicator cards.
Desi Pak ECO packets contribute with effective moisture control and the reduction of carbon emissions associated with the production and transportation of packaging materials for a wide range of applications. Examples include clothing and textiles, automotive, machinery, tools, as well as nutraceuticals, and foods. On request, Desi Pak ECO packets are available with clay desiccant that complies with relevant U.S. FDA (21 CFR) and with U.S. Pharmacopeia USP <670> testing requirements for Auxillary Packaging Components.
For more information on Desi Pak ECO moisture adsorbing packets, visit Clariant.com.
Discover all the product protection benefits of Clariant's natural, responsibly-mined moisture-adsorbing desiccant clay in a new plastic-free, bio-based packet, featuring non-toxic water-based inks and adhesive.
® TRADEMARK OF CLARIANT REGISTERED IN MANY COUNTRIES.
Stefanie Nehlsen
Competence Center Global Media & Events
+41 61 469 63 63
Related Images & Video
* All content is copyrighted by Industry Intelligence, or the original respective author or source. You may not recirculate, redistrubte or publish the analysis and presentation included in the service without Industry Intelligence's prior written consent. Please review our terms of use.