June 12, 2023 (press release) –
Accelerating DE&I by Following the Kao Way, to Realize a Kirei World in which All Life Lives in Harmony
Kao Corporation has created a new Diversity, Equity and Inclusion (DE&I) Policy, announced on the company's website. Kao's corporate philosophy, the Kao Way, upholds "walking the right path" (integrity) as one of its core values. Based on this idea, the company has been working to protect human rights and honor the diversity of employees across all its business activities. The new policy aims to accelerate DE&I, employing the numerous opportunities gained via Kao's broad range of businesses and working together with its stakeholders—employees, business partners and all people—to contribute to its business and create a more inclusive society.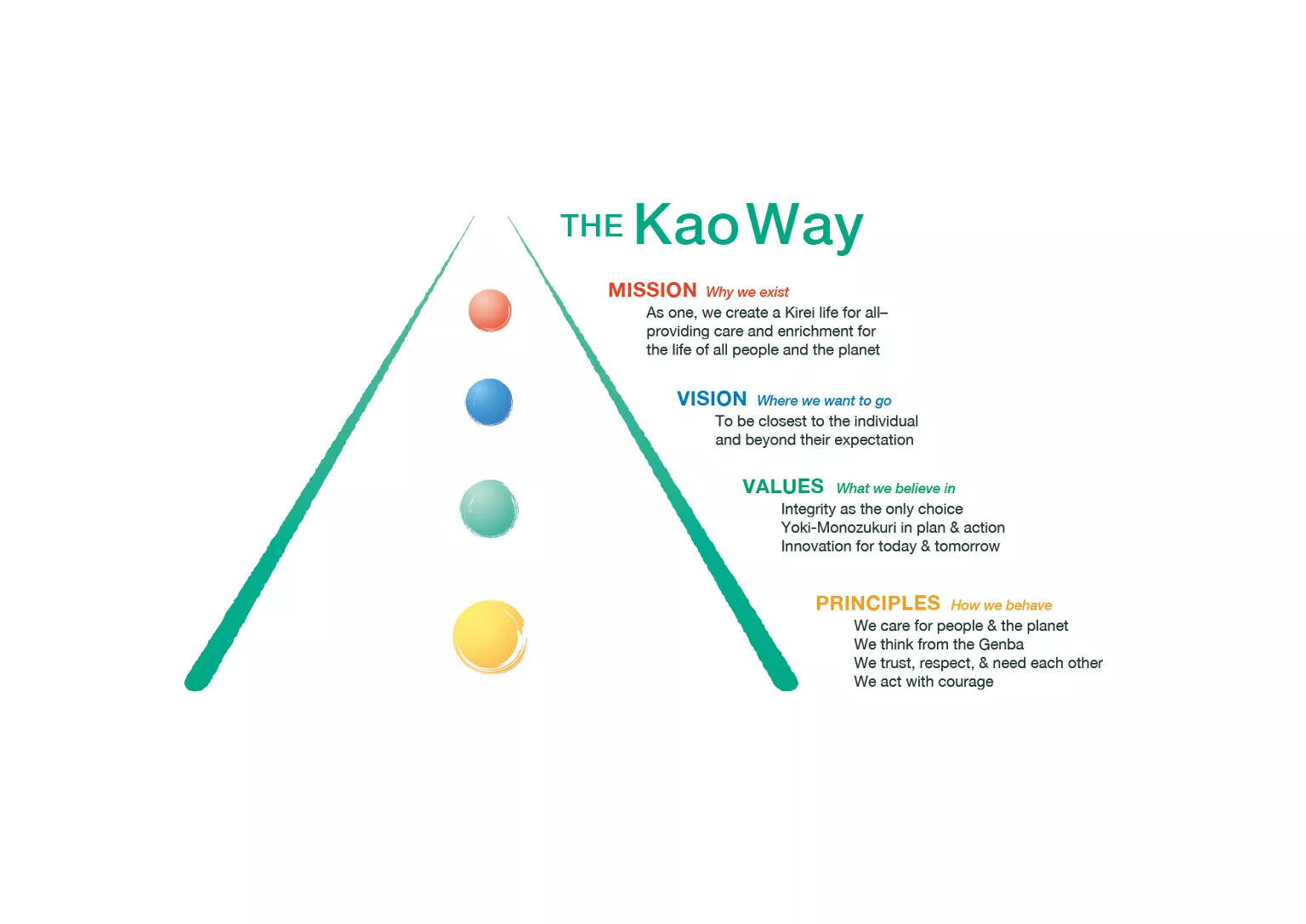 Why the Policy Was Created
Since the founding of the company in 1887, Kao has worked to realize a Kirei world in which all life lives in harmony, with the aim of making life enjoyable for all people and offering solutions to provide care and enrichment. Kao's focus is on people, and people are at the heart of all corporate activities.

The Kao Way upholds integrity as one of its core values and calls for treating everyone with respect, fairness and empathy and working with sincerity of purpose. To evolve in response to the ever-changing global landscape and social issues, in 2021 Kao reviewed its role and responsibility as a corporation and revised the Kao Way, placing a stronger emphasis on ESG. Among its principles is the statement "We trust, respect, and need each other," a sentiment reflecting DE&I. The Kao Business Conduct Guidelines, which provide guidance for putting the Kao Way into practice, call for conducting fair, honest and appropriate transactions, respecting human rights through company activities and respecting employees' diversity.

The Kao Human Rights Policy, created in 2015 and based on the United Nations' Guiding Principles on Business and Human Rights, calls for the company to respect the international standards set out in the International Bill of Human Rights and similar declarations, conduct due diligence into human rights, educate employees, and make efforts to fulfill its commitments toward protecting human rights across all its business activities.

These are the ways in which Kao has endeavored to act with integrity in order to create an environment where every individual can thrive and establish an inclusive culture both internally and externally.
Key Points of Kao's Diversity, Equity and Inclusion
Kao offers a wide range of products and services, from the products of the Chemical business meeting the needs of industry, to the four business segments of Hygiene and Living Care, Health and Beauty Care, Life Care and Cosmetics, which provide consumer products. The company will continue to implement DE&I across all its brands, products and services, employing the numerous opportunities gained via its broad range of businesses, together with its stakeholders—employees, business partners and all people. Based on Kao's core value of integrity, and building on the foundation of respecting human rights, Kao has created this DE&I policy with the aim of allowing individual values and talents to shine brighter, thereby improving people's lives beyond their expectations. Kao will also fulfill its purpose of realizing a Kirei world in which all life lives in harmony.
Diversity, Equity and Inclusion in the Workplace
At Kao, under the theme "recognize the uniqueness of each employee to create a better world," we aim to become an inclusive and equitable organization, where diversity is valued and is seen as our strength.
Ratio of women in management is equal to the ratio of women in the organization overall by 2030. (For the Kao Group Japan)
Affirmative answer rate to a question on "Inclusive organizational culture" on our employee engagement survey by 2030. (For the Kao Group Japan)
Empowering women
Empowering employees with disabilities
Empowering employees of LGBTQIA+ communities
Fostering an inclusive culture
Working toward one of the objectives of the Kao Group Mid-term Plan K25, which is "to maximize the power and potential of employees," Kao is driving efforts to promote DE&I. In particular, Kao believes that women's empowerment is essential for the company to grow, given that diversity is one of the most crucial aspects of human capital management. In line with its policy of fostering an inclusive corporate culture where all employees can be aware of and unlearn their preconceptions*1 , feel motivated and apply their talents to the fullest, and be authentically themselves, Kao will work to help incorporate diverse perspectives into its decision-making processes. To accomplish this, Kao has put forth three priority actions to rectify the imbalance in the ratio of women in management to the ratio of women in the organization in Japan: developing potential future leaders; offering support for balancing work and childcare to promote engagement; and providing management education for unbiased training and promotion opportunities.
* 1 Concerning gender roles, images of leaders, etc.
Diversity, Equity and Inclusion with Our Business Partners
Kao will build a sustainable supply chain by sharing values and cooperating with all business partners involved in Yoki-Monozukuri*2 . Building upon the foundation of respecting human rights, we will drive Diversity, Equity and Inclusion.
* 2 In Japanese, "yoki" means good or excellent, and "monozukuri" means making or craftsmanship. For us, Yoki-Monozukuri means an excellent creation process that is good for everyone involved and enriches the lives of consumers and customers.
100% completion of Sedex response by suppliers by 2025
100% completion of traceability of oil palm smallholders by 2025
We seek to procure 100% RSPO*3 certified palm oil used by Kao Group by 2025
Support oil palm smallholders during period 2021–2030 (approx. 5,000/plantation size: approx. 18,000 hectares)
Launch grievance mechanism for independent oil palm smallholders in Indonesia by 2022
* 3 Roundtable on Sustainable Palm Oil: A roundtable to promote the production and use of sustainable palm oil.
Responsibly Sourced Raw Materials
Supplier Evaluations Based on Partnership Requirements for Suppliers
SMILE Program (Supporting Small Oil Palm Farms in Indonesia)
Grievance Mechanism
Kao views its suppliers as partners in Yoki-Monozukuri and works with them to resolve social issues. In 2020, Kao, together with global palm oil processor and exporter Apical Group, as well as plantation and palm oil company Asian Agri, launched the SMILE or the SMallholder Inclusion for better Livelihood & Empowerment program, to support independent oil palm smallholders in Indonesia. The 11-year initiative running from 2020 to 2030 is working with 5,000 independent smallholders in Indonesia to help them improve yields and provide support for RSPO Certification. One of the aims of RSPO Certification is to ensure respectful, equitable treatment allowing smallholders equal opportunity to fulfill their potential through work, local communities and wholesome labor and living environments. Support through the SMILE program seeks to improve worker safety and quality of life, improve the livelihoods of independent smallholders, build an equitable society and establish a sustainable supply chain.
Diversity, Equity and Inclusion in Our Communities
At Kao, we aim to realize a Kirei society in which people are connected and fulfilled, through people-first Yoki-Monozukuri.
All new or improved products meet Kao's Universal Design Guidelines by 2030
Universal Product Design
Tactile Marks on Shampoos
Collaboration with Mirairo*4
Based on its Yoki-Monozukuri approach, Kao has developed and sold products easy for everyone to use. In 1991, Kao introduced notched shampoo bottles, prompted by customers who wished to be able to tell between shampoo and conditioner even with their eyes closed. Kao later encouraged the consumer products market to adopt this innovation, and today most shampoo bottles carry similar notches.
In April 2019, the Kao Group established the Kirei Lifestyle Plan, an ESG strategy. Since its start in 2021, the Kao Group Mid-term Plan 2025 (K25) has proclaimed "protecting future lives" and promoting "sustainability as the only path" as its vision. The current initiative addresses one of the Kirei Lifestyle Plan's leadership actions, to contribute to "inclusive & diverse workplaces." The Kao Group will continue to integrate its ESG strategy into its management practices. It will also develop its business, provide better products and services for consumers and society, and work toward its purpose, "to realize a Kirei world in which all life lives in harmony."
About the Kirei Lifestyle Plan
Over the past 130 years, Kao has worked to improve people's lives and help them realize more sustainable lifestyles—a Kirei Lifestyle. The Japanese word 'kirei' describes something that is clean, well-ordered and beautiful, all at the same time. The Kao Group established its ESG strategy, the Kirei Lifestyle Plan in April 2019, which is designed to deliver the vision of a gentler and more sustainable way of living. By 2030, Kao aims to empower at least 1 billion people, to enjoy more beautiful lives and have 100% of its products leave a full lifecycle environmental footprint that science says our natural world can safely absorb. For more information, please click here.
Kao creates high-value-added products and services that provide care and enrichment for the life of all people and the planet. Through its portfolio of over 20 leading brands such as Attack, Bioré, Goldwell, Jergens, John Frieda, Kanebo, Laurier, Merries, and Molton Brown, Kao is part of the everyday lives of people in Asia, Oceania, North America, and Europe. Combined with its chemical business, which contributes to a wide range of industries, Kao generates about 1,550 billion yen in annual sales. Kao employs about 35,400 people worldwide and has 136 years of history in innovation. Please visit the Kao Group website for updated information.
* All content is copyrighted by Industry Intelligence, or the original respective author or source. You may not recirculate, redistrubte or publish the analysis and presentation included in the service without Industry Intelligence's prior written consent. Please review our terms of use.