June 15, 2023 (press release) –
Upcycled Del Monte Foods, Inc. Products Named Snack Products of the Year by the 2023 Mindful Awards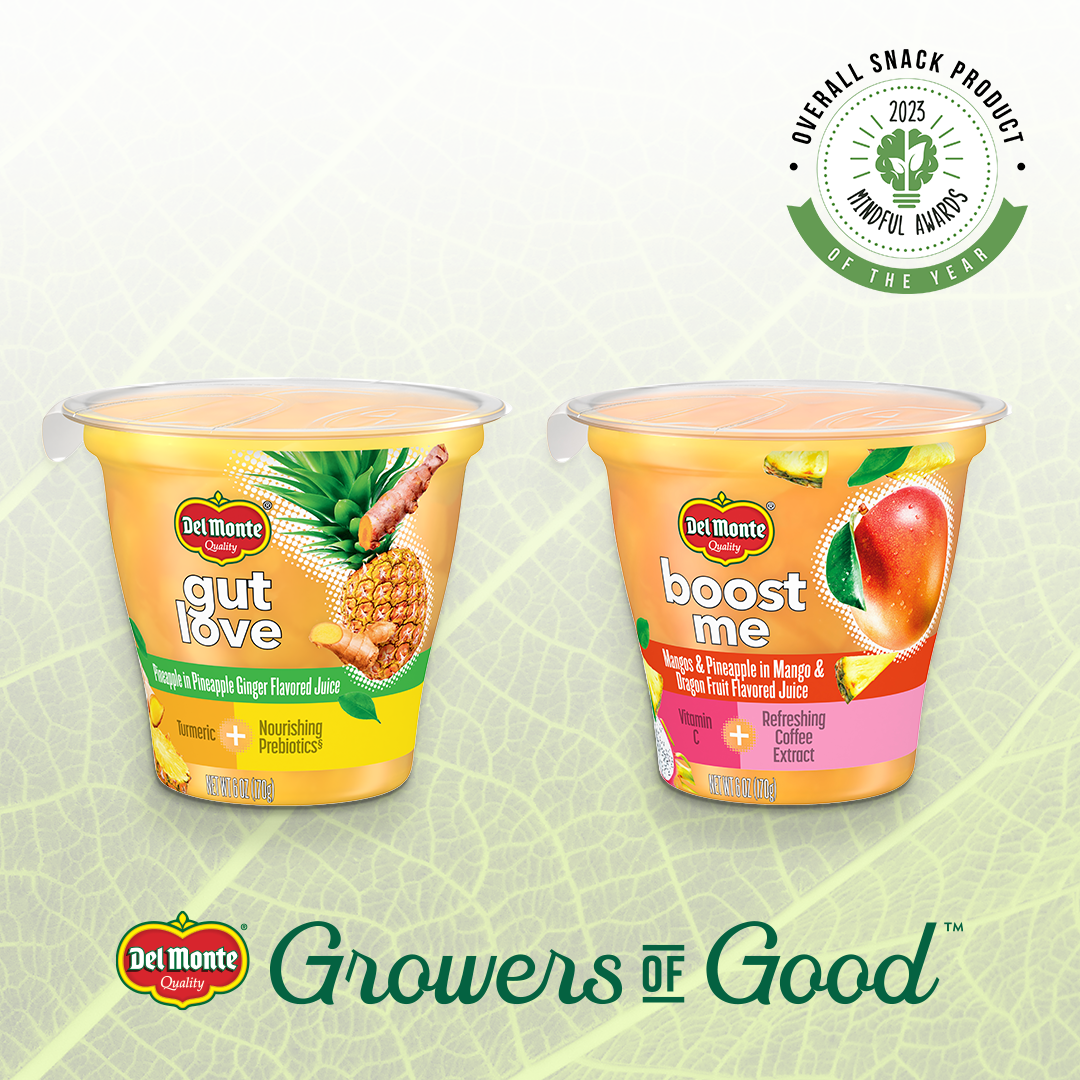 <time datetime="2023-06-15T13:05:00Z">Thu, 06/15/2023 - 09:05</time> Subheader The company has won accolades for its innovative snacking products, building on recognition already received this year for its new brand JOYBA® Type of Content Press Release Layout Standard Format Body
WALNUT CREEK, Calif. , June 15, 2023 – Del Monte® Gut Love and Boost Me Fruit Cup® Snacks with Infusions have been recognized as the Overall Snack Products of the Year by the 2023 Mindful Awards.
The Mindful Awards highlight conscious companies and products in the Consumer Packaged Goods (CPG) industry that stand up for what's right and take action to make a positive impact on people and the planet. This recognition for Del Monte Foods speaks to the company's purpose as Growers of Good® to nourish people and the planet by making nutritious foods more accessible to all.
The Del Monte® Gut Love and Boost Me Fruit Cup® Snacks with Infusions are made with real fruit like mangos and pineapples, and are infused with antioxidants and natural ingredients including Vitamin C, nourishing prebiotics, and coffee extract, making better for you snacking delicious and convenient. The two new products add to Del Monte's existing products that are Upcycled Certified. Through Gut Love and Boost Me Fruit Cup® Snacks, the company is re-directing approximately 130,000 pounds of pineapple juice each year, helping to provide nutritious and affordable food, while reducing greenhouse gas emissions.
"We're constantly innovating to make great-tasting products that are more convenient and accessible to meet the needs of consumers' ever-changing habits and lifestyles," said Bibie Wu , Chief Marketing Officer for Del Monte Foods . "This recognition is a testament to the hard work of our team members in using sustainable practices to ensure that food reaches its highest and best purpose, while creating delicious snacks that bring joy to nutritious eating."
Del Monte Foods has launched a slew of new products during the past five years using breakthrough technologies in ingredients, packaging and processes. One of its latest brands, JOYBA®, was recently recognized by the Refrigerated and Frozen Food Awards as part of the Best New Retail Products for 2023. The brand's Blueberry Pomegranate Bubble Tea ranked third of five new products of the year, decided by consumer vote. JOYBA® Bubble Tea is a first of its kind line of boba shop-inspired ready to drink beverages made with real brewed tea and popping boba, conveniently available in retail stores nationwide.
Del Monte® Gut Love and Boost Me Fruit Cup® Snacks are available at major national retailers including Walmart and Kroger. JOYBA® Bubble Tea is available at select Target, Walmart, Costco , Sam's Club and Circle K . To learn more and to locate a store partner near you, please visit www.delmonte.com and www.joyba.com.
About Del Monte Foods
For more than 135 years, Del Monte Foods, Inc. has been driven by our mission to nourish families with earth's goodness. As the original plant-based food company, we're always innovating to make nutritious and delicious foods more accessible to consumers across our portfolio of beloved brands, including Del Monte®, Contadina®, College Inn ®, Kitchen Basics®, JOYBA®, Take Root Organics™ and S&W®. We believe that everyone deserves great tasting food they can feel good about, which is why we grow and produce our products using sustainable and earth-friendly practices for a healthier tomorrow.
Del Monte Foods, Inc. is the U.S. subsidiary of Del Monte Pacific Limited (Bloomberg: DELM SP, DELM PM) and is not affiliated with certain other Del Monte companies around the world, including Fresh Del Monte Produce Inc. , Del Monte Canada, or Del Monte Asia Pte. Ltd. For more information about Del Monte Foods and our products, please visit www.delmontefoods.com or www.delmonte.com.
Canonical URL https://www.delmontefoods.com/ Distribution Settings Markup
Date and Time are ET. We may take up to two hours to approve confirmed content. Content is reviewed for publishing: Monday-Wednesday 8 a.m. -8 p.m. ET , Thursday-Friday 8 a.m. -6 p.m. ET
Layout Advanced Publish on CSRWire On Skip Accesswire No
* All content is copyrighted by Industry Intelligence, or the original respective author or source. You may not recirculate, redistrubte or publish the analysis and presentation included in the service without Industry Intelligence's prior written consent. Please review our terms of use.