BASEL, Switzerland , September 5, 2023 (press release) –
Syngenta has launched a dynamic multi-media campaign to inspire people towards creativity, collaboration, and impact for sustainable agriculture. Called Agcelerators, the campaign will showcase people transforming agriculture and will run initially throughout Europe, Africa, and Middle East to help speed up the creation and adoption of more sustainable agricultural practices.
With the world's population expected to reach nearly 10 billion by 2050, the global food system must undergo urgent change to ensure there is adequate food for everyone without destroying the planet. The World Resources Institute's 2019 World Resources Report: Creating a Sustainable Food Future revealed that meeting this challenge will require closing three gaps:
A 56 percent "food gap" between what was produced in 2010 and food that will be needed in 2050;
A nearly 600 million-hectare "land gap" (an area nearly twice the size of India) between global agricultural land area in 2010 and expected agricultural expansion by 2050; and
An 11-gigaton "greenhouse gas mitigation gap" between expected emissions from agriculture in 2050 and the level needed to meet the Paris Agreement.
The challenge for sustainable agriculture is to balance the need for increased food production with the need to protect the environment, conserve natural resources, and ensure the long-term viability of agricultural systems. And this is where the Agcelerators step in, helping accelerate the transformation of agriculture.
"Agcelerators are champions in the agricultural sector," said Alexandra Brand, Regional Director, Syngenta Crop Protection, Europe, Africa and Middle East. "They are the people developing and embracing new ideas and establishing new partnerships and ways of working. They are the driving force behind sustainable farming practices that will have a lasting impact on our planet. It is now time we hear their stories."
The Agcelerators campaign embodies Syngenta's dedication to addressing critical challenges faced by the farming community and the wider ecosystem. In addition to showcasing cutting-edge technologies and pioneering approaches, Syngenta seeks to catalyze a movement that leverages the collective strength of farmers, stakeholders, and the broader community to shape a new era for agriculture.
"Our vision for Agcelerators is to create a movement that unites stakeholders, amplifies impact, and ultimately drives the adoption of sustainable farming practices," said Robert Renwick, Head of Business Sustainability, Syngenta Crop Protection, Europe, Africa and Middle East. "Over the coming weeks, through traditional and social media we will be demonstrating how people are helping transform agriculture through a variety of modern techniques and technologies, including data analytics, diagnostics, and biologicals. Their voices. Their stories."
Through Agcelerators, Syngenta will highlight its enduring commitment to environmental stewardship, innovation, and support for farmers, showcasing people, products and services that are making a positive difference. The campaign humanizes the efforts through telling real-life stories, demonstrating the positive and tangible impact being made on the lives of individuals and communities around the world.
For more information about Agcelerators visit: www.syngenta.com/agcelerators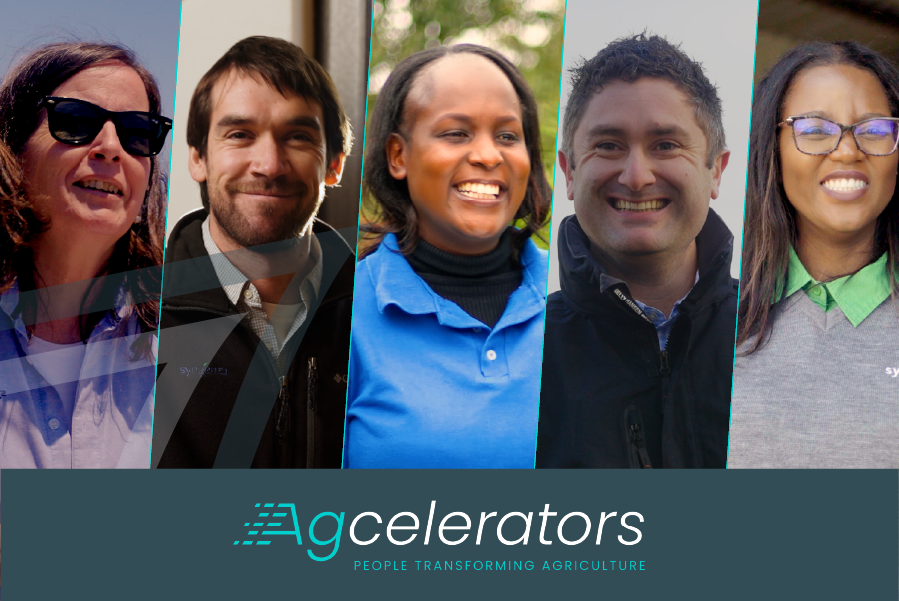 About Syngenta Crop Protection

Syngenta Crop Protection is a leader in agricultural innovation, bringing breakthrough technologies and solutions that enable farmers to grow productively and sustainably. We offer a leading portfolio of crop protection solutions for plant and soil health, as well as digital solutions that transform the decision-making capabilities of farmers. Our 17,900 employees serve to advance agriculture in more than 90 countries around the world. Syngenta Crop Protection is headquartered in Basel, Switzerland, and is part of the Syngenta Group. Follow us on Twitter at www.twitter.com/Syngenta, www.twitter.com/SyngentaUS and on LinkedIn at www.linkedin.com/company/syngenta
Contact
Liam English
Communications Head, Europe, Africa & Middle East Region,
Syngenta Crop Protection
Liam.English@syngenta.com
Data protection is important to us. You are receiving this publication on the legal basis of Article 6 para 1 lit. f GDPR ("legitimate interest"). However, if you do not wish to receive further information about Syngenta, just send us a brief informal message and we will no longer process your details for this purpose. You can also find further details in our privacy statement.
Cautionary Statement Regarding Forward-Looking Statements
This document may contain forward-looking statements, which can be identified by terminology such as 'expect', 'would', 'will', 'potential', 'plans', 'prospects', 'estimated', 'aiming', 'on track' and similar expressions. Such statements may be subject to risks and uncertainties that could cause the actual results to differ materially from these statements. For Syngenta, such risks and uncertainties include risks relating to legal proceedings, regulatory approvals, new product development, increasing competition, customer credit risk, general economic and market conditions, compliance and remediation, intellectual property rights, implementation of organizational changes, impairment of intangible assets, consumer perceptions of genetically modified crops and organisms or crop protection chemicals, climatic variations, fluctuations in exchange rates and/or commodity prices, single source supply arrangements, political uncertainty, natural disasters, and breaches of data security or other disruptions of information technology. Syngenta assumes no obligation to update forward-looking statements to reflect actual results, changed assumptions or other factors.
©2023 Syngenta. Rosentalstrasse 67, 4058 Basel, Switzerland.
* All content is copyrighted by Industry Intelligence, or the original respective author or source. You may not recirculate, redistrubte or publish the analysis and presentation included in the service without Industry Intelligence's prior written consent. Please review our terms of use.