January 12, 2022 (press release) –
New Optima 106 die cutter and Allpro 110 folder gluer work in tandem
Both new pieces of equipment are operating 18-24 hours a day, five to six days a week
Unique features such as grip edge removal system, digital memory, touch screen control panels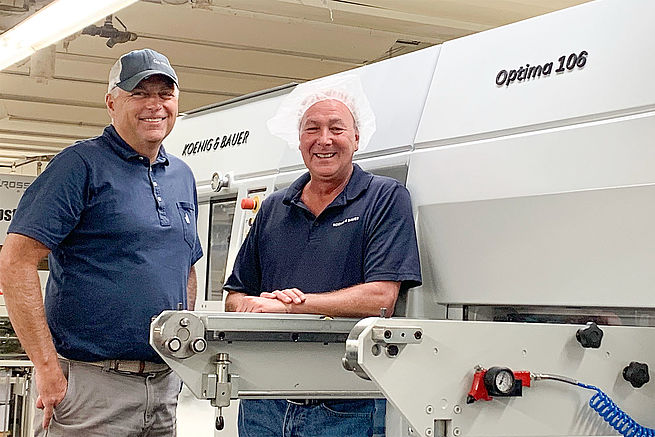 James Dobrzynski Sr., founder of Crossmark Graphics, has a favorite philosophy: "Better is possible, good is not enough." Ensuring that each and every customer is treated with respect and held in high esteem has built the New Berlin, WI commercial printer into a powerhouse leader that draws repeat loyal customers to its 65,000 sq ft facility. During the past 18 months, as the firm's impressive sales force gained more work, it found it needed to add post press capacity in its bindery. Dobrzynski turned to Koenig & Bauer for the solution. In mid-2021, Koenig & Bauer delivered two new pieces of post press bindery equipment: an Optima 106 die cutter and an Allpro 110 folder gluer.
"Our press department led by our multiple Koenig & Bauer Rapida 106 machines was outputting so much volume at breakneck speeds that the bindery was becoming a bottleneck," explains Dobrzynski. "These two new pieces of post press bindery equipment elevate our firm's position and deliver the much needed capacity for our customers. We're operating each of them 18-24 hours per day, five to six days a week. They join our three cutters, three regular folders, and a saddle stitching system to bolster an essential department within our company."
Since its installation, the Koenig & Bauer Optima 106 flatbed die cutter has proven to be a truly industrial machine. It is not only rugged in its overall construction, but highly efficient with its quick makeready features, and then, when in production, provides blazing high running speeds. Dobrzynski says that initially it is already more than 15% productive than their previous machines. He knows this will further increase as his operators become more acclimated to its use. It is an integral piece of equipment for all segments that they serve, including commercial printing. A recent job called for Crossmark to print one million 24 pt board sheets on its Koenig & Bauer Rapida press and then be expediently die cut on the Koenig & Bauer Optima 106 and folded and glued on the Koenig & Bauer Allpro 110 for customer delivery. All went according to plan and the project was delivered on time as promised.
"We treat all of our jobs as high-end that demand quick makereadies and fast running speeds," says Dobrzynski. "The new Koenig & Bauer Optima 106 die cutter has increased our productivity and output with excellent results."
One of the most advantageous features of the Koenig & Bauer Optima 106 flatbed die cutter is its grip edge removal system, according to Dobrzynski. This unique system features pneumatic clamps that fix the wooden templates for optimal and secure positioning and reduces makeready time. Effective removal of grip edge trim is achieved on each job so there are less downstream steps on each job, which saves time and related labor expenses. He is also pleased with the Koenig & Bauer Optima 106's complete automation system, a step-up from his previous non-Koenig & Bauer die cutter. The new die cutter provides Crossmark operators with significantly less touch points.
Like the Koenig & Bauer Optima 106, the Koenig & Bauer Allpro 110 folder gluer has proven to increase Crossmark's capacity for its growing job demand. Dobrzynski specified the folder gluer in a unique configuration to provide 4-corner, 6-corner, and back folding as well as the ability to fold and glue lightweight paper, sometimes with runs as long as five to 10 million at a time. The Allpro 110 has delivered at 400 meters per minute with better technology, more automation, and ease-of-use for Crossmark's operators with touchscreen control panels and memory settings.
It also is equipped with a servo infeed for more accurate spacing of blanks, a servo backfold system for more accurate timing, an upgraded motorized carrier for quicker makereadies, and an upgraded carton ejection system, all making the system highly flexible and efficient.
"We needed a folder gluer that could keep up with the different markets we serve and the variety of substrates," says Dobrzynski. "It's not unusual for us to be using a very lightweight stock on the Koenig & Bauer Allpro 110 and then switch to 24 pt board on the next job. Its versatility was very important to us. Since the install, we're initially seeing more than a 10% increase in our productivity than with our previous machines and once again we know this will only further increase as our operators become more and more acclimated to its features and benefits while in use".
"We are pleased with the performance of both new Koenig & Bauer post-press machines," says Dobrzynski, who oversees Crossmark with his daughter Tammy Rechner, president and CEO, assisted by sons Jay, vice president of operations; Mark, vice president of sales; and Brian, production manager. "Koenig & Bauer stands behind its equipment. I feel comfortable partnering with Koenig & Bauer and its director of post-press Tom Fitzgerald, and trust in Steve Korn, director of national and key accounts. We have a long, solid partnership with our two prior Koenig & Bauer sheetfed press investments, one delivered in 2016 and a second in 2019."
Koenig & Bauer's Steve Korn also commented, "We applaud Crossmark Graphics on its first and second Koenig & Bauer post press capital equipment investments. Featuring our step-change die cutting and folding gluing technologies these capital investments will pay dividends for many years to come by providing Crossmark Graphics with an even more significant competitive edge in its marketplace. Accompanied by high-level Koenig & Bauer technology kits, both these assets will once again prove to be a keystone for even more growth for the second-generation owners at Crossmark Graphics."
Interesting website: www.crossmarkgraphicsinc.com
* All content is copyrighted by Industry Intelligence, or the original respective author or source. You may not recirculate, redistrubte or publish the analysis and presentation included in the service without Industry Intelligence's prior written consent. Please review our terms of use.