January 17, 2022 (press release) –
Konica Minolta Business Solutions Europe has achieved ISO 27017 certification - demonstrating that the full breadth of its cloud services complies with the most stringent and robust information security standards. Published by the International Organization for Standardization, ISO 27017 is the globally recognised standard for Information Security pertaining to cloud infrastructure.
Cloud is gaining extending importance in many organisations' IT strategies, as it provides benefits such as greater flexibility, enables remote access of data for an increasingly distributed workforce and can be scaled according to changing needs. No wonder, that 80 % of organisations surveyed by Quocirca expect their IT to be at least half-cloud based in the near future[1]. At the same time, when crucial data is stored in the cloud, its security must be top priority. But 33% of IT decision makers view cloud or hybrid platforms as a top security risk.[2]

ISO 27017 certification underlines Konica Minolta's rigorous commitment to cloud security
To ensure that the cloud does not become a security risk, Konica Minolta applies high standards to protect its cloud solutions. Receiving the globally-renowned ISO 27017 certification further confirms and builds on the company's existing strong security foundations: In 2020, Konica Minolta achieved ISO 27001 certification for Information Security Management System (ISMS), which encompasses the company's holistic information security approach both within its organisation and in its services for customers. Now, ISO 27017 extends this certification to the cloud environment provided by Konica Minolta Business Solutions Europe, confirming that Konica Minolta has created a secure cloud-based environment and minimised the risk of security issues. It includes a range of guidelines, such as strict protection of the cloud environment against access of unauthorised or defined responsibilities between provider and customer.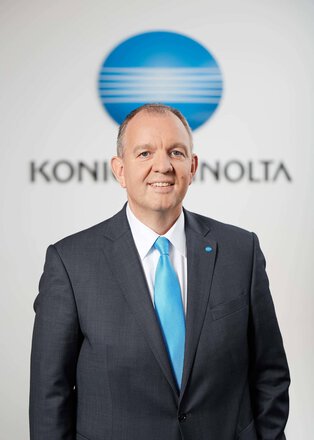 As companies embrace digitalisation, our customers know that Konica Minolta is the best partner to help design and realise their vision for a digital workplace – with solutions that meet the highest levels of information security and data protection. We are therefore pleased that we have fully complied with the strict auditing requirements. With ISO 27017 certification we can demonstrate that our 360º approach to information security extends across the breadth of our cloud services to provide our customers with total peace of mind.
Olaf Lorenz
Head of International Marketing Division, Konica Minolta Business Solutions Europe
High security standards for Konica Minolta's data centres
Konica Minolta's cloud security concept essentially comprises the following aspects with regards to its data centres: The data centres in Germany and Sweden are divided into five or four security zones: Access is governed by a comprehensive access management concept and requires different levels of authentication to walk through the zones. All customer data is reliably protected thanks to a dedicated continuous backup system. Customers are guaranteed full network isolation on the platform, including their own network segment, routers and firewalls. For even better security, optional micro-segmentation is available via distributed stateful firewall services. All server rooms have a fire resistance of at least 90 minutes and are equipped with an early fire detection system combined with fire early detection and heat sensors. In Germany, the campus power environment is built as an uninterruptible autonomous system combined with fail-safe emergency power generators. The data centre in Sweden has two independent power sources (2N power system) with multi redundant block technology. Thanks to these measures, the generators provide at least 72 (Germany) or 24 (Sweden) hours of independent operation.

The EU General Data Protection Regulation (GDPR) requires complete protection of data transferred from a local environment to the cloud. As the two data centres are located in Europe, Konica Minolta not only offers GDPR-compliant solutions, but also helps its customers to achieve a high level of data sovereignty, as they always retain control over their data and applications.

Also in the field of cloud printing, Konica Minolta provides comprehensive security solutions. Quocirca recently rated Konica Minolta as a "Leader" with regards to print security.[3] According to Quocirca, Konica Minolta's Cloud Print Service portfolio "includes multiple options to support and increase customers' security. Data and document security is assured through encryption and use of certified data centres, follow-me authentication, roles-based access controls as well as controlled guest access. To address common concerns around data protection and privacy Konica Minolta minimises data sharing."
---
[1] Quocirca, 2021: The Cloud Print Services Market Landscape, 2021, https://quocirca.com/content/quocirca-mps-2021/
[2] Quocirca, 2022: The Print Security Landscape, 2022. Securing the remote and hybrid workforce, https://quocirca.com/quocirca-print-security-landscape-2022/
[3] Quocirca, 2022: The Print Security Landscape, 2022. Securing the remote and hybrid workforce, https://quocirca.com/quocirca-print-security-landscape-2022/

About Konica Minolta Business Solutions Europe
Konica Minolta Business Solutions Europe GmbH, based in Langenhagen, Germany, is a wholly owned subsidiary of Konica Minolta Inc., Tokyo, Japan. With its unique expertise in imaging, data processing and data-based decision making, Konica Minolta creates relevant solutions for its customers - small and medium-sized businesses, large enterprises and public sector - and solves issues faced by society.
As a digital workplace solution provider, Konica Minolta helps its clients to identify and unlock the potential digitalisation holds and reach the next level in the digital maturity of their organisation by rethinking the workplace. In support of an 'Intelligent connected workplace', Konica Minolta offers cloud, IT, managed print and video solution services for remote working, collaboration, workflow management and automation and security. The company's success in driving transformation is also confirmed by IDC, since the 'IDC MarketScape: Worldwide Print Transformation 2020 Vendor Assessment' stated that Konica Minolta is 'recognised globally as a leader in print transformation'. Konica Minolta has been a Microsoft Global Managed Partner since 2021.
Konica Minolta's Igniting Print Possibilities offering helps printers, converters and brand owners maximise workflow automation to increase efficiency. The company delivers consultancy in all communication matters as well as top-of-the-line production, packaging as well as label printers. Its finishing devices create print products that stand out and create added value. Konica Minolta has established itself as the production printing market leader for more than a decade in Europe (InfoSource).
For an increasing number of organisations, success today is more than the narrow definition of financial prosperity – it also includes protecting the environment and having a positive impact on their workforce as well as the societies they are embedded in. With its commitment to the Sustainable Development Goals (SDGs), Konica Minolta has pledged to consistently pursue its sustainability and social responsibility goals.
The company has been repeatedly recognised for its rich history of social contribution as well as for working towards achieving the SDGs throughout its business and supply chain. Konica Minolta is listed among "2021 Global 100 Most Sustainable Corporations in the World" and received the highest level in EcoVadis Sustainability Ratings.
For its innovative service approach that complements their devices perfectly, Konica Minolta was awarded the prestigious 'Buyers Lab PaceSetter Award for Serviceability and Support 2020/2021' from Keypoint Intelligence.
Konica Minolta Business Solutions Europe is represented by subsidiaries and distributors in more than 80 countries in Europe, Central Asia, the Middle East and Africa. With approximately 9,000 employees (as of April 2021), Konica Minolta Europe earned net sales of over 1.9 billion in financial year 2020/2021.
For more information, please visit https://www.konicaminolta.eu/eu-en/news and follow Konica Minolta on Facebook, YouTube and Instagram.
Terms and product names may be trademarks or registered trademarks of their respective holders and are hereby acknowledged.
* All content is copyrighted by Industry Intelligence, or the original respective author or source. You may not recirculate, redistrubte or publish the analysis and presentation included in the service without Industry Intelligence's prior written consent. Please review our terms of use.