KENNESAW, Georgia , March 3, 2023 (press release) –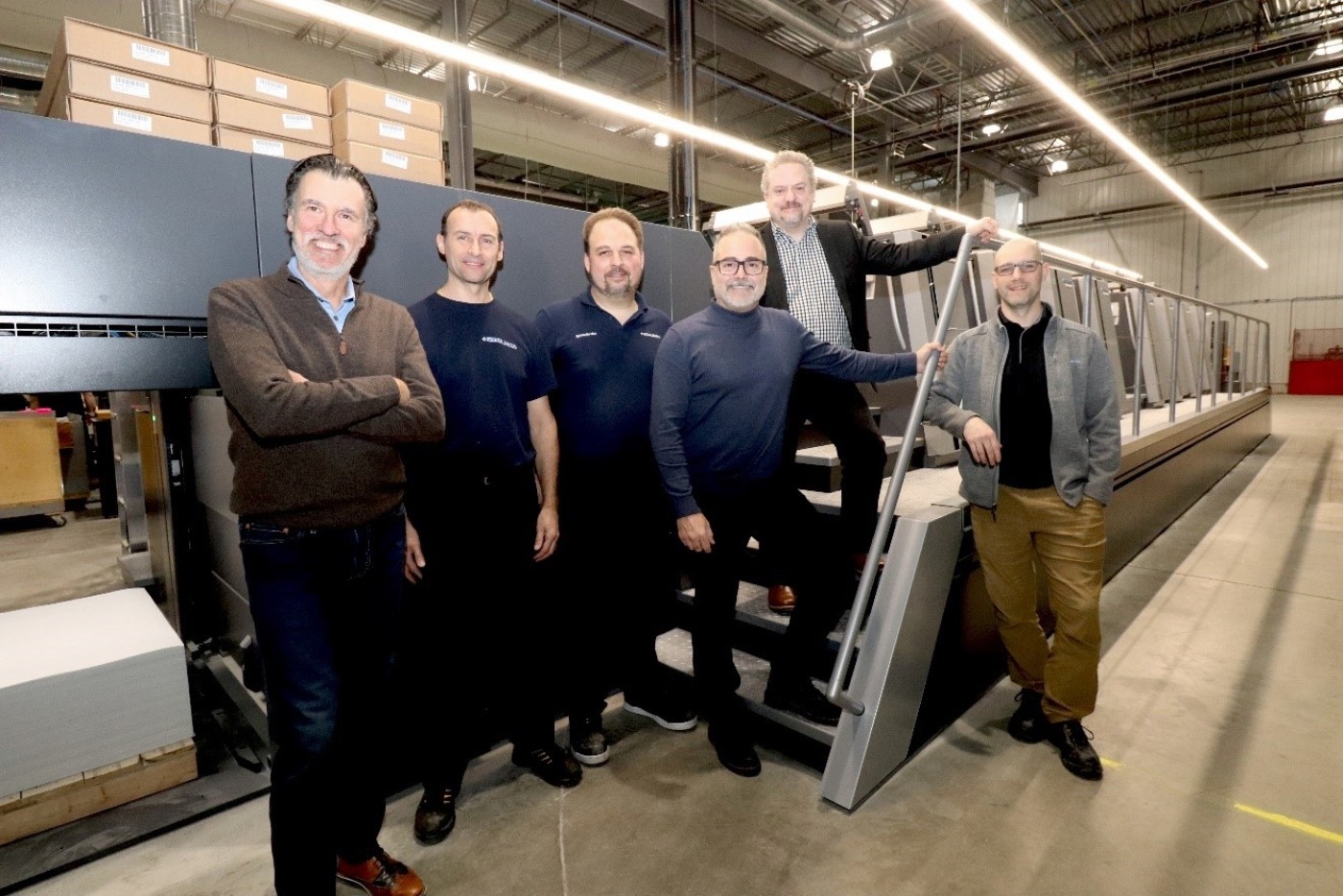 Image includes left to right: Pierre Fréchette, VP Sales, Marquis; Arnaud de Yparraguirre, Press Technician, HEIDELBERG; Eric Dinelle, Print Instructor, HEIDELBERG; Enrico Paradis, Account Manager, HEIDELBERG; Jean-François Paquin, VP Sales Eastern Region, HEIDELBERG; Yannick Blanchette, Director Montmagny Plant, Marquis
Marquis, the largest book manufacturer in Canada, recently installed a new Speedmaster XL 106-8P from HEIDELBERG at its Montmagny, QC location. Founded in 1937, Marquis has drastically transformed from its humble origins – printing and selling books from the back of a bus – to a $150,000,000 business with 600 employees across 3 production facilities in Louiseville & Montmagny, Quebec and Toronto, Ontario. Its new XL 106, equipped with LED UV, inline CutStar sheeter, and new Plate to Gallery logistics, is part of the company's greater plan for continued growth – aiming to double its business within the next ten years.
Double the Capacity
Marquis produces digital, offset, web, inkjet, case bound, perfect bound, and spiral bound books and brochures across its various locations, and despite its growth over the years, continues to put value on building strong relationships with both its customers and vendors. "We keep our delivery and quality promises," said Serge Loubier, President of Marquis, "and only partner with vendors that do the same." Keeping these promises is in part why Marquis decided to replace the two aging presses at its Montmagny facility with a new XL 106.
With speeds of 18,000 sheets per hour and fast makereadies thanks to Heidelberg's new intelligent User Experience (UX), autonomous Push-to-Stop technology, and AutoPlate Pro, the automatic plate changing device, Marquis's new Speedmaster XL 106 is a significant upgrade in speed and technology over the two older presses the company is replacing. HEIDELBERG UX, together with a whole host of assistance systems, provides the best possible support for operators at the Prinect Press Center XL 3 control station and at the press itself. Additionally, to ensure makeready times are kept short, the patented Intellistart 3 system automatically determines the makeready processes required for jobs to be produced.
Thanks to the press's advanced technology, Marquis estimates the new XL 106 will double current capacity in Montmagny and cut its current makeready times up to ten-fold, which is critical in book production. Additional time will be saved with the press's new inline CutStar sheeter and LED UV technology, which will speed up cure times for the uncoated stocks Marquis uses to print its high-end books. With faster cure times, sheets from the XL 106 can be folded within five minutes of printing on the Stahlfolder TH 82 the company installed earlier this year. With the PFX shingle-feeder, the Stahlfolder folds sheets at a speed up to 16,000 sheets per hour. "Faster, better curing together with the Stahlfolder's speed is going to make quite a difference in our turnaround times," said Loubier. "We're improving many production aspects while gaining more capacity along the way."
Additionally, the reduction in makeready waste and the company's choice to go with LED over traditional UV technology supports its goal of being more environmentally responsible. Marquis also made the decision to purchase the carbon neutral XL 106 model, which means CO2 emissions that are generated during press production are compensated for by purchasing climate protection certificates (Gold Standard). "Building a better and more responsible world for future generations by taking care of the environment is a key pillar of our Social Responsibility Policy," said Loubier.
Efficiency Boosting Peripherals
Looking to further maximize its efficiency, Marquis installed its XL 106 with HEIDELBERG's new Plate to Gallery logistics – the "first of its kind" in North America. A lift attached to the press, Plate to Gallery makes plate transport from the floor to the press easier and more efficient – especially on elevated machines. While the new lift will cut down on time, it will also ease labor demands. "It's just practical," said Loubier. With hundreds of plate changes every day, the press helper will now be able to stay on the catwalk and remove the plates from the lift. Marquis believes that the new press in combination with many of its efficiency-boosting peripherals – like Plate to Gallery and CutStar – will help in attracting younger talent to the company. "We looked at how this press would help us not just now, but down the road," said Loubier.
With several other HEIDELBERG machines installed across its various locations, Marquis continues to turn to HEIDELBERG not only for the strong service and support it receives, but for the partnership the two companies have built. "Where are we going to be in 10 years?" asked Loubier. "I don't want to sell the company. I want to grow it, and HEIDELBERG is a key partner that will help us reach our goals."

About Marquis
Founded in 1937, Marquis is the largest book manufacturer in Canada. The company operates three production plants in Montmagny, Louiseville and Toronto as well as a logistics centre in Georgetown, Ontario. It also includes a division specializing in the production of yearbooks and school agendas, Le Laurentien, and a division dedicated to graphic production, Interscript.
Its mission is to be the preferred partner of publishers by offering innovative and integrated printing and logistics solutions.
It is thanks to Marquis's team of 600 passionate people, to its mastery of technologies, to its sense of innovation and to the solid relationships with its customers that Marquis continues its growth.
* All content is copyrighted by Industry Intelligence, or the original respective author or source. You may not recirculate, redistrubte or publish the analysis and presentation included in the service without Industry Intelligence's prior written consent. Please review our terms of use.