August 9, 2023 (press release) –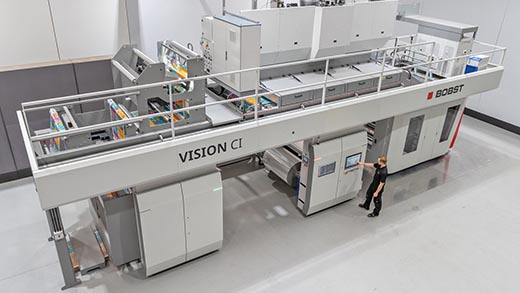 The VISION CI from the current range of BOBST CI flexo printing presses
BOBST's flexo technology addresses the packaging industry in each of the three industries it serves, folding carton, corrugated board, and flexible packaging. The process and equipment solutions developed are at the forefront of technological development and innovation and are the sum of a legacy which covered all the historic steps of the technology's development its very early days.
Looking at long-established packaging printing methods, flexography can rightfully claim top spot for the fastest technological evolution in the relatively short period of time since the early 1990s. This is especially true for flexography in the flexible packaging printing industry, where the historical challenges related to the quality and consistency of printing have been compounded of late by the issues related to plastic packaging sustainability and circular economy.
A short foray into history
"I think it is important to highlight where today's CI flexo technology by BOBST comes from in order to understand the foundations of the strength and power behind the solutions we develop for our flexible packaging flexo printing customers", explained Frank Jurczyk, Head of Product Marketing Management, CI Flexo, Bobst Bielefeld.
Historically, the development of CI drum configuration started after WWII. Demand really took off in the 1950s, following the availability of cellophane and new extensible materials such as polyethylene and polyamide films that started to replace traditional paper packaging in several product segments. A trend that went hand in hand with the growth of supermarkets and shopping centers.
CI flexo presses technology was pioneered mainly by European press manufacturers, including Officine Padane, Schiavi and Fischer & Krecke whose legacy of know-how and experience in printing and converting equipment for flexible materials was added over the years to BOBST's own which goes back to 1890.
At the time and for some decades after, CI flexo presses offered some advantages to printers in terms of the process capability to print on a wider range of substrates - extensible, porous, and non-porous – the faster availability and lower cost of the plates and faster job changes. However, for a period of time?flexography could not match the print quality of gravure, and its repeatability. As technology improved, flexography was able to produce high quality print on short runs.
How has BOBST won the challenges of the making flexography qualitative, consistent, and repeatable?
Let's fast forward to BOBST today's flexography, just mentioning in passing some of the milestones to its credits, from the launch of the world's first CNC-controlled flexo printing press in 1983, through to the development of the completely servo-driven flexo press and the smartGPS fully automatic registration and impression setting carried out offline at plate mounting in 2008.
From the point of view of the actual presses, the focus of R&D was targeted to doing away the weakness of the process, namely the lack of consistency and repeatability.
"We started by addressing the process weaknesses and were able to devise effective solutions relating to press vibration, ink consistency in dosing and metering, drying at high speed with both solvent- and water-based inks and the register tenure that have been applied to our current range of flexo presses", said Frank Jurczyk "The ability to overcome the process pain points that hindered the quality development of flexo, has enabled further advances to tackle for instance the issue of color consistency."
The stability of the printing process is essential for the qualitative results of the Extended Color Gamut technology. BOBST's oneECG is a well-proven seamless process developed for CI flexo printing with industry leading partners.
The quality and efficiency evolution of flexography is by no means only due the printing press: it is the sum of the major advancements along the value chain from flexo plate and pre-press technology, with the focus on automation and connectivity playing a key role in providing the process with unprecedented quality, efficiency, and repeatability.
Why converters choose BOBST for CI flexo and flexible packaging
"Wide-web flexible packaging printing is dominated by CI drum flexo presses. Out of our legacy of 75 years in the flexo industry, almost 60 have been dedicated to the advancement of CI flexo. This is an important factor that vouches for the quality of our technology," commented Frank Jurczyk "This is compounded by two more factors where collaborative R&D and BOBST being an end-to-end printing and converting equipment supplier are major pluses for flexible packaging flexo printers and converters: sustainability and integrated workflow."
BOBST's oneBARRIER family of recycle-ready ultra-high and high-barrier duplex or triplex substrates is well-established with solutions that are commercially available today. They address polymer-based mono-material substrates with PrimeCycle, and full fibre/paper-based mono-material structures with FibreCycle. These new substrates are tested from the substrate production through to the finished reels. This ensures that BOBST CI flexo technology is perfected to handle qualitatively and efficiently new recycle-ready substrates and the new consumable formulations that are required for their production.
Of course, the quality and efficiency of flexographic printing is at its best when all the steps in the process are connected and integrated so that production is a seamless process. To this end BOBST offers One complete solution, which includes includes dedicated workflows that connect all steps, from production file and pre-press through to the reels of printed or laminated substrates.
"BOBST is the only supplier in the industry that can supply all printing and converting technologies for production of flexible packaging. This enables us to deliver converter what they seek, namely dedicated workflows for their flexible packaging production which are the right combination of technological advancement built on a legacy that encompasses 75 years of flexo knowledge and experience," concluded Frank Jurczyk.
* All content is copyrighted by Industry Intelligence, or the original respective author or source. You may not recirculate, redistrubte or publish the analysis and presentation included in the service without Industry Intelligence's prior written consent. Please review our terms of use.