TOKYO , March 23, 2022 (press release) –
~ Anticipating the technology to be widely used in society to achieve SDGs ~
Shiseido Company, Limited ("Shiseido") has granted a license to use its technology listed in the WIPO GREEN database to Toyo University's "TOYO SDGs Students Project ~SUGOMORI BOISEN project~". After the conclusion of the licensing agreement, the students took the challenge of creating cosmetics and successfully developed a sustainable, low-environmental-impact hand serum by applying Shiseido's "low-energy manufacturing technology" while also aiming to revitalize the area surrounding the university(*1). The university plans to continue planning and developing cosmetics using this technology as part of its research and educational activities.
Shiseido has long been engaged in research on environmentally friendly products. We joined WIPO GREEN in March 2020 as the world's first WIPO GREEN partner company in the cosmetics industry and this is the first time that the technology has been licensed to a third party. As global environmental initiatives are more important than ever before, we further promote widespread application of our environmental technologies across society in order to contribute to the resolution of green issues. Towards our corporate mission "BEAUTY INNOVATIONS FOR A BETTER WORLD", aiming to solve global environmental issues through various activities including WIPO GREEN, we will create a sustainable future together with various stakeholders based on our R&D philosophy "DYNAMIC HARMONY".
*1 Products are manufactured by Toyo University's contract manufacturer, CS Labo Inc.
About WIPO GREEN
The World Intellectual Property Organization (WIPO) is a specialized agency of the United Nations responsible for developing the international intellectual property system. WIPO GREEN was established by WIPO in 2013 as an international framework to promote innovation and diffusion of environment-related technologies and has gained the participation of more than 130 corporations around the world as of the end of February 2022(*2). It connects technology providers with corporations and individuals seeking solutions and promotes technology diffusion, global collaboration, and innovation on environmental issues.
*2 WIPO GREEN website: https://www3.wipo.int/wipogreen/en/
Hand serum "BOISEN" planned and developed by Toyo University
In the planning and development of environmentally friendly cosmetics within the "TOYO SDGs Students Project ~SUGOMORI BOISEN project~" at Toyo University, the students planned and developed a hand serum for the younger generation who are said to spend more time staying at home due to the COVID-19 outbreak. They not only utilized Shiseido's "low-energy emulsion manufacturing technology" in the production process, but also aimed to revitalize the area surrounding the university. In the course of their activities, they featured boysenberry, a specialty of Tatebayashi City, Gunma Prefecture, a neighboring area of the university's Itakura Campus and used an extract from the boysenberry in its "BOISEN" hand serum. The products were distributed to approximately 500 graduates, university officials, and others on March 23, 2022, when the graduation ceremony was held. Meanwhile, Professor Hidetoshi Kitawaki of Toyo University, who promotes this project, presented a bottle of "BOISEN" to Tomohiko Kimura, Vice President of Intellectual Property Department at the Shiseido Global Innovation Center.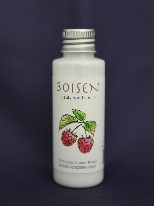 Hand serum "BOISEN"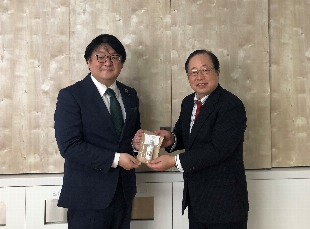 Professor Kitawaki (right) presented a bottle of "BOISEN" to Mr. Kimura (left)
Shiseido's licensable patents listed in the WIPO GREEN database
We have registered "low-energy emulsion manufacturing technology", "technology to concentrate and reduce energy consumption for manufacturing and transportation", and "technology to balance excellent cleansing performance and water conservation during rinsing" in the WIPO GREEN database, which are available as licensable options(*3). We believe that these technologies will contribute to addressing environmental issues such as drought and CO2 emissions, one of the main causes of global warming. Going forward, Shiseido will continue to register technologies with high contributing value to the environment in this database.
*3 11 patents as of March 2022.


●Shiseido's R&D philosophy "DYNAMIC HARMONY"
Shiseido Formulates its Unique R&D philosophy "DYNAMIC HARMONY" (2021)
The DYNAMIC HARMONY special website
*The content of the release is correct as of the time of release, but please note that it may in some cases differ from the latest information.
Show Full PDF [260KB]

* All content is copyrighted by Industry Intelligence, or the original respective author or source. You may not recirculate, redistrubte or publish the analysis and presentation included in the service without Industry Intelligence's prior written consent. Please review our terms of use.