September 13, 2023 (press release) –
In an unprecedented initiative, the 'One for One Commitment' will protect the Prosa and Segredo areas, in Campo Grande; the Taquari region, in Alcinópolis; and parks in Três Lagoas
The RGE group company Bracell, a leading global producer of dissolving pulp, is ramping up its commitment to fostering biodiversity and climate through the official launch of the "One For One Commitment" in Mato Grosso do Sul state. The unprecedented initiative in the pulp sector has set the goal of protecting, conserving or restoring 1 hectare of native forest for every hectare of eucalyptus planted by 2025.
Bracell and the Mato Grosso do Sul Government signed the agreement this Monday afternoon (28) in the presence of the state governor, Eduardo Riedel, Secretary of the Environment, Development, Science, Technology and Innovation (Semadesc), Jaime Verruck, the mayor of Três Lagoas, Ângelo Guerreiro, Bracell's executive board, Mauro Quirino, Head of Forest Operations, João Augusti, Sustainability Manager, Manoel Browne, Officer of Institutional, Governmental and Community Relations, José Márcio Bizon, Senior Manager of Forest Operations and Marisa Coutinho, Manager of Institutional Relations.
The partnership will benefit the parks Parque Estadual do Prosa and Parque Estadual Matas do Segredo, both located within the urban perimeter of Campo Grande, and are directly impacted by suburban sprawl.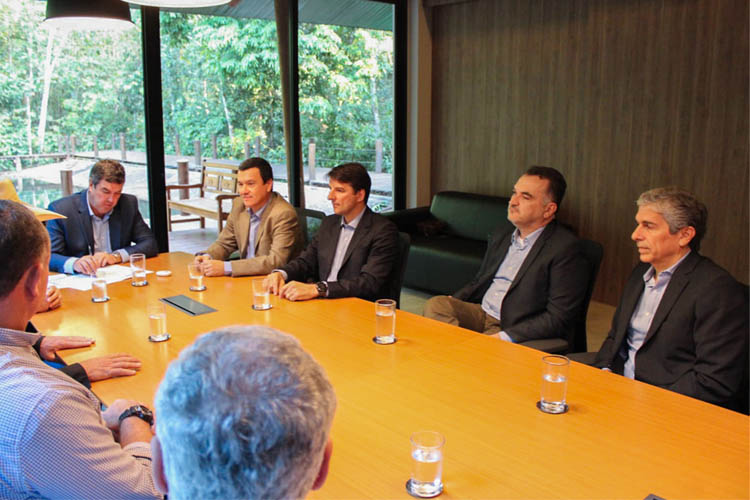 "This pledge will help us protect areas in the Atlantic Forest, Cerrado and Caatinga biomes. We are committed to being sustainable and strive to innovate the forest-based pulp industry and remain at its forefront, while providing diversified products from responsibly managed, renewable plantations", states João Augusti, Sustainability Manager at Bracell.
Another conservation area embraced is Parque Estadual das Nascentes do Rio Taquari, a major river that flows into the Pantanal plain. In June this year, Bracell and the Mato Grosso do Sul state environmental authority (Imasul) entered an agreement for fire prevention actions in Parque Estadual das Nascentes do Rio Taquari, located upstate. Services and equipment will be provided that will aid the protection of vegetation and direct restoration in an area occupying 1,300 hectares, which has degraded soil and needs to be restored within a period of six years.
"During the meeting, the governor made it very clear that the issue of the green agenda in Mato Grosso do Sul is a priority. Bracell has a sustainability practice that is strategically aligned with the government's proposal. We want to show that this sector is expanding, but not at the cost of ESG. So, it's about thinking green, thinking about sustainability and the cooperation system between the private sector and the public sector," commented Jaime Verruck.
In addition to these regions, Parque Natural Municipal do Pombo, a park straddling the border of the municipalities Três Lagoas and Água Clara, will also receive funding from the One for One Commitment. This park is the largest remaining area of cerrado in eastern Mato Grosso do Sul state, covering over 8,000 hectares. In addition to this reserve, Parque Natural Municipal das Capivaras is also included in Bracell's biodiversity preservation incentive plan.
"This commitment is positive for both parties. The municipality benefits, taking on part of its responsibility, and it helps prevent fires, which have been worryingly frequent of late and are hard to contain. This is a highly productive, essential partnership which will go from strength to strength", said Três Lagoas mayor, Ângelo Guerreiro.
In 2022, the 'One for One' initiative began operations in all states where Bracell operates in Brazil, namely São Paulo, Bahia, and now, Mato Grosso do Sul. The commitment also aligns with the UN's Sustainable Development Goals (SDG). Data from the Brazilian Forestry Association (Ibá) indicates that in Brazil there are 6.05 million hectares of conservation areas. Under One For One, Bracell can help further protect Brazil's native forests.
* All content is copyrighted by Industry Intelligence, or the original respective author or source. You may not recirculate, redistrubte or publish the analysis and presentation included in the service without Industry Intelligence's prior written consent. Please review our terms of use.