June 30, 2022 (press release) –
In its latest report 'The Cloud Print Services Market Landscape, 2022' industry analyst Quocirca has classified Konica Minolta as a 'Major Player' in the field of Cloud Print Services, stating, "Konica Minolta is developing a strong service portfolio to support clients at various stages on their cloud print journey. The company is aligning its print hardware, software and services offering to support the post-pandemic hybrid workforce." The report also states, "Konica Minolta's cloud computing technology underpins digital transformation, enabling businesses to move workloads to a secure cloud environment that complies with country regulations and can scale as they need."
In its Cloud Print Services report, Quocirca highlights Konica Minolta's ability to deliver cloud-based services based upon customer preference and elaborates on its broader support of customers during their cloud print journey, "This approach includes integrating and developing new technologies across cloud, predictive analytics, remote monitoring, and other intellectual property to drive development of platforms to support not only print, but digital document and workflow solutions. One example of recent R&D investment is direct hardware integration with applications such as true cloud-based secure print and device security management applications."

The report states that overall, 43% of organisations have already implemented a cloud print management platform, with a further 37% reporting that they have plans to do so in the next two years. It goes on to examine Konica Minolta's overall cloud print offering and how it underpins digital transformation, as well as a cloud-based fleet management tool for centralised fleet monitoring and management services, and its Worldwide Remote Service Platform (WWRSPF) for remote servicing of Konica Minolta multifunction printers.

Additionally, 'The Cloud Print Services Market Landscape, 2022' examines Konica Minolta's Cloud Print Services: Workplace Pure, Dispatcher Paragon Cloud, and EveryonePrint Hybrid Cloud Platform , and states, "Konica Minolta's cloud print services offer benefits such as: reduced maintenance requirements for server and software versions due to serverless operation and management of the software by the vendor, budget savings as no upfront investment is needed, simple and easy deployment that enables a quick start, flexible scalability that adapts to the customers' changing needs, and the ability to print from anywhere at any time."

Workplace Pure
Konica Minolta's cloud-based Workplace Pure platform (formally known as bizhub Evolution) provides cost-effective 24/7 access to a platform of constantly evolving services including centralised upload to cloud repositories, cloud fax, cloud print, secure follow-me print, smart document conversion and translation - all automated and streamlined from a single trusted source. Quocirca's report highlights key features including 'Ease of use', 'Secure printing', 'Print anywhere', 'Scalability and flexibility', 'Connectivity', 'Added value', and 'Data security and General Data Protection Regulation (GDPR) compliance'.

Dispatcher Paragon Cloud
Launched in February 2022, Dispatcher Paragon Cloud is a secure Software-as-a-Service (SaaS) offering that enables customers to simplify print operations and outsource their print infrastructure. Quocirca's report stated, "It is a fully managed and hosted cloud service, and its shared infrastructure makes it low cost. It is ideal for a small to medium-sized business." The report also praised how customers implementing the solution experience: "…increased productivity, business continuity, cost planning and structure, scalability and flexibility, and security and compliance."

EveryonePrint Hybrid Cloud Platform
Konica Minolta's EveryonePrint Hybrid Cloud Platform (HCP) streamlines an organisation's print infrastructure, eliminates print servers and incorporates cloud technologies with ease. This all-in-one hybrid print platform offers optimal security and flexible printing options whilst also reducing the workload of the organisation's IT staff. Quocirca's report stated that it: "... eliminates the need for local infrastructure, accelerating cloud-first strategy and allowing users to access their print jobs from any device. EveryonePrint Hybrid Cloud Platform is hosted, managed and supported by Konica Minolta, and offers companies the highest security standards, including ISO 27001 and ISO 27017 certifications."

Shield Guard and bizhub SECURE
Additionally, Quocirca also highlights the strengths of Shield Guard, "Shield Guard is a new cloud-based solution that offers remote MFP security monitoring and management. Shield Guard works with Konica Minolta's bizhub SECURE portfolio, which offers three different levels of service for each individual business's needs. The bizhub SECURE service can be activated on any Konica Minolta bizhub MFP, either on-premise or prior to delivery. With Shield Guard all security settings can be monitored in the cloud."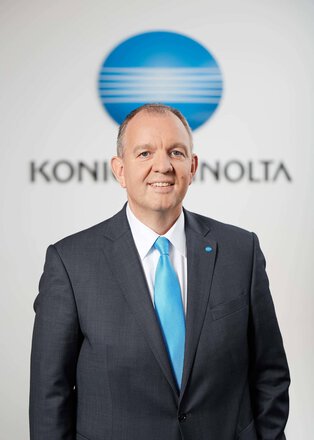 We are proud to feature as a Major Player in Quocirca's Cloud Print Services report. With hybrid work environments taking centre stage for many organisations, our cloud print offering delivers a vital component of this with all the advantages that the cloud offers, such as low administration costs, low investment costs, high flexibility and scalability, high security, and workload relief for IT staff.
Olaf Lorenz
Head of International Marketing Division, Konica Minolta Business Solutions Europe
Quocirca: The Cloud Print Services Market Landscape, 2022
In its latest report 'The Cloud Print Services Market Landscape, 2022' industry analyst Quocirca has classified Konica Minolta as a 'Major Player' in the field of Cloud Print Services, stating, "Konica Minolta is developing a strong service portfolio to support clients at various stages on their cloud print journey. The company is aligning its print hardware, software and services offering to support the post-pandemic hybrid workforce." The report also states, "Konica Minolta's cloud computing technology underpins digital transformation, enabling businesses to move workloads to a secure cloud environment that complies with country regulations and can scale as they need."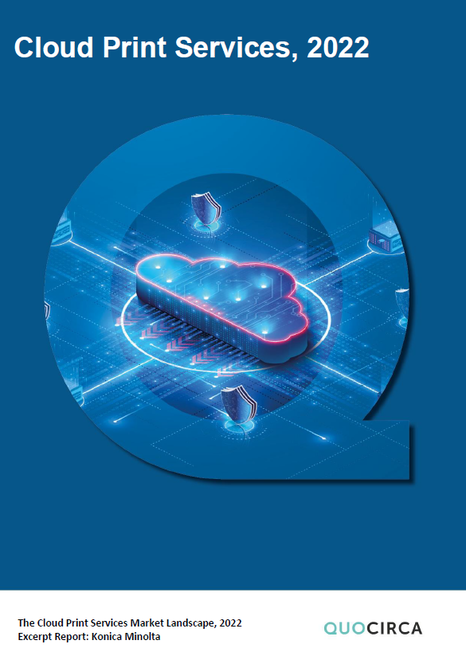 About Konica Minolta Business Solutions Europe
Konica Minolta Business Solutions Europe GmbH, based in Langenhagen, Germany, is a wholly owned subsidiary of Konica Minolta Inc., Tokyo, Japan. With its unique expertise in imaging, data processing and data-based decision making, Konica Minolta creates relevant solutions for its customers - small and medium-sized businesses, large enterprises and public sector - and solves issues faced by society.
As a digital workplace solution provider, Konica Minolta helps its clients to identify and unlock the potential digitalisation holds and reach the next level in the digital maturity of their organisation by rethinking the workplace. In support of an 'Intelligent connected workplace', Konica Minolta offers cloud, IT, managed print and video solution services for remote working, collaboration, workflow management and automation and security. The company's success in driving transformation is also confirmed by IDC, since the 'IDC MarketScape: Worldwide Print Transformation 2020 Vendor Assessment' stated that Konica Minolta is 'recognised globally as a leader in print transformation'. Konica Minolta has been a Microsoft Global Managed Partner since 2021.
Konica Minolta's Igniting Print Possibilities offering helps printers, converters and brand owners maximise workflow automation to increase efficiency. The company delivers consultancy in all communication matters as well as top-of-the-line production, packaging as well as label printers. Its finishing devices create print products that stand out and create added value. Konica Minolta has established itself as the production printing market leader for more than a decade in Europe (InfoSource).
For an increasing number of organisations, success today is more than the narrow definition of financial prosperity – it also includes protecting the environment and having a positive impact on their workforce as well as the societies they are embedded in. With its commitment to the Sustainable Development Goals (SDGs), Konica Minolta has pledged to consistently pursue its sustainability and social responsibility goals.
The company has been repeatedly recognised for its rich history of social contribution as well as for working towards achieving the SDGs throughout its business and supply chain. Konica Minolta is listed among "2022 Global 100 Most Sustainable Corporations in the World" and received the highest level in EcoVadis Sustainability Ratings.
For its innovative service approach that complements their devices perfectly, Konica Minolta was awarded the prestigious 'Buyers Lab PaceSetter Award for Serviceability and Support 2020/2021' from Keypoint Intelligence.
Konica Minolta Business Solutions Europe is represented by subsidiaries and distributors in more than 80 countries in Europe, Central Asia, the Middle East and Africa. With approximately 8,700 employees (as of April 2022), Konica Minolta Europe earned net sales of over EUR 1.9 billion in financial year 2021/2022.
Worldwide, the company has over 39,000 employees and is operating in over 150 countries.
For more information, please visit https://www.konicaminolta.eu/eu-en/news and follow Konica Minolta on Facebook and YouTube.
Terms and product names may be trademarks or registered trademarks of their respective holders and are hereby acknowledged.
* All content is copyrighted by Industry Intelligence, or the original respective author or source. You may not recirculate, redistrubte or publish the analysis and presentation included in the service without Industry Intelligence's prior written consent. Please review our terms of use.