November 15, 2022 (press release) –

At a time when digitalisation and smart manufacturing are revolutionising industrial production, Volpak, a Coesia Company, is joining this progress with the launch of its platforms OptiMate & PerforMate.

The impact of digitalisation is well noted in most industries, as it is in the packaging sector. A process of improving productivity, optimising processes, and integrating machines with the available information is taking place. But what exactly does it consist of and what are its characteristics? Below, we answer these questions.

What is smart manufacturing?
Smart manufacturing refers to factories' digitalisation, which consists of the connection of the different elements making them up. By being connected to a single network, it is possible to obtain data on factories' operations and ongoing processes. Such data points are stored in the cloud and processed using specific algorithms in order to better understand the performance of the system as a whole.

The result of the data processing is information understandable by humans. This becomes knowledge with which to take a wide range of decisions. For example, it is possible to detect whether the manufacturing process of a specific product is slower than it ought to be. Once the problem has been identified, it is possible to delve into it and determine its origin, applying the best available solutions.

This new way of producing brings the workforce, machinery, a wide variety of sensors, and computer programs into play. It is a combination of hardware and software systems that helps improve productivity.

What is the smart manufacturing process like?
The process adapts to the specific requirements of each company. To do this, the production capacity and its characteristics are examined. In this way, manufacturing times and cycles are determined, allowing the most accurate application to be planned.

After this preliminary step, the most appropriate artificial intelligence solution is integrated, based on one or more computer programs, to coordinate, plan and optimise production processes.

In the last step, tracking and traceability mechanisms are applied so that production is traceable at every stage.


Main characteristics:

This type of production has outstanding characteristics. They are the fruit of the combination of several technologies. By integrating them in a factory, results are improved while being optimised. All this is made possible thanks to a series of essential qualities.
Connectivity: By using different sensors connected to each other and to the machinery, essential data is extracted to understand the factory's operations in detail.
Analysis capacity: The extracted data are processed by algorithms with the technology allowing users to learn and improve their programming and performance.
Human - Machine Interaction: Despite the independence and automation offered by artificial intelligence, people are still essential in the decision-making process. Thus, large-scale cooperation takes place.
Applies to all factories: The impact of this new method of production can be seen in the materials used, the qualities obtained, maintenance, and throughout the production process. In this way, costs are reduced and new strategies are made possible
Why digitalise the chain of production in the packaging sector?
The packaging sector is not immune to these changes. One of the main reasons for adopting digitalisation concerns the supply chain. Thanks to digitalisation, they become more resilient, they are easier to upgrade, and businesses increase their ability to deal with the unexpected. Flexibility is enhanced, which will be noticed in the production processes.

As well as this, resource use is optimized by controlling raw materials and surpluses. Calculating how much material will be needed is a complex job, subject to numerous variables. Before automation, this work was done using intuition and relying on incomplete production knowledge.
Better maintenance of facilities and machinery is also made possible. The ability to identify breakages or failures before they occur is increased. The same sensors that control production monitor the state of the machines.

Another interesting reason concerns the increase in production. By automating repetitive production tasks, the time to complete them is reduced, allowing for more time to be dedicated to more value-added tasks.

Finally, the packaging sector is streamlined, improving its performance and its ability to meet public demand in better conditions. The use of resources and costs are reduced, allowing businesses to consolidate their long-term financial position. In short, digitalisation is the way forward for the packaging sector.

At Volpak, we are pleased to present our advancements in this direction with our new digital platforms, developed in collaboration with Coesia Digital: OptiMate & PerforMate, covering everything from machine control to data analysis, designed to help our customers control their packaging processes.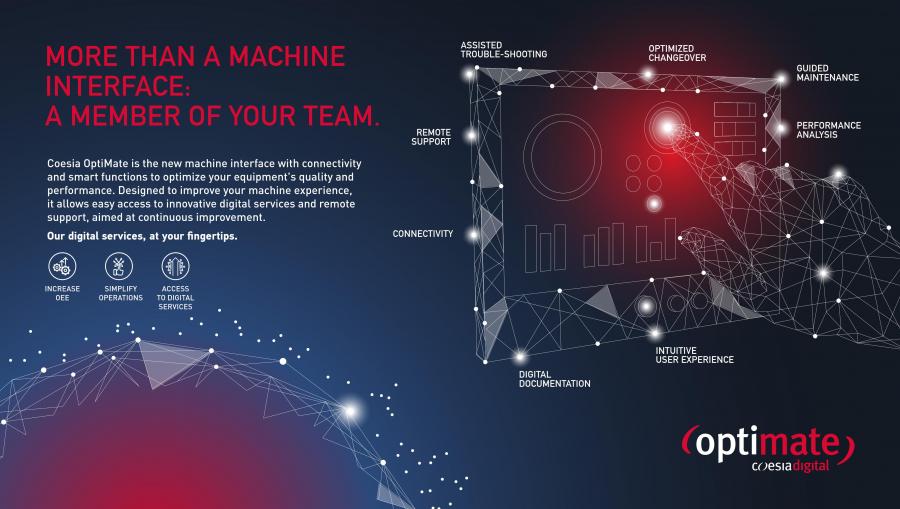 OptiMate is a human-machine interface designed to simplify operations and data analysis. Its main advantages are:
User-centered design and management: With its intuitive, simple interface, well-structured, and easy to use, the learning curve is reduced.
Accessible real-time information: Easy access to the technical documentation and guided navigation that provides the operator with images and detailed descriptions for the easy implementation of changes for both operators and maintenance personnel.
Reports and data analysis: From basic reports to comprehensive real-time information on machine productivity and performance. Clear notifications and alarms for the rapid detection of problems.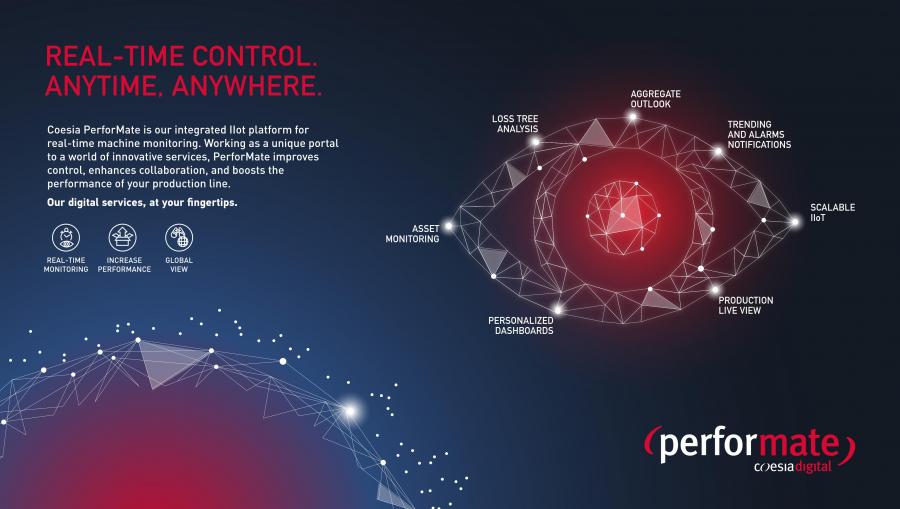 PerforMate is an IoT platform that monitors machines in real-time. This allows the effortless, remote monitoring of equipment performance, quality, and availability of each connected machine in different facilities. Its main features are:
Data collection: Collection and dispatch of data to the cloud where they are stored and analysed. Easy data visualisation and export functionalities.
Digital documentation: Up-to-date documents for each machine can be easily retrieved online.
Control alert system: It is easy to monitor and compare the performance of multiple machines so as to study and implement the appropriate measures to maximise equipment performance
Multiple devices: All the data can be viewed on multiple devices.
Multi-machine: Multiple machines can be connected, irrespective of their location.
Available everywhere: Clients can access this information at any time, any place, anywhere, and in real-time.

* All content is copyrighted by Industry Intelligence, or the original respective author or source. You may not recirculate, redistrubte or publish the analysis and presentation included in the service without Industry Intelligence's prior written consent. Please review our terms of use.