YAVNE, Israel , June 30, 2022 (press release) –
A peer reviewed scientific research paper published on June 25th in Sensors, an MDPI journal, found categorically that when compared to conventional creasing performed by flatbed analog die cutting, Highcon's patented DART creasing technology better preserves the inherent mechanical properties of corrugated boards while sustaining high packaging quality.
The first-of-its-kind study examined the impact of analog and digital creasing lines on the performance of corrugated cardboard and finished boxes, conducted by researchers from the Institute of Structural Analysis, Poznan University of Technology and the Department of Biosystems Engineering, Poznan University of Life Sciences.
Researchers measured a broad range of parameters on boards creased by both an analog die cutter and a Highcon digital die cutting system. Measurements were made on areas of the board that were both creased and uncreased, as well as on complete boxes.
Key findings included:
Less Substrate Damage and Increased Repeatability – Highcon's digital technology is repeatable and causes considerably less damage to the structure of corrugated board than analog technology
Increased Compression Strength – Digital crease lines reduce the compression strength of the box to a lesser extent than analog crease lines
Increased Box Strength – Digital crease lines are stronger compared to analog. Digital technology does not crush the corrugated board, enabling higher load bearing capability
Increased Sustainability – Highcon enables lighter weight corrugated board to be used, saving substrate. It was found that the Highcon digitally creased box with 10% lower grammage was stronger than the analog creased box which imply a potential saving i paper board of at least 10% without compromising o box strength.
Dvir Harmelech, VP R&D and Chief Technology Officer, Highcon comments: "In an era of rising costs, supply chain challenges and material shortages, we were delighted with the conclusion of the MDPI Journal report – it provides independent specialist confirmation for the benefits of our solution to help support these issues. More specifically, the ability to increase box strength, even with lighter boards, is key to unlocking important financial, operational, and environmental benefits. It not only helps producers of corrugated boxes to digitalize their production, but also to reduce the weight of their products and thus save more trees."
The abstract of the study can be found here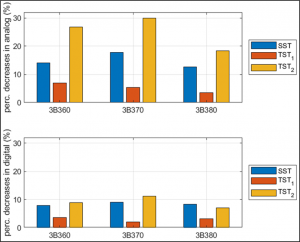 The Shear Stiffness Tests (SST) and Torsion Stiffness Tests (TST)
In this chart, published as part of the article, you can see percentage differences between results for crease-free region samples and samples perpendicular to the crease on a corrugated board. The first chart shows analog results with decreasing board strength, and the second shows Highcon digitally creased board.
* All content is copyrighted by Industry Intelligence, or the original respective author or source. You may not recirculate, redistrubte or publish the analysis and presentation included in the service without Industry Intelligence's prior written consent. Please review our terms of use.