November 7, 2022 (press release) –

Amorepacific R&D Center has developed a material that has the effect of inhibiting the PDK1 (3-Phosphoinositide Dependent Protein Kinase) enzyme, which is a key factor in reverse aging of the skin.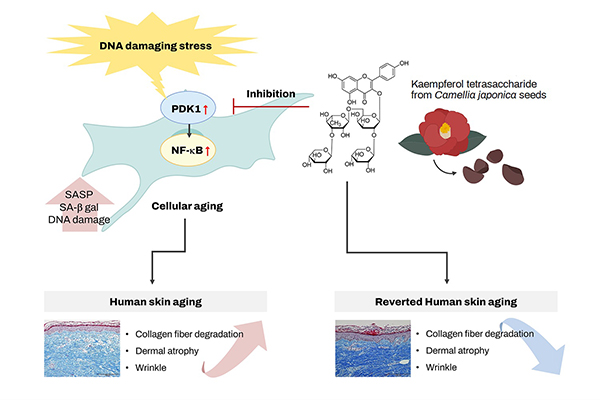 Amorepacific R&D Center succeeded in materializing RE.D Flavonoid extracted from camellia seeds with an eco-friendly method and confirmed its anti-aging effect on the skin. The result of the research was recently published in the international science journal Biomedicine & Pharmacotherapy (titled Kaempferol tetrasaccharides restore skin atrophy via PDK1 inhibition in human skin cells and tissues: Bench and clinical studies, October 14, 2022)

Last year, Amorepacific R&D Center developed the original technology of reverse aging that restores aged human dermal fibroblasts to young cells in joint research with KAIST. The technology reverts aged human dermal fibroblasts to younger cells by inhibiting PDK1, a key factor in reverse aging of the skin. Based on the technology, Amorepacific made an effort to discover natural substances that can inhibit PDK1 for the reverse aging effect on the skin, and eventually found RE.D Flavonoid (Bioflavonoid), a key ingredient regulating skin aging extracted from camellia.

RE.D Flavonoid, separated and purified from camellia seeds through an eco-friendly method of extraction, has been confirmed to have the best PDK1 control effect compared to approximately 100 other types of anti-aging ingredients known to the academic community. Accordingly, a patent has been registered for the ingredient as an anti-aging and skin regeneration ingredient.

The aged skin has a weakened ability to divide skin cells and produces less collagen and elastic fibers. It leads to senescence, resulting in thinner skin and wrinkles. The research confirmed that the application of RE.D Flavonoid to the aged skin improved the thinned skin to be on par with younger skin tissues. In addition, the weakened ability to divide skin cells and produce elastic fibers were also restored.

Skin aging was previously considered irreversible, but the research discovered a Bioflavonoid ingredient with a reversing effect to regenerate the skin. In addition, the use of RE.D Flavonoid materialized from camellia increased moisture in the skin by two times, skin density by 3.5 times, transparency by 9 times, and decreased wrinkles by 50%. It is particularly meaningful in that it is the first research that verified a reverse aging effect on the skin in test on humans. In recognition of the development of the ingredient and effective technology, Amorepacific received the New Excellent Technology (NET) certification from the Ministry of Health and Welfare of the Republic of Korea in February for 'The Development Technology of Camellia Bioflavonoid as a Cosmetic Ingredient.'

Amorepacific R&D Center is challenging themselves for the scientific technologies that were once regarded as impossible, and is trying various research for innovative results. Based on its pioneering research in the fields of skin and bio, it will continue to do its best to provide a healthy and beautiful life to customers around the world.
* All content is copyrighted by Industry Intelligence, or the original respective author or source. You may not recirculate, redistrubte or publish the analysis and presentation included in the service without Industry Intelligence's prior written consent. Please review our terms of use.