Becoming An Imbecile: Joining The Mini-Can Movement
LOS ANGELES , October 1, 2018 (Industry Intelligence Inc.) –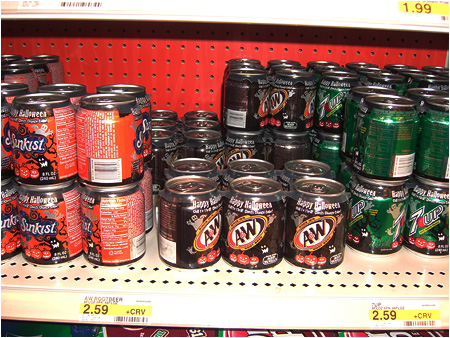 This past weekend, I did something I swore I'd never do:

I bought those mini cans of soda.

I'm a big soda drinker, specifically diet soda. I'm famous (or infamous, depending on your point of view) among my co-workers for having a bottle of Diet Dr. Pepper at my side when I write this blog. But with my first child due any day now, my wife has been on me about reducing my soda intake, or at the very least transitioning more to regular soda because of concerns over aspartame and other such sweeteners.

So finally, I caved in. I went to the soda aisle of my local Vons, bypassed my beloved 2-liter bottles of soda, and instead reached for the mini-can six-packs.

And at that moment, a part of me died.

Now why I am overdramatizing something as simple as choosing different soft drink packaging? Because I'm against the concept of mini cans. Let me clarify: I understand its purpose. People still want to drink soda, but they don't want to drink as much because of increasing awareness of their overall health. So the mini can fulfill that need.

The problem is the price. A six-pack of mini cans in several cases can cost twice as much as a 2-liter bottle of soda. Your typical mini can is 8 ounces so a six-pack totals 48 ounces. That means you're spending twice as much for 16 ounces less.

And that, frankly, infuriates me. Somewhere along the line, we became this culture of spending more for less because of some "awareness" or "awakening" movement. Meanwhile, I was always on the sidelines of this movement, rolling my eyes and feeling superior because while these idiots were spending all this money to receive less of something, I remained the lone sane person on the planet and purchased 2-liter bottles so that I could get more of the same thing for half the price.

And now I'm officially one of these imbeciles.

I'm not knocking mini cans in general. I'm not even knocking soda companies for charging more for them. They're just taking advantage of consumers' willingness. I'm just mad that they finally infiltrated my life.

I'm mad that I'm now a mini-can idiot.

Nevin Barich is the Food and Beverage Analyst for Industry Intelligence, which can help YOU better address your own industry challenges. We invite you to come take a look at our service. Call us today at 310-553-0008 and we'll schedule you for a 15-minute demo.

* All content is copyrighted by Industry Intelligence, or the original respective author or source. You may not recirculate, redistrubte or publish the analysis and presentation included in the service without Industry Intelligence's prior written consent. Please review our terms of use.