Holiday Eating Season: The Morning After
LOS ANGELES , December 5, 2019 (Industry Intelligence Inc.) –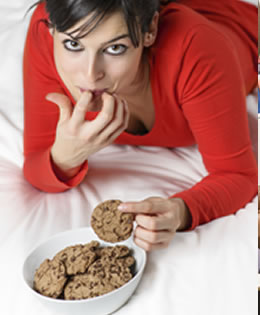 I'm writing this blog the morning after what I call the start of the holiday eating season. I've just completed a 2-mile run on my treadmill but am still afraid to step on my scale to see how much weight I've gained.

Most of us are gluttons during the four-day period beginning Thanksgiving Day, which is really when the holiday eating season begins. First, there's the actual Thanksgiving Day meal. Then there's leftovers the next day (and maybe the day after that and the day after that). Some of us attend a second Thanksgiving-like dinner, perhaps with close friends or extended family. And if you're like me, on the Sunday night after Thanksgiving you're trying to get in that final late-night "bad for you" meal because you know deep down you need to get back to your normal diet once Monday comes. For me, this year's Sunday night after Thanksgiving meal consisted of peanut butter-and-jelly sandwiches and generous helpings of Egg Nog.

Now this year, I tried something different. In the three weeks leading up to Thanksgiving, I made a concerted effort to drop some weight, partly because I really did want to drop 5-6 lbs. but also in part so that I wouldn't feel so guilty eating junk food once Turkey Day arrived. I accomplished my mission and weighed in Thanksgiving morning at a lean and mean 166.6 lbs.

That meant a morning snack from Carl's Jr. on Thanksgiving morning. That meant feeling perfectly entitled to an extra helping of pumpkin pie during the Thanksgiving Meal. That meant ham and turkey sandwiches lathered with mayo the day after Thanksgiving. That meant late-night steak nachos on Saturday. And of course, there was the previously mentioned peanut butter-and-jelly sandwiches Sunday night (as well as a couple of spicy chicken sandwiches from Carl's Jr. earlier in the day).

But the long weekend is over. And now I have to assess the damage. And no matter what the scale says, it's imperative that I drop the Thanksgiving pounds before holiday eating season resumes in earnest. Sure, Thanksgiving is over, but there are many eating occasions coming up between now and Christmas: potlucks at work, old friends in town, homemade cookies, vacations, college football bowl season. Then there's Christmas Eve dinner, Christmas Day breakfast and dinner, and between now and New Year's, you know you're going to eat more than you should because you'll either be off of work or work will be slow. So why the heck not, right? Indulge!

And then there's New Year's. High-calorie booze. Enough said.

So the way I see it, I have about two weeks maximum to drop my Thanksgiving weight and be in fighting trim so that I can indulge through Christmas and beyond.

OK, it's time to step on the scale:

170.6 lbs.

I put on 4 lbs. over the Thanksgiving holiday. Not as bad as I feared.

Holiday eating season, we will reconnect soon. In the meantime, I have some weights and sit-ups to do.

Nevin Barich is the Food and Beverage Analyst for Industry Intelligence, which can help YOU better address your own industry challenges. We invite you to come take a look at our service.Call us today at 310-553-0008 and we'll schedule you for a 15-minute demo.

* All content is copyrighted by Industry Intelligence, or the original respective author or source. You may not recirculate, redistrubte or publish the analysis and presentation included in the service without Industry Intelligence's prior written consent. Please review our terms of use.