Cheeseless Pizzas And Marlon Brando
LOS ANGELES , June 26, 2019 (Industry Intelligence Inc.) –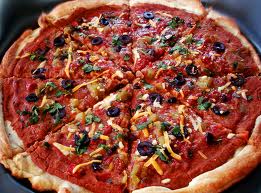 Have you ever seen a cheeseless pizza?

It's a pretty pathetic sight. It's essentially crust and sauce. I mean, you might as well have a packet of pita bread and a jar of Ragu. It just looks depressing. It reminds me of people who are dieting and have a meal of carrots and water while surrounded by people who are eating hearty meals.

We had a pizza party at work yesterday and one of the pizzas was cheeseless and topped with a bunch of vegetables meant to make it look more appetizing, but in truth just made it more hideous. I hadn't seen a sadder sight since Marlon Brando in "The Island of Dr. Moreau."

And the funny thing about this is that you don't need to have a cheeseless pizza anymore. Today there's so many non-dairy cheese options that taste like (or close to) the real thing. You can have "pizza" that looks and tastes like pizza. Why suffer by going completely cheeseless?

Today's younger generation has it easy. When I was a teenager back in the 1990s, we didn't have all of these alternative choices for meat and cheese. Today, you can get a Beyond Famous Star at Carl's Jr. and it tastes like the real thing. But when I was in high school and I was going through a meatless stage (I was trying to impress a girl. Long story short: it failed), I asked my good friends at Jack in the Box for a "Jumbo Jack" without the meat. The cashier stared at me silently for a good 30 seconds with an expression on his face that said, "Is this guy from Mars?" and replied:

But the Jumbo Jack is a burger. And if you don't get it with the burger, it's not a burger.

That's a true story.

My point is this: Today, you don't need to suffer by simply eliminating the meat and the cheese. Today, you have options. You can have all of the taste and none of the backlash. You no longer need to order Jumbo Jacks without the Jack.

And cheeseless pizzas should be erased from existence.

Nevin Barich is the Food and Beverage Analyst for Industry Intelligence, which can help YOU better address your own industry challenges. We invite you to come take a look at our service. Call us today at 310-553-0008 and we'll schedule you for a 15-minute demo.

* All content is copyrighted by Industry Intelligence, or the original respective author or source. You may not recirculate, redistrubte or publish the analysis and presentation included in the service without Industry Intelligence's prior written consent. Please review our terms of use.