Annual Mother's Day Holiday Brings Annual Mother's Day Stress
LOS ANGELES , May 15, 2019 (Industry Intelligence Inc.) –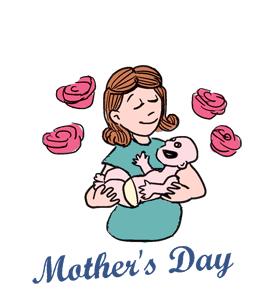 Mother's Day has never been my favorite holiday. Let me explain: It's not that I'm against a special holiday for mothers. It's just that it's always so hard to keep all the mothers in your life happy. When I was a kid, I remember tension in the house during the holiday because my dad was trying to balance giving my mom a nice Mother's Day with giving my grandma what she wanted for the holiday. The end result was always some sort of compromise. No one really enjoyed themselves and my dad received subtle digs followed by uncomfortable silences.

Over the past several years, I've been doing my own balancing act, trying to coordinate with my wife on making both my mom and her mom happy for Mother's Day. It's never pretty and always stressful. But this year, I had an added level of difficulty:

My wife is now a mom.

Talk about stress. Not only did I now have to coordinate my mom with my mother-in-law's preferences with my wife, but I had to make sure things were extra special for my wife because it was her first Mother's Day. And forget about getting any sort of slack: The moms in our lives want the day to be about them (which I understand and they deserve) and don't want to hear tales of woe like mine about trying to keep them all happy.

So what is a husband and son to do? Do I push my mom to bend a little so I can focus on my wife? It's her first Mother's Day, after all. Do I push my wife to cut me some slack so that my mom could have more of a day she wants? I mean, the woman did give me life. Do I just ignore my mother-in-law completely? She does have children of her own and they should take the slack, right?

So what ended up happening? What frequently happens on Mother's Day: Everyone got something but not everything.

The reason behind Mother's Day is valid: Celebrating Mom, who has the hardest job on Earth. But the actual celebrating is problematic to coordinate and usually not much fun.

Thanks a lot, Hallmark.

Nevin Barich is the Consumer Products Analyst for Industry Intelligence, which can help YOU better address your own industry challenges. We invite you to come take a look at our service. Call us today at 310-553-0008 and we'll schedule you for a 15-minute demo.

* All content is copyrighted by Industry Intelligence, or the original respective author or source. You may not recirculate, redistrubte or publish the analysis and presentation included in the service without Industry Intelligence's prior written consent. Please review our terms of use.