October 19, 2022 (press release) –
THEONI S.A put its trust in Elopak's partner in Greece TFT (TESCO FOOD TECHNOLOGY) for the packaging of its multi-award-winning natural spring mineral water.
Committed to a sustainable future and the protection of the environment, Theoni launched in 330ml and 500ml Pure-Pak® mini cartons from Elopak in 2021– the first Natural Mineral Water in Greece in paper packaging.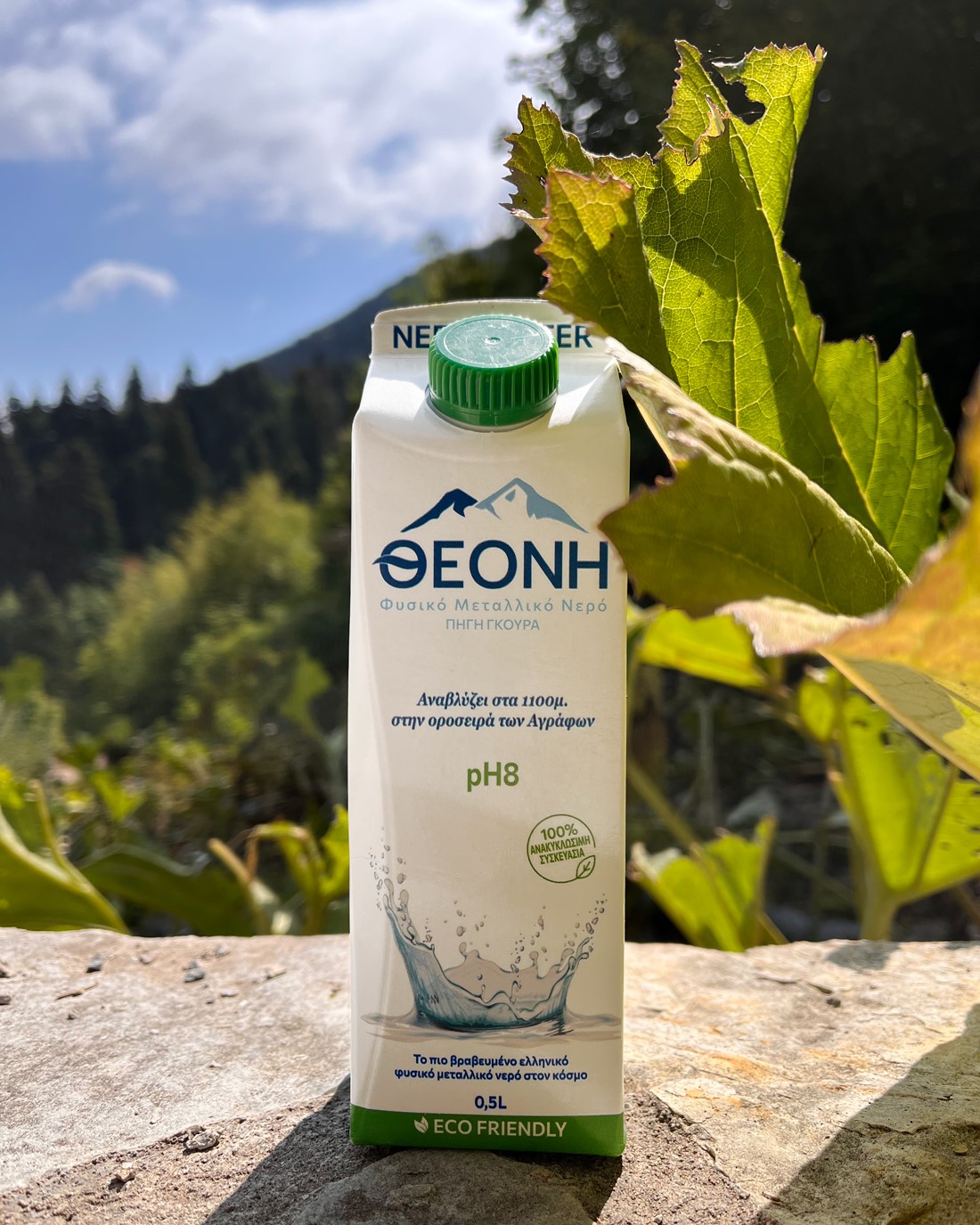 The President and CEO of THEONI S.A., Dimitris Tselios, says: "With consistency and faith in our vision, we present the most ambitious, to date, step of our company and implement our promise to invest in the environment, contributing decisively to sustainable development issues. The circulation of the first natural mineral water in Greece in paper carton packaging will hopefully be the beginning so that the generations of today and tomorrow will enjoy the precious gifts generously offered by nature."
Standout purity and sustainability
Sourced from the Goura Spring at an altitude of 1100m in the Agrafa mountain range in central mainland Greece, Theoni Natural Mineral Water is the most awarded Greek water product in the world, with more than 60 international quality and taste awards. Theoni mineral water continues to win awards for its purity, and recently was voted as the best Packaging Product of the Year 2022 by Greek consumers.
Its quality comes from a pH 8 alkaline purity value, which is low in hardness and has one of the lowest sodium levels for a water product. Containing calcium and a low nitrate content, the water is claimed to have health benefits for all ages. Packaged straight from its source in the mountains, far away from human activity, the water reaches the consumer without any impurities or additives.
To support Theoni's unique quality and its sustainable commitment, the new Pure-Pak® carton provides a fully recyclable package where infrastructure is in place plus FSC® certified** paperboard from responsibly managed forests and other controlled sources. The carton is carbon neutral and has a standout green coloured cap made from forest-based PE.
Collaboration achieves ambitious step
It is the first mineral water in Greece in gable top cartons, and this milestone is the result of the successful collaboration between THEONI and TFT.
"The successful collaboration between THEONI and TFT contributed to the achievement of an ambitious step for our company, concerning the creation of a sustainable development strategy," adds Dimitris Tselios.
"We are proud that with this project we achieved the first step adopting the gable top carton for water, like we did in the past with fresh milk in 1986, and fresh juice in 1989. In this way, we are contributing to the evolution of the food and beverage industry through innovation and sustainability. Thank you THEONI for choosing and trusting us on such an important project!" says the President and CEO of TFT. S.A., Thanos Theodoratos.
Theoni Spring Travelogue
International water Sommelier, Michael Mascha, revealed the "secret" of Theoni water while visiting the Goura Spring with Mr Tselios, to discover the beauty of Theoni water by its nature: Michael commented: during his visit:
«THEONI is a natural, unprocessed product. When you open a carton of THEONI water, you consume the same water that gushes naturally at 1.100m altitude in the Goura Spring from the mountain range of Agrafa in the Prefecture of Karditsa. Since it is packaged directly, without any impurity, disinfection or process its relatively low hardness and the fact that it is distinguished for its pH 8 gives THEONI water a light, soft and balanced character, ideal to accompany any meal or wine»
Independent consumer survey conducted by IRI on a sample of 3,200 consumers in Greece

**(FSC(R)-C-081801)
* All content is copyrighted by Industry Intelligence, or the original respective author or source. You may not recirculate, redistrubte or publish the analysis and presentation included in the service without Industry Intelligence's prior written consent. Please review our terms of use.