November 11, 2022 (press release) –
What started with a single carton redesign has grown into an entire packaging rework for BHU Foods, encompassing everything from individual packaging to caddies and cartons, for the company's full complement of refrigerated and shelf stable retail and online channels.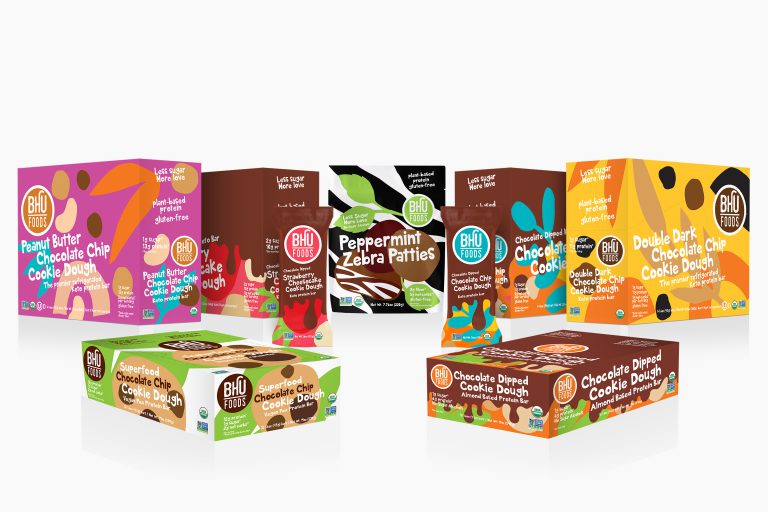 Based in San Diego, California, BHU Foods reimagines sugary snacks with healthy, organic, plant-based alternatives including low-carb and low-sugar protein and cookie bars and protein bites, hazelnut and cookie dough spreads and other on-the-go options designed for those looking to limit sugar and carb intake. The company distributes at more than 8,000 outlets nationwide including Whole Foods, Sprouts, Publix, Walmart, Target, HEB and Wegmans, as well as Amazon and the company's own web site.
The company first retained Gestalt Brand Lab in mid-2021 focused solely on a single project. Based on feedback and confirmation that the agency understood the BHU Foods vision, the company developed an expanded partnership to update all product packaging.
The first redesign work for the refrigerated Bar shelf caddie was focused on driving better appetite appeal, broadening consumer interest and improving BHU Foods' shelf presence at retail locations all while keeping with BHU's fun and playful aesthetic. Company leadership was immediately impressed with Gestalt's brand vision and rapidly began adding new products for redesign within the bigger creative idea Gestalt concepted under the initial scope.
All the new BHU Foods packaging is built around a brand identity of the 'Art and Craft of Pure Joy.' "BHU Foods defines the art and craft of happiness with everything they do, from handcrafting some of the world's best tasting healthy snacks in a sustainable way to ensuring transparent, eco-friendly and fair-trade practices at every stage of development and production, so consumers will feel good inside and out with every bite of BHU," said Gestalt Brand Lab Creative Director Chad Farmer. "We wanted the brand and packaging to match that inspiration with fun, vibrant, handmade art and writing that uplifts and helps everyone feel pure joy," Farmer added.
Key to the packaging design work was creating a look that would pop off the shelf from key competitors in the space, and also broaden the product's appeal to a wider audience. "We wanted to ensure the new packaging look was eye catching to bring in potential new customers unfamiliar with the brand and its qualities, with a level of quality far ahead of others in our industry," said BHU Foods CEO Laura Katleman.
Redesigned BHU products and packaging are rolling out to store shelves and the e-commerce site now as all previous packaging is being replaced, with new products added regularly as they are introduced.
For More Information:
http://www.bhufoods.com
* All content is copyrighted by Industry Intelligence, or the original respective author or source. You may not recirculate, redistrubte or publish the analysis and presentation included in the service without Industry Intelligence's prior written consent. Please review our terms of use.