January 25, 2023 (press release) –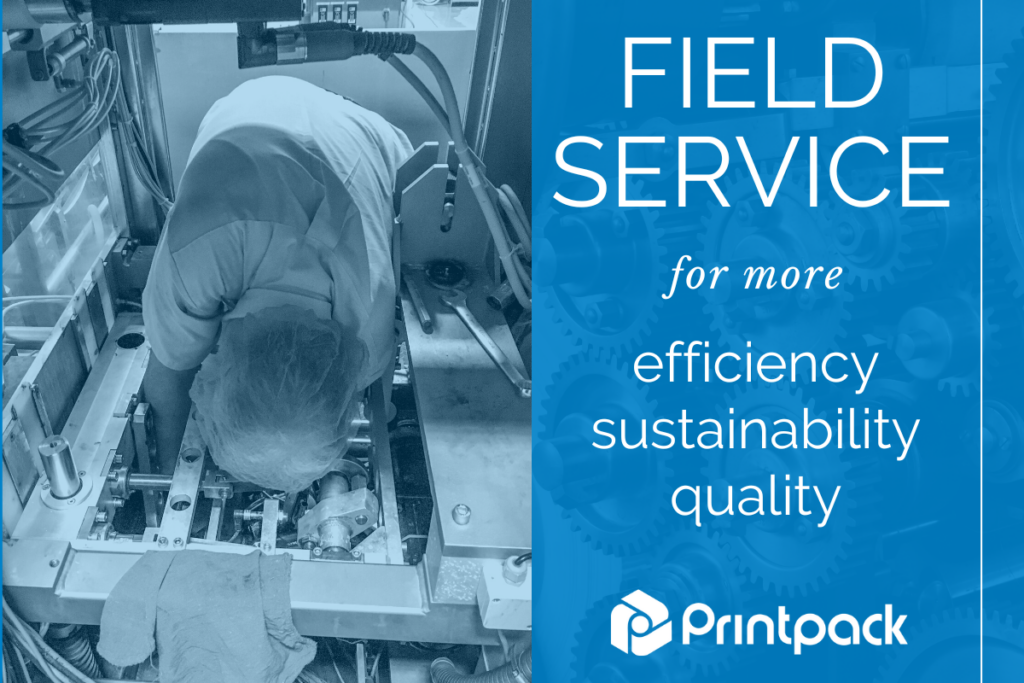 As the tip of the spear for Printpack, the Field Service team goes above and beyond what's generally considered field service. Our subject matter experts who make up this team come from many manufacturing arenas, bringing years of experience in printing, extrusion, adhesive laminating, and more. These specialists in the general blocking and tackling of technical service work such as scheduled visits, material disposition, and troubleshooting calls also go above and beyond by:
Building prototype packaging
Providing manufacturing (internal) and customer (external) training
Supporting the corporate lab in troubleshooting efforts on materials
Working with product development engineers to understand a customer's packaging machinery
Performing plant and machine audits at our customers' facilities to identify potential improvements
Acting as a resource for information about suppliers and machine manufacturers that can improve our customers' efficiencies and output
Learn how this traveling team of experts can boost your operations to become more efficient and sustainable so you can produce the highest quality packaging possible.
GET MORE EFFICIENT
Visits from the Field Service team help manufacturers ensure their supply chain is running at peak efficiency, which can dramatically increase output. The team will examine an entire packaging line and offer ideas to maximize efficiencies and output. Suggestions as simple as maximizing material roll size and staging with the appropriate roll handling equipment, packaging material reductions where possible, or alternate machine part design can substantially improve manufacturing efficiencies and up time.
Providing local service and building relationships with our customers' manufacturing personnel paves the way for open and candid communication and yields real time feedback on material performance and the customers' needs. This allows Printpack to provide service tailored to an individual customer and focus on their operation specifically.
GET MORE SUSTAINABLE
The Field Service team consistently promotes Printpack's sustainability efforts and encourages our customers to follow suit to support the mission of a better future. This team was instrumental in acquiring the assets Printpack uses internally to develop sustainable materials for our customers. Our experts are working to understand how best to enable existing machinery to run up-and-coming sustainable structures. They also partner with the OEM's to find solutions for materials that are historically not the most efficient to run on packaging machinery. Together they identify tradeoffs and other factors that might increase cost or decrease speed and propose solutions to eliminate these roadblocks.
Reducing waste is the first stop on our journey toward sustainability. The Field Service team reinforces a customer's sustainability efforts by suggesting manufacturing techniques that can help lessen lost materials and waste. For example, the way splices are made can substantially impact machine performance. Correct splice execution ensures that customers receive the largest diameter rolls that they can use, ensures splice integrity through the packaging machine, minimizes waste and downtime, and aids in splice detection. This is especially relevant for stand-up pouch machinery. When a roll is changed and a bad splice is made or a bad internal splice is encountered, the machines run out of register creating waste and lost machine time. Attention to these details, boosted by operator training both at our manufacturing facilities and at our customers' operations eliminate these issues and aids in reaching sustainability goals. A constant line of communication between the team and the manufacturing floor helps to alert them of potential sustainability concerns.
GET BETTER QUALITY
The Field Service team helps ensure customer quality by dialing in machine settings and establishing material/machine operating windows, thereby resulting in a higher quality end product. For example, multi-lane machines, such as those used to create single-serve packets, can be 10+ lanes wide with high output every cycle. The dies associated with those machines tend to be inherently long, and temperature variation along the length of those dies comes into play. These factors can dramatically affect the sealant integrity on those machines across multiple lanes. If one of those packets leaks on a skid, the entire skid may be rejected, causing the customer to lose materials, dollars, and a significant part of production.
In a case like this, a Field Service team member visit can make a world of difference. Being cognizant of the integrity of the seal for each single packet produced in each lane creates a major impact downstream. Field Service reps come equipped with the tools to check temperature, pressure across the face of the die, and die alignment. The team can proactively identify the problem and correct it before it affects end product quality.
To learn more about Printpack's unique services, read more here.
* All content is copyrighted by Industry Intelligence, or the original respective author or source. You may not recirculate, redistrubte or publish the analysis and presentation included in the service without Industry Intelligence's prior written consent. Please review our terms of use.