LOS ANGELES , July 15, 2022 (Industry Intelligence Inc.) –
Design firm uses packaging to help shift perception of magic mushrooms
New York-based design studio Dark Igloo has created distinctive packaging for a secret psilocybin dispensary called PLANT—short for Peace, Love and Natural Things—with the aim of rebranding the drug with a trustworthy identity. Set in an undisclosed location and with no online presence, the secret shop sells tinctures, capsules and chocolates containing the hallucinogen, which remains illegal at the federal level but has shown promise as a treatment for mental health conditions in a growing number of studies. To counter some of the negative connotations associated with psilocybin, Dark Igloo created a cheerful yet understated identity by combining medicinal amber glass bottles with wiggly sunshine-yellow typography. "Our approach to the packaging was to lean into the shifting perception of psilocybin as a source of healing when used in the right amounts and under the right circumstances," Dark Igloo's art director Brooke Bamford told Dezeen. Bamford explained the goal was for the packaging to feel trustworthy and contemporary rather than overly psychedelic or silly. References to mushrooms are largely subtle, found in the wavy stems of the letters L and N in PLANT's wordmark and in Dark Igloo's dreamy product photography, which nods to the sparkly visuals experienced by some users when taking psilocybin. With several U.S. cities having effectively decriminalized the possession and use of psilocybin in recent years, and Oregon set to become the first state to legalize supervised psilocybin therapy in 2023, the substance—along with its related packaging and branding—is poised to play a bigger role in the health and wellness space in the coming years.
The primary source of this information is Dezeen

App-enabled refillable medication dispenser eliminates need for blister packs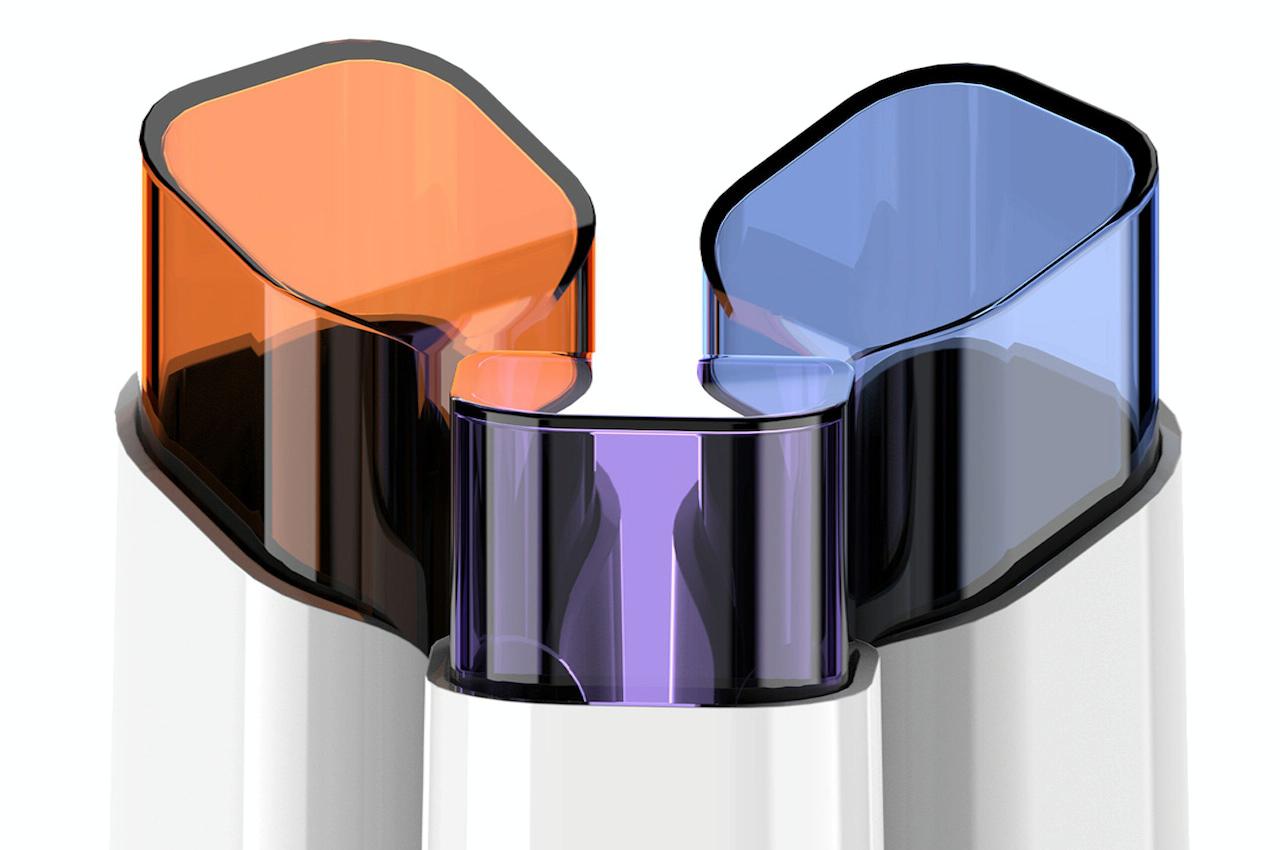 While vitamins and medication are vital to any health regimen, the single-use blister packs they come in are less than ideal in terms of sustainability. A concept product design called MicroMed offers a solution in the form of a refillable medication dispenser. MicroMed allows customized doses of medication based on a user's characteristics and includes a reusable capsule to ensure nothing is thrown away. The dispenser works with a companion app, where data are entered and then used to identify and offer the correct dose. For users that regularly take medication, MicroMed also offers a refillable cartridge system. To ensure users are not intimidated to use the digital innovation, the dispenser boasts a minimalist aesthetic. The caps and cartridges are color-coded so that users can easily differentiate the medications as needed. Thanks to its clear view, users will also know when it's time to refill. And finally, MicroMed is small enough to fit inside a bag or pocket, making it suitable for everyday use and travel.
The primary source of this information is Yanko Design

Panera Bread's reusable cup charges cell phones
To give devices a little extra "juice," Panera Bread recently introduced a limited-edition Charged Up Cup that doubles as a cell phone charger. Launched as a companion to the bakery-café's new Charged Lemonades containing plant-based caffeine, the 17 oz. reusable cup features a removable base for a phone to rest on and power up. Guests were encouraged to enter a giveaway for the cups so they could power up their device while simultaneously enjoying an energy boost from the fruity beverage. The giveaway was timed so that winners from New York, Chicago, Los Angeles and St. Louis received their personal delivery on June 21, the longest day of the year, making the Charged Up Cup all the more appealing.
The primary source of this information is Panera Bread
* All content is copyrighted by Industry Intelligence, or the original respective author or source. You may not recirculate, redistrubte or publish the analysis and presentation included in the service without Industry Intelligence's prior written consent. Please review our terms of use.