May 1, 2023 (press release) –
New packaging for Fruit Roll-Ups, Fruit by the Foot and Gushers will begin to roll out this summer.
As the originators of the Fruit Snacks category, General Mills knows a thing or two about developing not only great products but also eye-catching brands.
For the first time in eight years, General Mills is refreshing its fruit snack portfolio, comprised of three iconic brands – Fruit Roll-Ups, Fruit by the Foot and Gushers – to give them all updated designs and brand profiles.
The rebrand was aimed at unleashing what's unique about each brand and building out multi-sensory brand worlds to create more enjoyable and distinct experiences for their core early teens to early adulthood audience.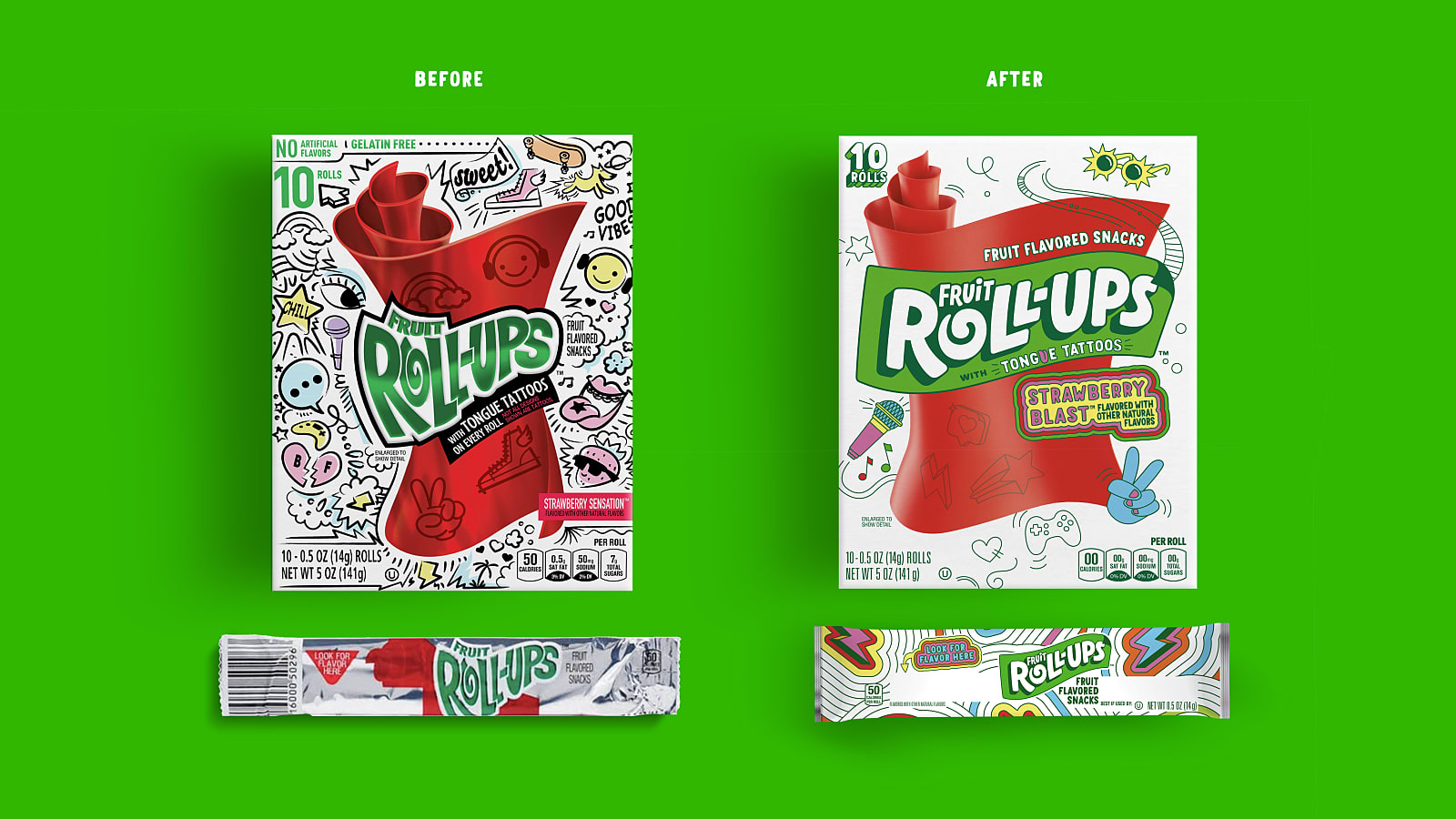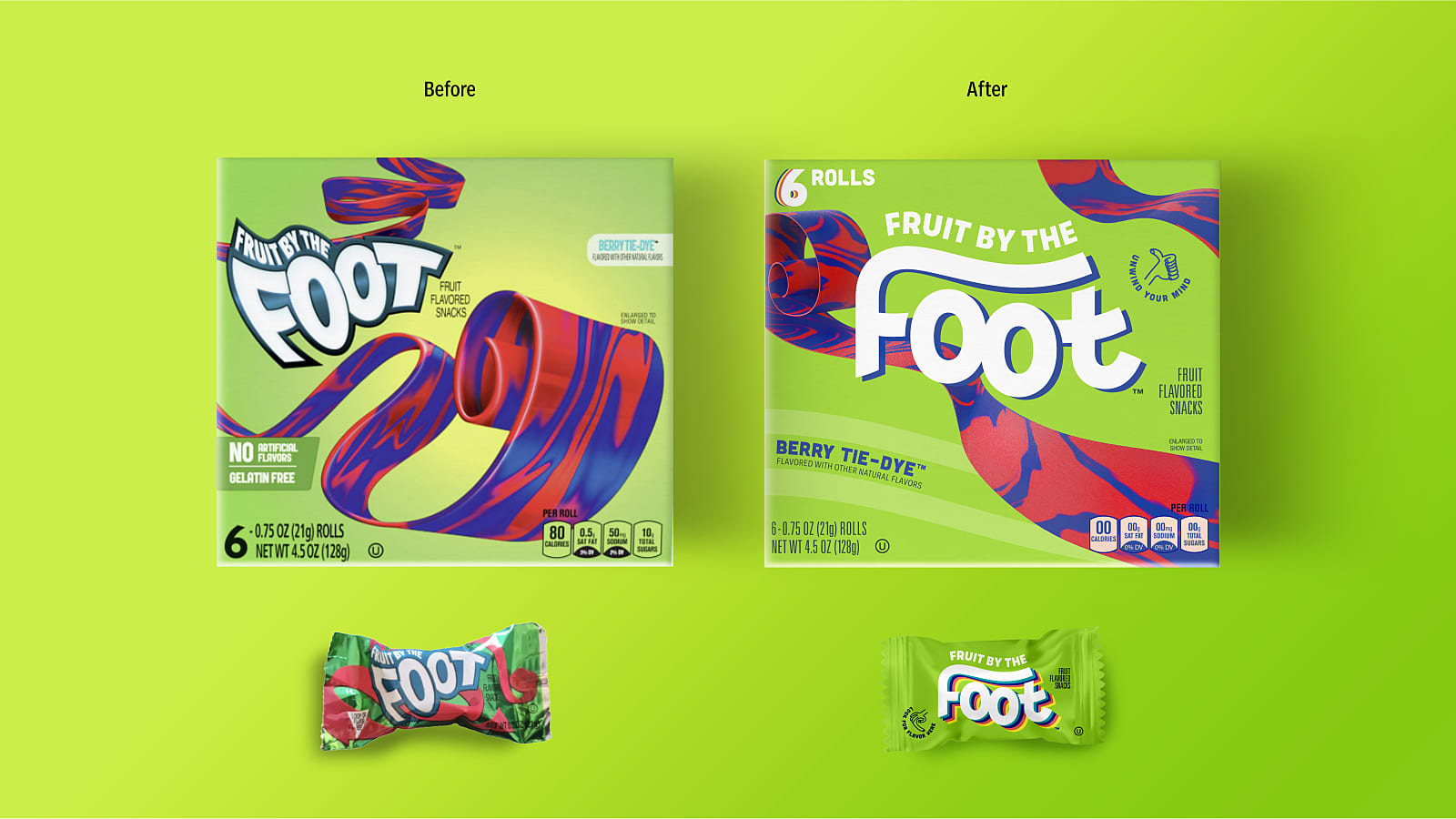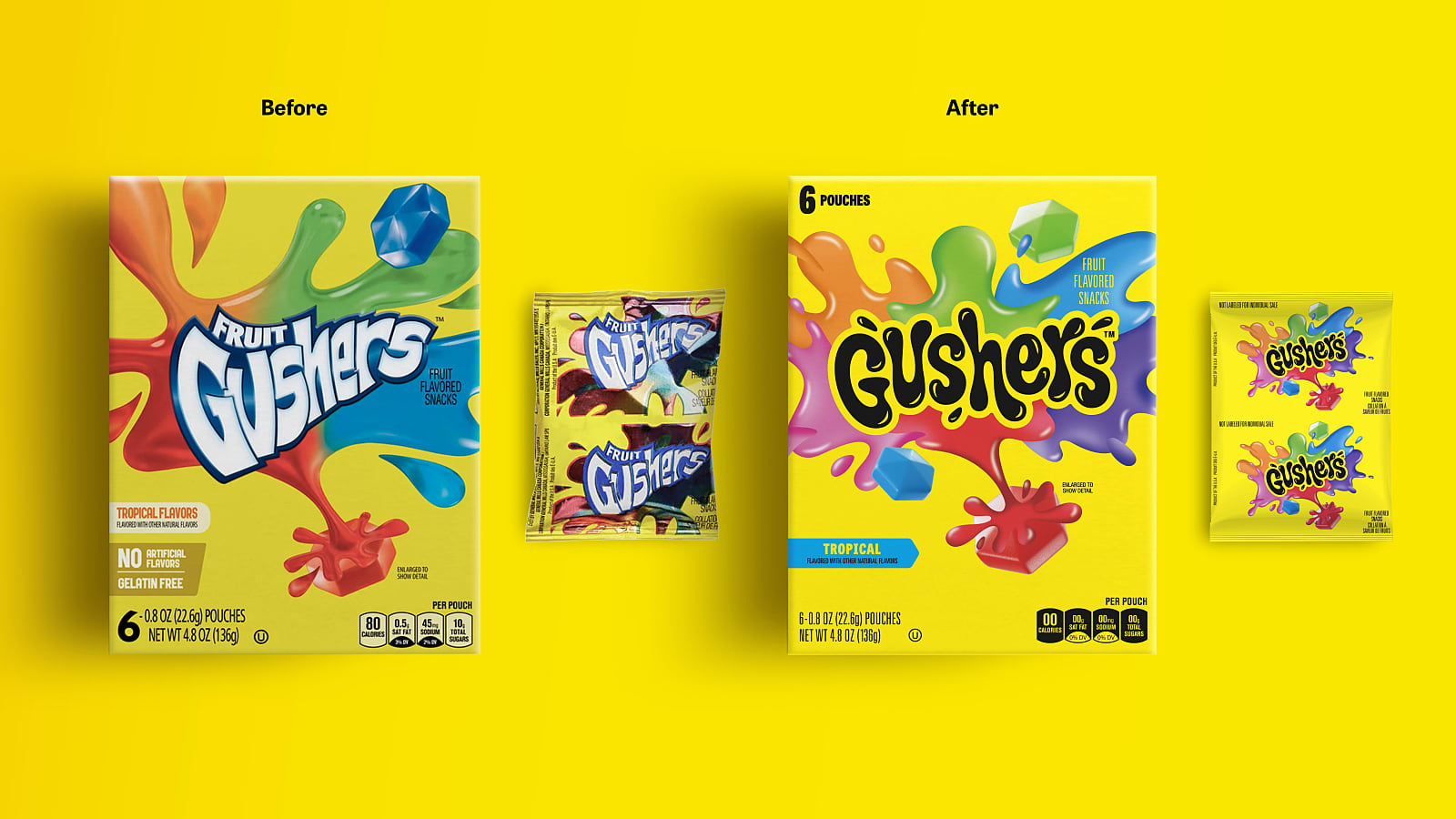 "Creating an expressive and immersive brand experience for each of these brands was really important to us," says Ta'mora Fuhrmann, Brand Design Manager for General Mills. "Brands today need the ability to connect meaningfully with consumers across a variety of touchpoints. For teens specifically, it's imperative we fit seamlessly into their lives and deliver benefits that extend beyond the product."
History of General Mills Fruit Snacks
Research and development on the concept of fruit snacks started in 1975 in the desserts division at General Mills when a new fruit filling was being developed for a cake mix.
At the time, another company had a "fruit leather" product that was used as a benchmark to develop a similar, but better, product.
General Mills' version was tested and revised until it was ready to go into test markets in 1979, when the product became known as Fruit Roll-Ups.
Then in 1991, Fruit by the Foot joined Fruit Roll-Ups as a popular fruit snack.
But it was the 1992 arrival of Gushers that really caused a splash. The bite-sized flavor bombs had the surprise of a juicy liquid center that made them an instant hit.
Since then, Fruit Roll-Ups, Fruit by the Foot and Gushers continue to delight fans.
A New Era of Fruit Snacks
Fruit Roll-Ups, Fruit by the Foot and Gushers were originally launched as one-of-a-kind snacks made to stand out. As the years came and went, the brands started to feel more like each other and comparable to others in the category.
In a world where teens are still discovering their independence, managing new responsibilities and finding themselves, General Mills knows it is imperative that the revitalized designs not only speak to the overarching teen experience, but that each brand is able to uniquely resonate with the specific age group they're intended for — from early teens to early adulthood.
The solution was to create new designs that are bold, vibrant, and celebrate this burgeoning generation.
By exciting teens' imaginations, General Mills is able to offer them a friendly reminder that the world is a delicious domain that's theirs to shape — a sweet ticket, a rite of passage, an endless opportunity to have carefree moments and let loose.
Whether fans are enjoying the delicious three feet of fun with Fruit by the Foot, tapping into nostalgia with Fruit Roll-Ups iconic tongue tattoos or savoring the flavor explosion in Gushers, General Mills is bringing a bit of fun to snack time.
From packaging, to partnerships, to digital activations, and even seasonal expressions, the fresh relevance established by the new designs allows each brand to show up in the spaces that matter most to teens.
General Mills continues to lead category growth and is the largest manufacturer of fruit snacks in the United States with nearly 40 years of experience.
Learn more about the history of fruit snacks here and be sure to check out the new packaging from Fruit Roll-Up, Fruit by the Foot and Gushers as it rolls out on shelves this summer.
General Mills partnered with creative design and branding agency Pearlfisher on the redesign of our fruit snacks brands.
* All content is copyrighted by Industry Intelligence, or the original respective author or source. You may not recirculate, redistrubte or publish the analysis and presentation included in the service without Industry Intelligence's prior written consent. Please review our terms of use.