September 12, 2022 (press release) –
Berry Global Group, Inc. (NYSE: BERY) is pleased to be named a finalist for two Technology Excellence Awards in Sustainability from PMMI, The Association for Packaging and Processing Technologies for its Wave2cc recyclable lock-up automatic dispenser and Proxima tethered closure with tamper-evident band.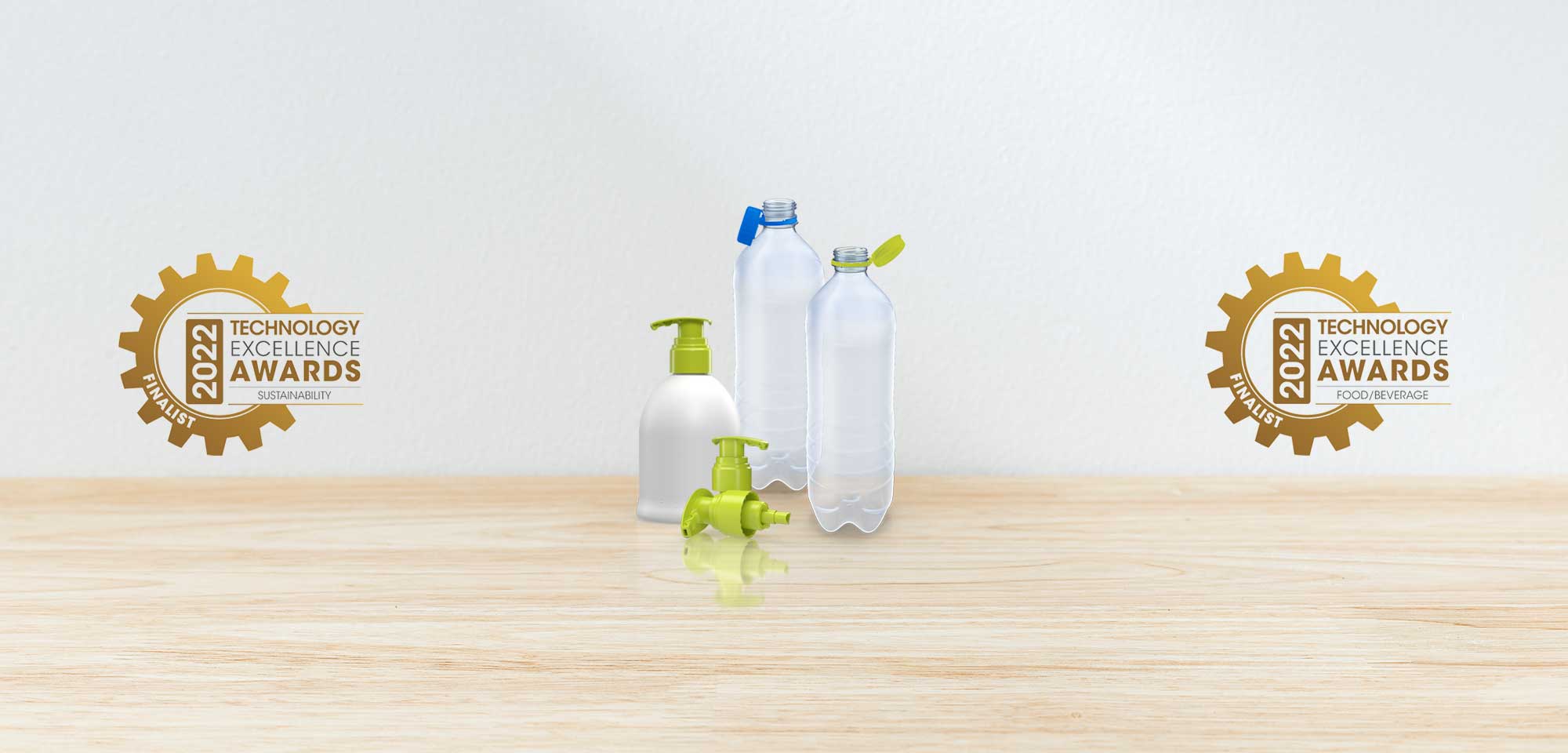 "We are proud to have two products named finalists in this year's Technology Excellence Awards. The recognized products highlight our technological advancements and unique offerings for sustainable products," said Jean-Marc Galvez, President of Consumer Packaging International division at Berry. "As customers work to achieve their sustainability goals, we are proud to offer unique solutions and processes for their businesses."

Berry brings its focus on creating sustainable products to customers around the world through investments in the latest innovations and technology. As a global leader in plastic packaging, Berry leverages its manufacturing know-how to minimize materials, maximize recyclability, and adhere to the latest local government regulations.

Wave offers recyclable dispensing
Berry's Wave is a recyclable lock-up atmospheric dispenser, offering personal care manufacturers a new version of the popular pump format used for products such as liquid soaps, body lotions, shampoos, and conditioners. The dispenser is made from 100% polyolefin, with no metal parts, making it recyclable when paired with a PET bottle and where appropriate facilities exist. This has gained it a RecyClass A rating. This product will be available in Berry Cleanstream® post-consumer recycled resin (PCR) that has been independently recognized by the U.S. FDA with a no objection letter issued.

In the Wave streamlined design, the number of components in its construction has been reduced to eight, compared to the twelve to fourteen that are typically found in other versions. For the growing personal care e-commerce market, the strength of construction has achieved ISTA6 certification when combined with Berry's wide range of stock bottles. The robust design means the dispenser can handle very viscous formulations to ensure consistent, reliable, and accurate dosing, and it is showerproof. This makes it the ideal multifunctional solution for brand owners, which can be used across entire product ranges to simplify supply chains and provide economies of scale. It can also be adapted to different actuator styles and closure sizes. The dispenser's locking system has the ability to operate in both clockwise and counterclockwise directions, providing consumer convenience and giving it greater flexibility in meeting the requirements of different filling lines.

Proxima tethered closures offers circular solution
The Proxima tethered closure provides a solution to enhance opportunities for reducing litter, increasing recyclability of the closure, while still offering consumers a convenient and comfortable drinking experience for cold fill and aseptic applications, including still water and functional drink. The design of the closure features a special tamper-evident band that once broken, does not impact the closure's ability to remain attached. When opened for drinking or pouring, the closure is positioned at a wide angle, adjacent to the neck of the bottle, thus ensuring the bottle can be easily reclosed for consumer convenience.

This solution meets two important sustainability benefits. Because the closure is designed to remain intact with the bottle, it is less likely to be thrown away or littered. This can greatly reduce the possibility of the closure leaking into the environment. Equally important, keeping the closure on the bottle decreases the danger of littering and unnecessary plastic waste when closures are carelessly or thoughtlessly discarded.

Proxima is available in 29mm and 38mm diameters to fit various neck finishes. In addition to its user-friendly features, the closure can be specified in a variety of colors to help individualize product branding and maximize on-shelf appeal. Proxima meets current legislation on single-use plastics including the EU Directive 2019/204, which requires plastic beverage bottles up to 3 liters in size to have closures that remain attached to the container throughout its intended use from 2024 onwards.

Vote for Berry's top technologies
Vote for your favorite cutting-edge technologies to win the 2022 Technology Excellence Awards. Voting will begin when PACK EXPO International opens its doors at 9 AM CST on Sunday, October 23 and will remain open through noon on Tuesday, October 25. Click here for voting instructions.
* All content is copyrighted by Industry Intelligence, or the original respective author or source. You may not recirculate, redistrubte or publish the analysis and presentation included in the service without Industry Intelligence's prior written consent. Please review our terms of use.