California's Excellent Packaging adds crystal-clear modular, single-serve cold cups, lids to its line of compostable foodservice products; packaging is made entirely from NatureWorks' PLA-based Ingeo biopolymer
RICHMOND, California , February 29, 2012 (press release) – BioMass Packaging®, a division of Excellent Packaging, an innovator and wholesale distributor of sustainable, biodegradable, and nature-based packaging for foodservice and other applications, has added modular, single-serve food containers, to its line of compostable foodservice solutions. Made entirely from NatureWorks® Ingeo biopolymer — a PLA-based material — the new Greenware® crystal-clear cold cups and lids transform a regular cup into a versatile food packaging carry-all, giving foodservice operators endless possibilities for merchandising breakfast foods, lunch combos, and all-day snacks.

Fresh and nutritious snack foods and small meals are increasingly popular with busy, on-the-go consumers, who expect to find appealing grab-and-go foods in their favorite coffee shop, convenience store, supermarket or hotel snack shop. Snacks and meals such as parfait+granola+fruit combos, fruit+yogurt, chips+salsa, and salad+croutons+dressing, are now easy to package and present with BioMass Packaging's modular system, which consists of a basic cup, an insert with a secure lid, and either a flat or domed lid that snaps on tight.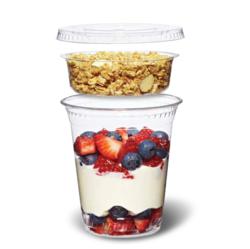 "There has never before been a cup insert made from Ingeo, and this has prevented foodservice operators who use green and bio-based packaging from offering grab-and-go combinations to their customers. Now, they can increase profitability while meeting their commitment to sustainability," said Allen King, president of California-based Excellent Packaging, the exclusive North American distributor of the new cups and inserts. "What's great about this modular system is that it can be used to present foods that need to be combined just before eating, in a convenient, sustainable, nature-based package. This attractive packaging solution delivers a really eye-catching food presentation — we think it's going to be a huge hit with hotels, delis, coffee shops and supermarkets."

An executive chef at a five-star hotel in Truckee, California, that is piloting the new cups, inserts and domed lids, sees their potential for broadening the hotel's range of foods. "The customers at our casual dining restaurant are often looking for a quick and nutritious meal they can grab without sitting down for table service, or to consume later. We're now offering parfaits in this new packaging, and if these are successful, we expect to expand to include salads, fruits and cheeses. Being in Lake Tahoe, guests expect us to use environmentally friendly packaging, and this was a key criterion when we selected these cups."

Flexible system addresses the needs of any foodservice operation:
■ Up to three different ingredients can be offered in one grab-and-go format
■ Cup insert works with multiple cup and lid sizes to enable endless menu options
■ The insert may be flush-filled and covered with a flat lid, or covered with a dome lid that can also be filled with a meal ingredient
■ Inserts are suitable for heat sealing with most cup sizes
■ Custom notch design allows for easy insert removal
■ Compostable - every element of the packaging is made from plant-based Ingeo PLA plastic.

Presentation and availability
The new Ingeo-based cups and inserts are sold in cases of 1,000 units and are available for immediate delivery. They can be ordered wholesale direct from Excellent Packaging or from the company's BiomassPackagingStore.com online store. To learn more about the comprehensive range of bio-based, sustainable foodservice packaging products offered by Excellent Packaging, or to enquire about volume pricing, call (800) 317-2737 or email sales@excellentpackaging.com. A PDF-format brochure is available online: http://www.excellentpackaging.com/Sales/SalesPdfs/Greenware_CupInserts.pdf.

About BioMass Packaging
BioMass Packaging (http://www.biomasspackaging.com) specializes in offering sustainable packaging solutions for foodservice operators that want to reduce their impact on the environment. The company is a division of Excellent Packaging (http://www.excellentpackaging.com), a wholesale distribution company that specializes in nature-based packaging for foodservice and other applications. Excellent Packaging brings decades of experience to research, source and deliver custom bio-based and traditional packaging and foodservice products that enable companies to integrate sustainable foodservice solutions into their business. Follow us on Facebook (BioMassPackaging) and Twitter (@BioMassPackage).
* All content is copyrighted by Industry Intelligence, or the original respective author or source. You may not recirculate, redistrubte or publish the analysis and presentation included in the service without Industry Intelligence's prior written consent. Please review our terms of use.