U.S. refreshment beverage market up 1.2% in 2010, research company BMC says; total liquid refreshment beverage volume exceeded 29 billion gallons last year, with RTD tea moving ahead faster than all other segments
Mar 17, 2011 – Beverage Marketing Corp. (BMC)
NEW YORK , March 17, 2011 (press release) – Ready–to–drink tea and sports beverages enlarged forcefully; carbonated soft drinks shrank again

The U.S. refreshment beverage market grew by 1.2% in 2010, based on preliminary data from Beverage Marketing Corporation. This represented a significant improvement from the back-to-back declines of the previous two years. Just as the weakened economy hampered beverages' performance in 2008 and 2009, improved conditions contributed to their rebound. Total liquid refreshment beverage volume exceeded 29 billion gallons in 2010.

Premium beverages such as ready–to–drink (RTD) tea and coffee, sports beverages and energy drinks displayed particular vibrancy during 2010, but larger, more established segments such as carbonated soft drinks and fruit beverages failed to grow though their performance improved.

RTD tea moved ahead faster than all other segments with a 12.5% volume surge in 2010. Despite this advance, the segment accounted for a relatively small share of total liquid refreshment beverage volume. While no tea brand ranked among the leading trademarks, Snapple RTD tea did see exceptional growth of 16%. RTD coffee and energy drinks also handily outperformed the overall beverage market but remained comparatively small components of it.

In contrast, sports beverages, which also saw muscular growth in 2010, had Gatorade (including all brand variations) as the fifth largest beverage trademark by volume during the year. After declining in 2009, Gatorade enlarged by more than 6%. The Powerade trademark rocketed upward by 19% in 2010.

Carbonated soft drinks remained by far the largest liquid refreshment beverage category, but they continued to lose both volume and market share. Volume slipped 0.8% from 13.9 billion gallons in 2009 to 13.8 billion gallons in 2010, which resulted in their market share moving down from 48% to 47%. Nonetheless, certain soda trademarks, such as Dr Pepper, Mountain Dew and Sprite, did achieve growth. Moreover, carbonated soft drinks accounted for five of the 11 biggest beverage trademarks during 2010, with Coca–Cola and Pepsi–Cola retaining their perennial first and second positions.

Bottled water had four entries among the leading trademarks for the first time in 2010 (with two brands essentially tied for tenth place). Like the beverage marketplace as a whole, bottled water declined in 2008 and 2009 but recovered in 2010, when volume grew by 3.5%.

Four companies accounted for all of the leading refreshment beverage trademarks. Pepsi–Cola had five brands, including the sole fruit beverage brand to make the list, Tropicana. Coca–Cola had three while Nestlé Waters North America (NWNA) and Dr Pepper Snapple Group (DPSG) had two and one, respectively.

"Beverages' resilience in 2010 demonstrated their fundamental strength and enduring appeal for consumers," said Michael C. Bellas, chairman and CEO, Beverage Marketing Corporation. "As we predicted last year, the worst is now behind us and beverages' performance will continue to benefit from the improved economy."

New York City–based Beverage Marketing Corporation is the leading research, consulting and financial services firm dedicated to the global beverage industry.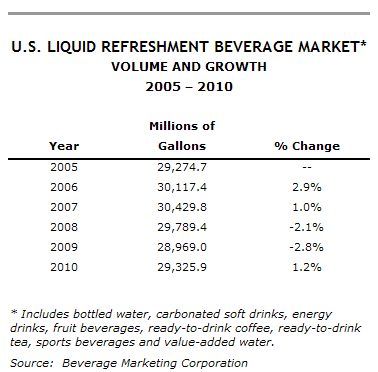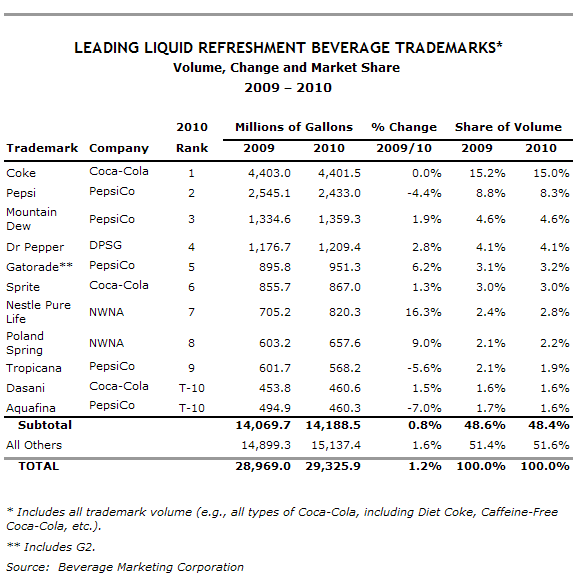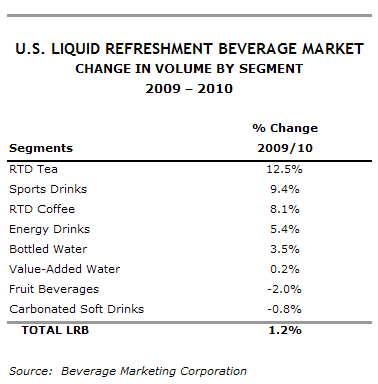 * All content is copyrighted by Industry Intelligence, or the original respective author or source. You may not recirculate, redistrubte or publish the analysis and presentation included in the service without Industry Intelligence's prior written consent. Please review our terms of use.