WASHINGTON , February 21, 2023 (press release) –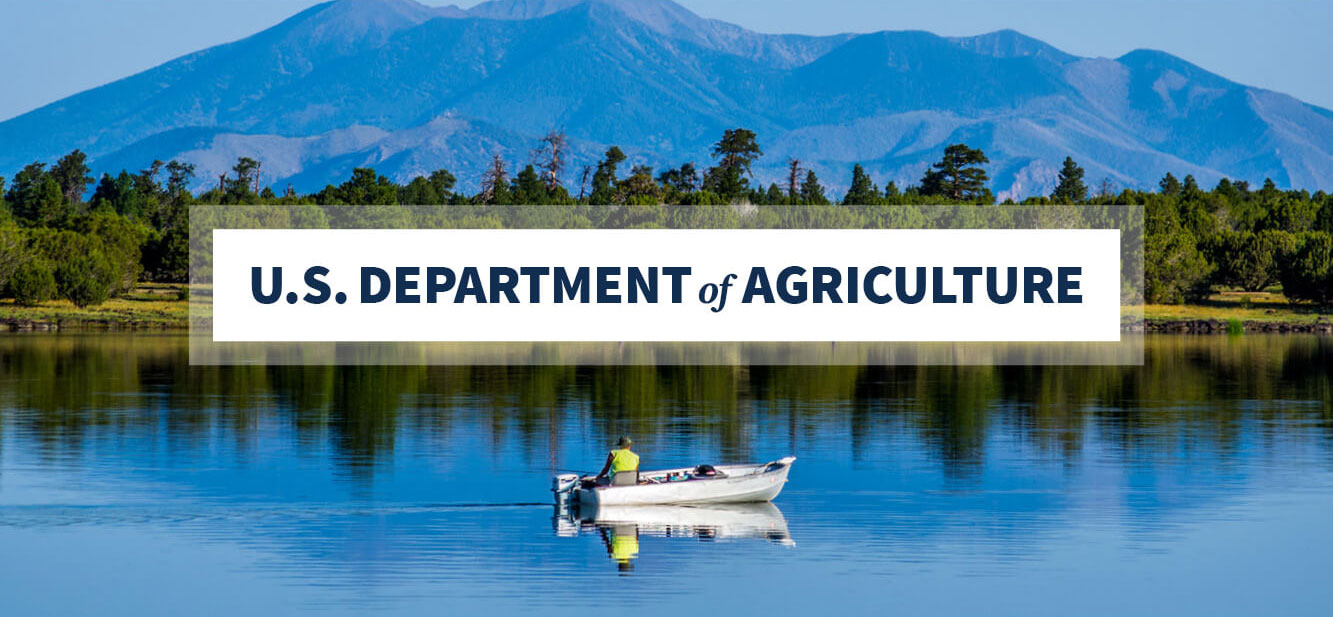 The U.S. Department of Agriculture (USDA) will invest more than $48.6 million this year through the Joint Chiefs' Landscape Restoration Partnership for projects that mitigate wildfire risk, improve water quality, restore forest ecosystems, and ultimately contribute to USDA's efforts to combat climate change. This year, the USDA Forest Service and Natural Resources Conservation Service (NRCS) will invest in projects, including 14 new projects, bringing together agricultural producers, forest landowners, and National Forest System lands to improve forest health using available Farm Bill conservation programs and other authorities.
"The need for cross-boundary wildfire risk reduction work as part of our Wildfire Crisis Strategy is more urgent than ever. These projects, and the $930 million of investments being made across 21 landscapes in highest-risk firesheds in the western U.S. , speak to our commitment to improve forest health and resiliency across the nation's forests to reduce the risk of catastrophic wildfire," said Forest Service Chief Randy Moore . "We have long moved beyond wildfire seasons to fire years, with an annual average of 8 million acres burned since 2015; more than 10 million acres burned in three of those years. The Joint Chiefs' Landscape Restoration Partnership promotes cross-boundary work needed to increase the scale of our wildfire risk reduction efforts to protect people and communities, critical infrastructure, water supplies, and ecosystems from extreme wildfire."
NRCS Chief Terry Cosby added: "These Joint Chiefs' projects are excellent examples of how federal, state, and local agencies can use targeted funding to achieve results that meet producers' conservation goals, build drought resiliency, and mitigate climate change. Through collaboration and strategic investments in local communities, we continue to work with the Forest Service to respond to significant conservation needs on private and public lands."
The Joint Chiefs' Landscape Restoration Partnership enables the Forest Service and NRCS to collaborate with agricultural producers and forest landowners to invest in conservation and restoration at a large enough scale to make a difference. Working in partnership, and at this scale, helps reduce wildfire threats to communities and critical infrastructure, protect water quality and supply, and improve wildlife habitat for at-risk species.
Congress recently recognized the value of this important USDA program by memorializing it in the Bipartisan Infrastructure Law signed by President Biden on November 15, 2021 . The law includes enhanced collaboration and public engagement associated with future projects. The Forest Service and NRCS look forward to supporting the now permanent Joint Chiefs' program to enhance the resilience of our forests, communities, water supplies, and working lands.
USDA is investing $17.4 million in these 14 new projects:
Arizona , Fort Huachuca Sentinel Landscape Phase Two
Arkansas and Oklahoma , Arklahoma Ozark Watershed Restoration
California , Forest Health and Fire Resilient Rural Communities Phase Three
Guam , Making Southern Guam Firewise and Wildfire Resistant
Idaho , South Teton Valley Hazardous Fuels Removal
Illinois , Cross-Boundary Upland Oak Restoration
Montana , Elkhorn Cooperative Management Area
New Jersey , New Jersey Pine Barrens Restoration
North Dakota , Badlands Restoration Phase Two
Oregon , North Wasco All Lands
Oregon , Southern Blues Restoration
Pennsylvania , Allegheny Plateau Habitat Restoration
South Carolina , Piedmont Watershed Restoration
Wisconsin , Northeast Wisconsin Forestry and Wildlife Partnership
Through the new three-year projects, landowners will work with local USDA experts and partners to apply targeted forestry management practices on their land, such as thinning, hazardous fuel treatments, fire breaks, and other systems to meet unique forestry challenges in their area.
Additionally, USDA is investing $31.2 million in 25 existing projects. For full project descriptions and information on completed projects, visit the Joints Chiefs' webpage.
More Information
USDA has invested more than $286 million in 110 projects over eight years in Joint Chiefs' Landscape Restoration Partnership projects, which focus on areas where public forests and grasslands intersect with privately-owned lands. Since 2014, these projects have delivered important forest and rangeland funding to 42 states and Puerto Rico .
Agricultural producers and forest managers interested in participating in Joint Chiefs' or other USDA conservation programs should contact their local USDA Service Center .
Learn more about the Forest Service work to confront the wildfire crisis.
USDA touches the lives of all Americans each day in so many positive ways. In the Biden-Harris administration, USDA is transforming America's food system with a greater focus on more resilient local and regional food production, fairer markets for all producers, ensuring access to healthy and nutritious food in all communities, building new markets and streams of income for farmers and producers using climate smart food and forestry practices, making historic investments in infrastructure and clean energy capabilities in rural America, and committing to equity across the Department by removing systemic barriers and building a workforce more representative of America. To learn more, visit www.usda.gov.
#
USDA is an equal opportunity provider, employer, and lender.
---
The views expressed in content distributed by Newstex and its re-distributors (collectively, "Newstex Authoritative Content") are solely those of the respective author(s) and not necessarily the views of Newstex et al. It is provided as general information only on an "AS IS" basis, without warranties and conferring no rights, which should not be relied upon as professional advice. Newstex et al. make no claims, promises or guarantees regarding its accuracy or completeness, nor as to the quality of the opinions and commentary contained therein.
* All content is copyrighted by Industry Intelligence, or the original respective author or source. You may not recirculate, redistrubte or publish the analysis and presentation included in the service without Industry Intelligence's prior written consent. Please review our terms of use.