June 1, 2023 (press release) –
Q1 2023 results reveal that despite another challenging quarter for consumers, a greater proportion of mail was engaged with than at any point in the previous year, and a greater proportion resulted in positive commercial outcomes for advertisers.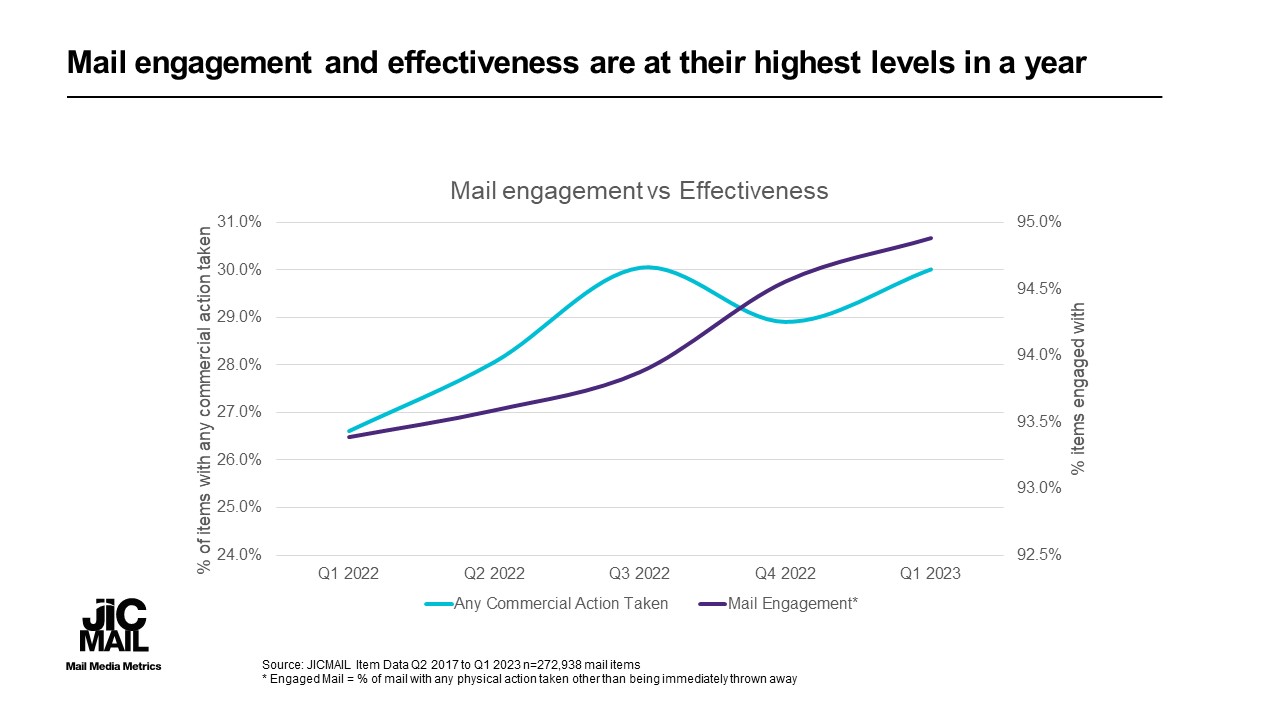 JICMAIL's diary-based data captured from a panel of one thousand households every month reveals that in Q1 2023:
95% of mail was engaged with. In other words, 95% of mail had some form of physical interaction from consumers other than being immediately thrown away. This engagement has in turn lead to better returns for advertisers, with 30% of mail prompting commercial actions from consumers such as purchases, voucher redemption, website visits and store footfall.
Both mail engagement and mail effectiveness were at their highest level in a year. At a time when the inflation rate has remained in the double-digits and consumers' wallets are feeling more stretched than ever, mail has again proven itself to be an effective channel to communicate with households when times are tough.
In addition, mail open, read and retention rates have experienced year-on-year growth for the third quarter in a row. 75% of mail (including Direct Mail, Business Mail and Door Drops) was read in Q1 2023, 65% was opened, and 46% was still live in the home (i.e. had not been discarded) after 28 days.
While increased levels of mail interaction gives advertisers confidence that consumer exposure to their advertising comms is being maximised in the mail channel, they will also be reassured by the growing effectiveness of the mail channel across the entire purchase journey in Q1 2023.
Key metrics related to product discovery improved year-on-year, with 16% of mail driving discussions about brands and 6% prompting consumers to search online for more information. Key customer engagement metrics also improved with 8% of mail prompting advertiser website visits and 6% driving account log-ins.
When it comes to purchase fulfilment, mail also continued to experience growth in Q1, with 4% of mail prompting a purchase, 2% triggering a voucher redemption and 2% driving store footfall.
Business Mail has proven to be an effective channel for delivering much needed money-saving vouchers and coupons to cash-strapped consumers, with voucher interaction rates increasing for the second quarter running (up to 5.6 interactions across a 28 day period).
The lifespan of Door Drops grew by 10.9% year on year, with retail and online retail Door Drops particularly contributing to this trend by recording their highest longevity in the home for two years.
Key mail metrics for Q1 2023 can be summarised as follows:
Q1 2023 KEY MAIL METRICS

Frequency

Item Reach

Lifespan

Direct Mail

4.4 interactions

1.1 people

7.1 days

Door Drops

3.0 interactions

1.1 people

5.7 days

Business Mail

4.8 interactions

1.2 people

8.5 days

Partially Addressed

3.8 interactions

1.1 people

6.7 days
| | | | | | | |
| --- | --- | --- | --- | --- | --- | --- |
| % of ALL Mail… | Read / looked / glanced at | Opened | Retained in the home | Discussed with someone | Prompted a purchase | Triggered a website visit |
| Q1 2023 | 74.7% | 64.7% | 46.4% | 15.5% | 4.2% | 8.3% |
| Q1 2022 | 72.6% | 62.7% | 43.7% | 12.8% | 4.0% | 8.0% |
Source: JICMAIL Item Data Q1 2023 n=11,439 Direct Mail, Door Drop, Partially Addressed and Business Mail items
Mail interactions captured by JICMAIL panellists take many forms and range from opening and reading mail, to passing it on to someone else, putting it in the usual place, putting aside to look at later or taking it out of home (amongst a list of many other actions). In addition, JICMAIL captures the industry category and advertiser details of almost every mail item in its 270,000 strong mail item database.
Ian Gibbs, Director of Data Leadership and Learning commented, "Despite stubbornly high levels of inflation, there have been a few rays of sunshine in Q1 with the IPA Bellwether report pointing towards increased advertiser confidence in 2023 and PwC reporting that high street store closures have slowed. Against this backdrop mail continues to be a vital channel in efficiently delivering key messages to consumers when times are tough; and for those advertisers that are active in the channel, they have seen the reward of improved commercial effectiveness throughout the customer journey."
Mark Cross, Engagement Director of JICMAIL added, "The opportunity for practitioners is to appreciate the mindset of their audiences – who in Q1 have yet again demonstrated commercially savvy behaviour as well as high engagement with mail."
* All content is copyrighted by Industry Intelligence, or the original respective author or source. You may not recirculate, redistrubte or publish the analysis and presentation included in the service without Industry Intelligence's prior written consent. Please review our terms of use.