SEOUL, South Korea , February 22, 2022 (press release) –
Brand 2022-02-15
Hosted by LANEIGE Beauty & Life Research Institute presenting findings on the impact of changes in external environment and lifestyle on skin
Introducing ingredients and benefits of 'Blue Hyaluronic Acid' based on 38 years of research on skin moisturizing
LANEIGE, a premium functional beauty brand that delivers new beauty experience, hosted an international academic symposium on February 15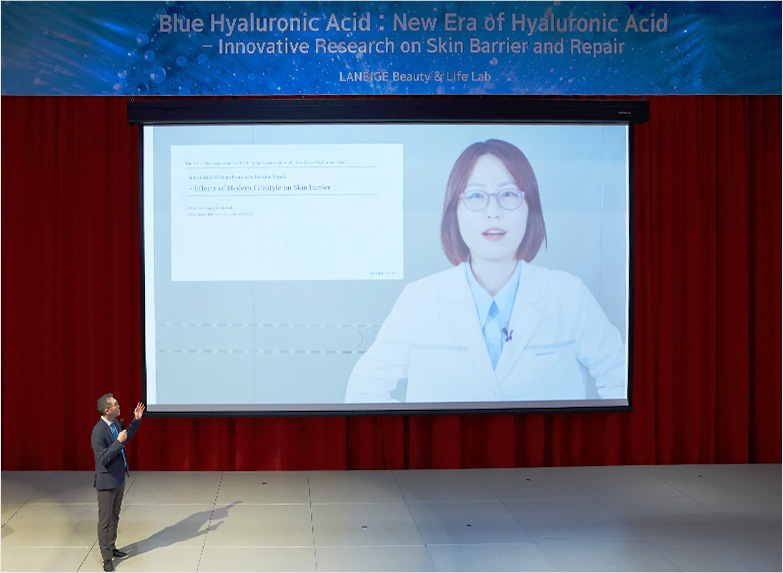 The symposium, hosted by LANEIGE Beauty & Life Research Institute, was held as an online webinar under the theme, 'Blue Hyaluronic Acid: New Era of Hyaluronic Acid-Innovative Research on Skin Barrier and Repair.'
Blue hyaluronic acid is the main moisturizing ingredient in the Water Bank line by LANEIGE, which will be launched in February, completed through 38 years of research starting from when Amorepacific first began developing fermented hyaluronic acid in 1984. The symposium presented academic research findings on how changes in external environment and lifestyle affect skin and introduced the technology behind blue hyaluronic acid.
The symposium's first speaker, a scholar in the field of skin-aging Prof. Jean Krutmann, MD at Leibniz Research Institute for Environmental Medicine (IUF) in Germany, presented research findings on 'skin aging and exposome.' Prof. Jean Krutmann, MD explained, "exposome refers to the composite of every non-genetic exposure to which an individual is subjected from conception to death" and emphasized that "skin aging is commonly known as the result of genetic elements, but it is influenced by exposome, in other words, UV rays, air pollution, or cigarette smoke."
Next, Amorepacific Shanghai D&I Center Senior Researcher Im Gyehwa introduced 'the impact of lifestyle on skin barrier.' Researcher Im said, "skin stress and blue light from digital devices have a negative impact on skin barrier. When dry skin is exposed to such lifestyle for a long time, it causes skin burnout where it lacks moisture no matter the effort."
Senior Researcher Park Anna at Amorepacific R&I Center, who was the last speaker of the symposium, introduced the innovative repair moisturizing ingredient, blue hyaluronic acid. Researcher Park explained, "blue hyaluronic acid, which is the main ingredient in LANEIGE Water Bank that will be launched in February, is innovatively 2,000 times smaller than the previous hyaluronic acid, made through a two-step fermentation and 10-step concentration and purification process. It especially delivers 300% more powerful repair and moisturizing effect, improving skin dryness and damaged skin barrier."
Head of LANEIGE Beauty & Life Research Institute Suh Byungfhy, who attended the symposium, said "this 3rd symposium held following the symposiums on Retinol and Sleep Beauty last year, was a meaningful opportunity to introduce the most recent research findings on skin barrier and blue hyaluronic acid, a repair and moisturizing ingredient of a completely new level" and added, "we will continue to contemplate on the various skin issues of customers and unveil innovating technologies and products to resolve them."
LANEIGE Beauty & Life Research Institute, which was established in 2021, studies the lifestyle of modern-day consumers and analyzes relevance and impact on skin to provide various solutions for different skin problems.
* All content is copyrighted by Industry Intelligence, or the original respective author or source. You may not recirculate, redistrubte or publish the analysis and presentation included in the service without Industry Intelligence's prior written consent. Please review our terms of use.