LEATHERHEAD, UK and AKRON, Ohio , April 8, 2022 (press release) –
Worth $4.01 billion in 2022, the combined global market for functional additives and barrier coatings for plastic packaging is generally positive especially for those that deliver longer shelf-life, cut food waste and promote the recyclability of polymers.
The latest exclusive research from Smithers forecasts market growth rising at a compound annual growth rate (CAGR) of 5.1% to reach $5.14 billion in 2027. This rapidly developing growth segment for plastics companies is analysed critically and in detail in its new report – The Future of Functional Additives and Barrier Coatings for Plastic Packaging to 2027.
Demand growth for these components will continue to outstrip organic growth within the wider plastic packaging market, as converters continue to look for lower-cost solutions that additives and coatings can provide.
The greatest increases across the Smithers forecast period will come from emerging and developing economies in Asia-Pacific, the Middle East and Africa. While still a hub for R&D, more mature economies in Western Europe, North America and Japan, will see slower growth and suffer most from brand owners substituting away from plastic packaging.
Even as global supply chains were still recovering two years of disruption caused by Covid-19, the Russian invasion of Ukraine in February has caused further short-term uncertainty. The most immediate effect has been steep rises in oil and energy prices adding extra costs across the industry, some of which will have to be passed on to customers, a situation that will endure at least until the end of 2022.
Analysing 15 distinct functional additive and barrier coating technologies, Smithers forecasts that the market will continue to evolve over the next five years.
In coatings, PVdC will remain the largest barrier coating technology, but is very mature, as it is for metallised coatings. The second largest – and fastest growing – coating technology through to 2027 will be aluminium oxide (AlOx); with market expansion also forecast for silicon oxide (SiOx).
Both these vapour deposition coatings will allow converters to improve the barrier performance of packaging for fresh foods, confectionery, and pharmaceuticals; reducing product wastage. Greater use will also be seen by the desire for more coated microwaveable packs that do not employ metal, and the ability of AlOx and SiOx to cut plastics use via the downgauging of PET substrates.
Consumption of functional additives is increasing faster than for coatings of plastics, as these products are less mature, and better positioned for growth applications in convenience foods, beverages, and other segments. Within this complex segment, oxygen scavengers are the largest product group, followed by UV light stabilisers and anti-static agents. UV light stabilisers and clarifying agents are forecast to grow at rates higher than the overall market average over the next five years.
The Future of Functional Additives and Barrier Coatings for Plastic Packaging to 2027 is available to purchase now – giving an unparalleled analysis and data granularity for this segment.
It includes a comprehensive data set presented in 120 tables and figures, for
Functional plastic packaging additives (Anti-fog agents, Antimicrobials, Antioxidants, Anti-statics, Clarifying agents, Oxygen scavengers, UV light stabilisers)
Barrier coatings (Metallised, PVdC, EVOH, PVOH, Acrylics, SiOx, AlOx ,Carbon),
This is segmented across 15 end-use applications, and 26 geographic regions and leading national markets.
This vital business strategy tool is priced $6,750 (€5,950, £4,950).
Functional additives for plastic packaging: percentage shares of global sales value by technology, 2021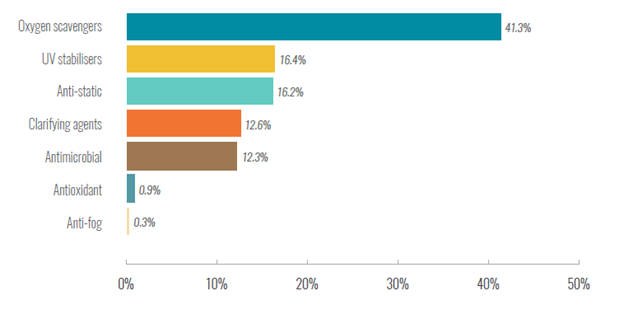 * All content is copyrighted by Industry Intelligence, or the original respective author or source. You may not recirculate, redistrubte or publish the analysis and presentation included in the service without Industry Intelligence's prior written consent. Please review our terms of use.