May 11, 2022 (press release) –
It's no secret that plant-based polycarbonate (PC) can be problematic. Not only does the plastic demonstrate complex technical properties, developing alternative chemical intermediates with the performance potential of petrochemical-based PCs can be a time-consuming process.
The wider polymer industry is already beginning to shift towards renewable carbon feedstocks such as biomass and CO2 to reduce GHG emissions - driven by incentives and legislative penalties.
But we are also seeing more traditional producers of polycarbonates use waste carbon feedstock and/or the mass balance approach to bring certified renewable products made from biobased hydrocarbons to market.
'If crude oil values remain persistently high, it is possible that biobased plastics will become increasingly competitive'
--Jennifer Hawkins, Tecnon OrbiChem Business Manager
'Consumers are becoming increasingly environmentally savvy in their buying habits,' says Tecnon OrbiChem Business Manager Jennifer Hawkins. '...But even more so in the automobile sector, where polycarbonate features heavily.'
'As sales of electric cars continue to grow in a bid to meet cleaner air targets, more focus is being drawn on the materials being used to make them. It defies logic that the world continues to burn fossil fuels while trying to make green, environmentally friendly vehicles.
'Until now, the cost of high performing biomaterials has limited their use in car production, but if crude oil values remain persistently high, it is possible that biobased plastics will become increasingly competitive, and viable for large scale industrial production use.'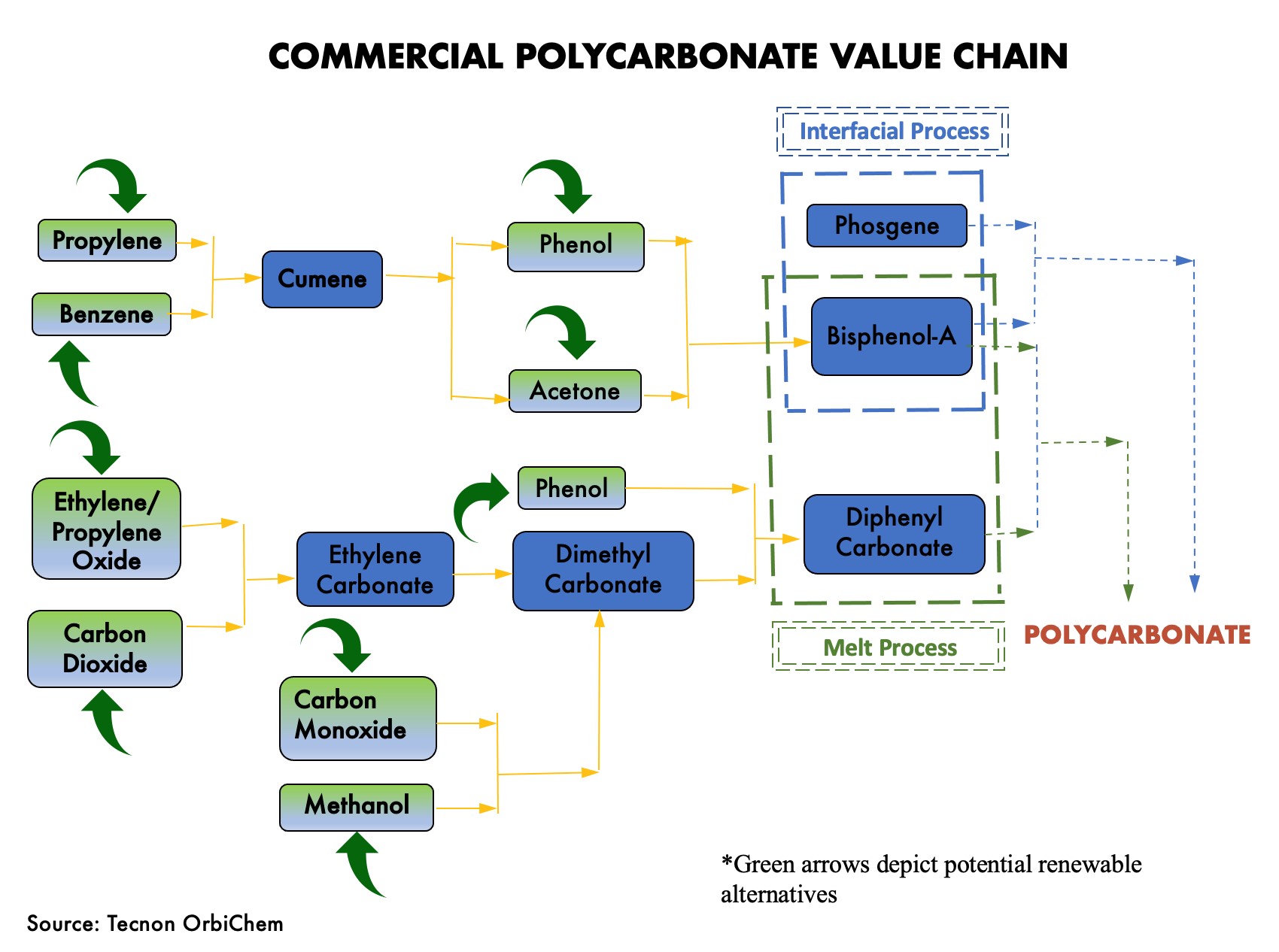 Class: high heat polymers
An unusual and useful class of high heat polymers, polycarbonates (PC) demonstrate toughness and optical clarity. The most-used polycarbonate is produced by condensation polymerisation using Bisphenol A (BPA) along with either carbonyl chloride – also known as phosgene – or diphenyl carbonate.
Increasingly however, polycarbonates are being made with diphenyl carbonate - which removes the poisonous gas phosgene from the process. The phosgene free diphenyl carbonate (DPC) process – also known as the melt process – is cost-effective. Commercialised by Asahi Kasei in partnership with Chi Mei Corp, the pair opened a plant in Taiwan in 2002. Asahi started developing its non-phosgene aromatic for PC production 50 years ago.
CO2 copolymerisation
Aliphatic polycarbonates are synthesised by the copolymerisation of CO2 and propylene oxide – or other epoxides. It's a process that has been commercialised but on a limited scale only.
Asahi reacts ethylene oxide with CO2 to yield ethylene carbonate, then reacts that with methanol to give dimethyl carbonate (DMC) and monoethylene glycol. It isn't alone in laying claim to this CO2-based DMC technology but other producers use propylene oxide, or synthesise propylene carbonate instead of ethylene carbonate before reacting with phenol.
Aromatic versus aliphatic…
When it comes to CO2-based PCs, it's the aromatic variety that remains among the most available. But aliphatic polycarbonates (APC) – polypropylene carbonate (PPC) and polyethylene carbonate (PEC) – are increasingly available. Fast-approaching a century in existence, APCs were first manufactured by DuPont lab around the 1930s.
PPC is synthesised from direct copolymerisation of CO2 and propylene oxide. It is said to have good barrier properties and can be used in food packaging applications
PEC uses an ethylene oxide feedstock. Because it is extrudable, it can be a suitable barrier film for multilayer construction. In terms of its end of life profile, PEC decomposes completely above 200oC and biodegrades in specific conditions.
The German research organisation the nova-Institute has reported PEC and PPC-based products to demonstrate 50% weight for aliphatic-type polymers.
High molecular mass aliphatic PCs
Ideal for injection moulding, high molecular mass aliphatic PCs have been developed. In these materials, starch-derived diol isosorbide replaces BPA. Mitsubishi Chemical Corporation developed its biobased PC DurabioTM using Roquette's isosorbide.
In 2021, Samyang Innochem – a subsidiary of South Korea-based PC producer Samyang Group – announced construction was underway for a 1000 ktpa isosorbide plant in Gunsan, Jeollabuk-do Province, China. The company's intent was to incorporate the biobased intermediate into its PC manufacturing.
Renewable tech on the rise
UK-based bioplastic startup Teysha Technologies developed a new biobased polycarbonate platform called AggiePol based on polyhydroxyl monomers – for example saccharides and quinic acid.
The transformations of these polyhydroxyl monomers can produce a wide range of linear and hyperbranched polymers and copolymers. Based on a plug-and-play system, the biopolymer can be tuned physically, mechanically and chemically as well as its degradation rate to suit the needs of its intended applications.
And Sabic's LexanTM PC engineering thermoplastic resin – produced at its Cartagena, Spain, PC plant – uses certified renewable feedstock. The Saudi Arabia-headquartered company also produces mass balanced-based benzene at its steam cracker in Europe. Sabic's process combines UPM's renewable BioVerno bio-naphtha with fossil-based naphtha with the biobased benzene then used to produce phenol for PC feedstock. For each kilogram of PC produced based on certified renewable feedstock, around 61% of CO2 emission is reduced, Sabic claims.
Covestro has enlisted the help of Neste to replace the several thousand tons of fossil- based raw materials in its polycarbonates with Neste's renewable hydrocarbons – biobased naphtha and bio-propane. The company markets a PC made from biobased phenol and makes PC grades from post-consumer recycled content.
With traditional chemicals producers and startups increasingly moving into the biobased space, plastics are set to become more sustainable in the future.
Tecnon OrbiChem provides insight, analysis, data and commentary on technologies emerging in the biomaterials sector.
This blog post was inspired by Doris de Guzman's white paper Developing renewable polycarbonates - A balancing act.
Industry Intelligence Editor's Note: This article was originally published by Tecnon OrbiChem and has been republished with permission. To view the original article, click here.
* All content is copyrighted by Industry Intelligence, or the original respective author or source. You may not recirculate, redistrubte or publish the analysis and presentation included in the service without Industry Intelligence's prior written consent. Please review our terms of use.