March 28, 2023 (press release) –
Learn how ELC's Charitable Foundation is supporting a women's advancement initiative in the Ghanaian shea supply chain…
In honor of Women's History Month, The Estée Lauder Companies (ELC) is highlighting its continued efforts to increase opportunities, leadership, health and education for girls and women globally, both within its walls and around the globe. This includes programming through The Estée Lauder Companies Charitable Foundation (ELCCF) which aims to improve the well-being of its diverse, global communities, placing equity at the center, and with an emphasis on women and girls.
Women around the world face compounding obstacles to their advancement. For women involved in certain parts of global supply chains, many of these obstacles are related to access to and control over resources, training and education, and financial independence. ELC is helping to break down barriers to women's advancement through social investments in programs like BSR's financial resilience training in shea, an innovative model which supports women in the supply chain through workplace-based interventions on financial inclusion and gender equality.
Northern Ghanaian women gathering shea nuts before moving to the processing step in the creation of shea butter
With the support of ELCCF in 2022, BSR developed and piloted a bespoke program aimed at supporting women working in the shea supply chain in northern Ghana, marking the first time its financial resilience training was designed for smallholders in the ingredient side of the beauty supply chain. The program was implemented at two shea cooperative sites in the Janshegu and Mole Crema communities of northern Ghana with the aim to establish a scalable delivery model for both the beauty sector
From shea collection to shea processing, women in the shea supply chain share traditions from generation to generation
Chosen not only for the use of shea in a variety of cosmetics products across makeup, skin care and hair care, the shea supply chain is also predominantly comprised of women, with most northern Ghanaian shea workers being women who pass on their collection and processing traditions from generation to generation. While nearly 70 percent of Ghanaian women participate in the country's economy, a significant portion of women in the country are disproportionately at risk from the negative impacts that can accompany business operations and economic growth.
HERproject follows a peer-to-peer education model, where women learn from and talk to each other to share their own knowledge and experiences.
Drawing on BSR's expertise in implementing trainings for women workers, the pilot's scoping took a community-informed approach, gathering feedback from women shea nut collectors and processors in the identified villages. While shea collecting provides supplemental income to their households, scoping revealed that the most in-demand need was for access to financial trainings and literacy, such as skills for saving and borrowing, to further enhance the work already underway by the women. Based on these key learnings, a bespoke training model focused on finance was created to help support the needs of the communities. The resulting pilot reached more than 1,000 women across the two cooperative sites with tailored trainings in financial planning, budgeting, money management, and family discussions about finances, with eighty women shea nut collectors and processors volunteering as peer educators.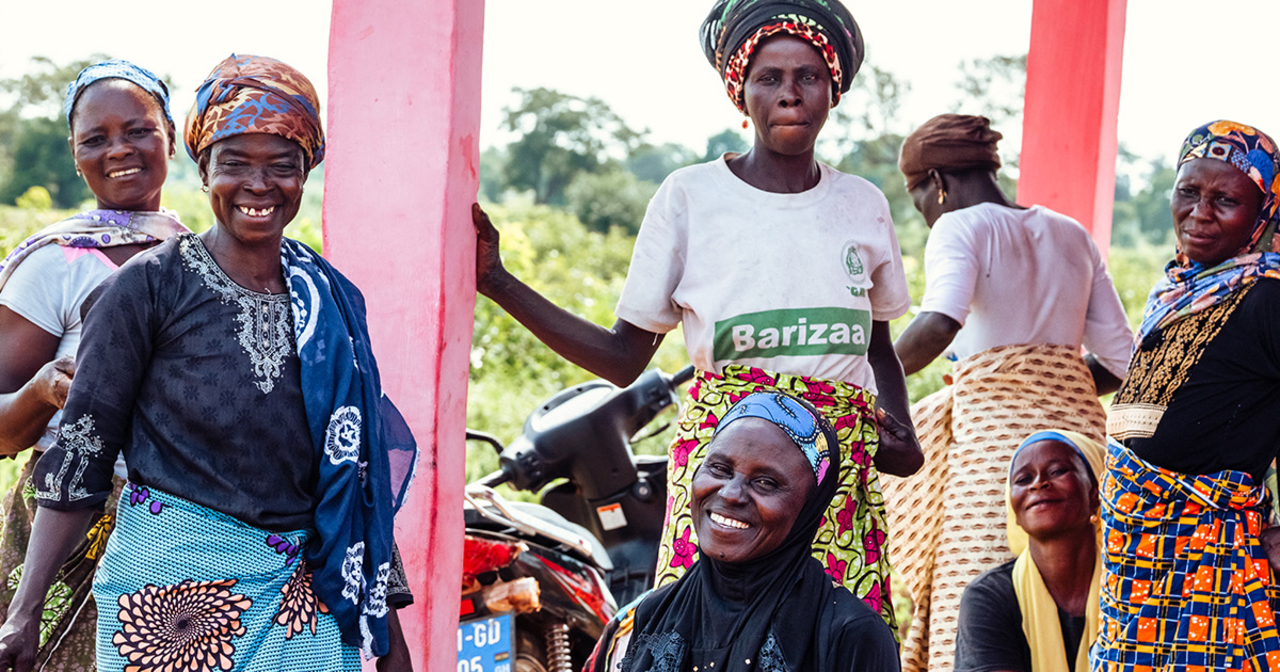 ELCCF's Work with BSR
Meet some of the Ghanaian women shea collectors and processors who are leading in their communities, and learn more about ELCCF's work with BSR. Credit: Fred Dahe for The Estée Lauder Companies Charitable Foundation
Discovered as a key need for the Janshegu community during the initial scoping of the program, a shed was built for additional nut gathering and to facillitate new ways for the communities to gather.
The shea pilot program was built on the success of an initial two-year program implemented at two of ELC's packaging suppliers. In fiscal 2020, through a grant from ELCCF, the company became the first prestige beauty company to partner with BSR's HERproject initiative, ushering the project's expansion into a new manufacturing context beyond the apparel industry. The program included trainings and workplace interventions that targeted health.
To demonstrate impact, a number of shea collectors and processors were surveyed at the start of the program and following the program's completion. Key learnings from the findings included:
Already, the shea pilot program has had ripple effects into other ingredient supply chains. ELCCF worked with BSR to adapt the shea supply chain programming to pilot BSR Respect in Palm, in collaboration with industry partners, to address violence against women in the palm supply chain in Indonesia. This program is working toward cultivating more equitable relationships and attitudes amongst women and men in global supply chains, with the aim to help prevent violence in the workplace and in intimate relationships. Similar to our work in the shea supply chain, the lessons from this pilot in palm will inform a plan to scale and expand the model in Indonesia.
Based on the success of the pilot program in shea, ELCCF has also partnered with BSR to scale the program into other cooperative sites within the shea supply chain. The company is proud that this work is part of its broader efforts to implement social action plans for its identified sensitive ingredient supply chains and will continue to scale this program, encouraging peers in the beauty industry and beyond to join in this work.
* All content is copyrighted by Industry Intelligence, or the original respective author or source. You may not recirculate, redistrubte or publish the analysis and presentation included in the service without Industry Intelligence's prior written consent. Please review our terms of use.