September 23, 2022 (press release) –
Obtained Silver rating from UL Solutions for high recycling rate of 94% of total waste generated
Pursues resource circulation throughout the entire process of business activities from product development to waste disposal
Amorepacific Osan Beauty Park obtained an international certification for zero waste-to-landfill as the first cosmetics company in Korea.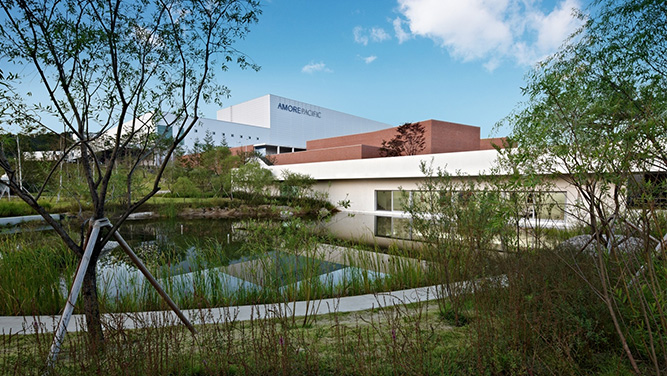 The company records 94% in recycling rate by making 4,043 tons out of 4,292 tons of waste generated into resources and received a 'Silver' rating by UL Solutions, a global leader in safety science.
The Zero Waste to Landfill (ZWTL) certification Amorepacific obtained is founded on the concept of building a circular economy by making waste that is generated at establishments into resources. UL Solutions evaluates and verifies the level of recycling from waste generated at business operation sites according to its evaluation criteria and designates ratings from Silver (90-94%), Gold (95-99%) to Platinum (100%).
Amorepacific internally developed its own environment management index to divert waste into resources and manages targets such as waste reduction and recycling rate. Following its policy, Amorepacific makes various efforts to minimize the impact of waste on the environment by implementing regular on-site visits to companies in charge of gathering, transporting, and processing waste and confirms whether its partner companies are following relevant regulations in waste treatment.
Amore Beauty Park, which obtained the certification, classifies waste that is generated during production into 21 types and recycles them in 12 different ways at its 543m2 (or 164 pyeong) waste recycling center. To achieve zero to landfill, Amorepacific disinfects glass bottles used in experiments, which were incinerated as specified waste, and recycles them into glass. Since 2021, Amorepacific recycles more than half the dust waste, that was previously buried, as earth and sand material for foundation work in construction such as asphalt. In addition, the company is committed to enhancing the awareness of its members such as by implementing 'leftover reduction campaign' with all members joining the initiative and as a result reducing 6% in food waste per capita compared to the previous year.
Amorepacific is making effort not only in reducing waste generated while operating establishments, but also across the entire process of product manufacturing. It developed lighter products by changing the method in manufacturing product containers, thereby reducing the use of plastic while maintaining the product's quality. It also developed a metal-free pump that pumps up product content, allowing customers to easily separate and recycle containers after using them. Amorepacific also collects used cosmetic bottles and recycles them into product containers or in its upcycling campaign 'GREENCYCLE' to reduce the impact on environment when discarding product packaging. And in the delivery stage, the company uses FSC-certified paper material instead of plastic bubble wrap used to protect products when delivering them in delivery boxes. Amorepacific converted delivery boxes that were difficult to recycle because of color coating into craft boxes, reducing more than 70% in plastic consumption in the delivery stage.
Amorepacific will continue to build infrastructure to reduce the amount of waste generated across all its establishments and conduct research on ways to recycle waste that is incinerated or buried, while improving waste management processes and conducting campaigns that engage members' participation. The company also aims to establish a sustainable supply chain that enables resource circulation throughout its entire business activities from product development to waste disposal as well as commit to reducing indirect greenhouse gas emissions from waste.
The Zero Waste to Landfill certification is an achievement in part of A MORE Beautiful Promise that Amorepacific declared last year. Amorepacific is committed to establishing a circular economy by reducing waste to landfill to almost zero across all its establishments.
* All content is copyrighted by Industry Intelligence, or the original respective author or source. You may not recirculate, redistrubte or publish the analysis and presentation included in the service without Industry Intelligence's prior written consent. Please review our terms of use.